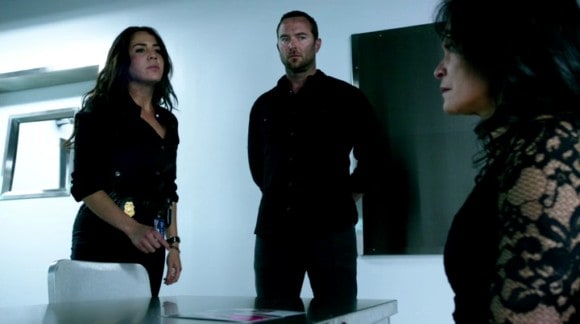 Pacing on Blindspot lately has been pretty fantastic, and the expansion of the story has been great to watch as Jane's paths have finally begun to really diverge. Let's take a look at what happened in this week's new episode, "Rules in Defiance."
The episode opens as Kurt, still reeling from his new distance that he's created between him and Jane, waking up from a night with another. It's pretty clear that he isn't able to make a real emotional attachment with anyone else yet, though, as Jane always seems to be on his mind. She's on the minds of the others on the team, too, as everyone begins doing their own digging into the secrets that they now believe Jane is hiding. Not much progress can be made on this front at the moment, though, because Patterson finds a connection in clues from Jane's tattoos, and the case of the weeks begins with the team ruining another group's investigation.
The thing that stands out with the case in "Rules in Defiance" is that Jane is, largely, left out of the proceedings. With so much of the team now refusing to trust her and her own knowledge of her "mission," Jane's story is functioning separately from the actions of the rest of the team for now. While I do love when this entire cast works closely together, I've found that it's a welcome change of pace to have Jane do a little more on her own. The whole cast is important on Blindspot, but it's clear that Jane is the real central focus. We need more of her story, and it makes perfect sense that this exploration would have to take place away from the others a lot of the time. We're also lucky that Jaimie Alexander is such a talented actress, too, because she's able to perfectly capture the confusion and loneliness that Jane expresses in the episode. The rest of the main cast, as usual, delivers solid work in the episode, with Sullivan Stapleton getting some great material to work with as Agent Weller. He may primarily be an action star, but Stapleton can do a lot of good when he's given the right material. Zapata is also given a huge role in the story this week, and it's becoming clearer and clearer that Blindspot could benefit from using Audrey Esparza more.
As a whole, the story in "Rules in Defiance" was good (if unremarkable), but the best part of it was, without question, the separation that it hammered in with the characters on the show. You have to build relationships before you start tearing them down, and it looks like we've reached that second part of the story now. As with the new developments that have arisen recently with Jane's "mission," I'm very interested in seeing how this plays out through the rest of the season (and beyond?).
I promise it isn't just because of my immense love for Hannibal, but Aaron Abrams guest-starred in "Rules in Defiance" in a fun-if-smallish role. Abrams has rarely been used to his fullest on his roles on television (and the same is true here), but I continue to be impressed with the way that Blindspot has been using guest characters since its return from the winter hiatus. The episode uses plenty of guest characters actually, and the growth of the show's world is always going to be a good thing.
"Rules in Defiance" was a very average episode of Blindspot, but it benefited greatly from the character development that it allowed itself to perform while changing up the show's formula in a fun way by having Jane largely sit out the episode's events.
What did you think of "Rules in Defiance?" Let us know your thoughts in the comments down below!
[Photo Credit: NBC]