Blake Lively of Gossip Girl fame has made several memorable appearances at the Met Gala over the years, showcasing her timeless beauty and fashion sense. The Met Gala, short for the Metropolitan Museum of Art Gala, is an annual fundraising event for the benefit of the museum's Costume Institute in New York City and has become one of the most high-profile and glamorous events in the fashion calendar. However, the 2022 event in question took place in London — to expand the event's reach and influence.
In 2022, Lively surprised attendees and media outlets all over the world with a unique dress that unfolded into another, larger dress. This creative fashion moment garnered significant attention at the event. This article delves into Lively's Met Gala 2022's transformation in detail.
Who Designed Blake Lively's 2022 Met Gala Dress?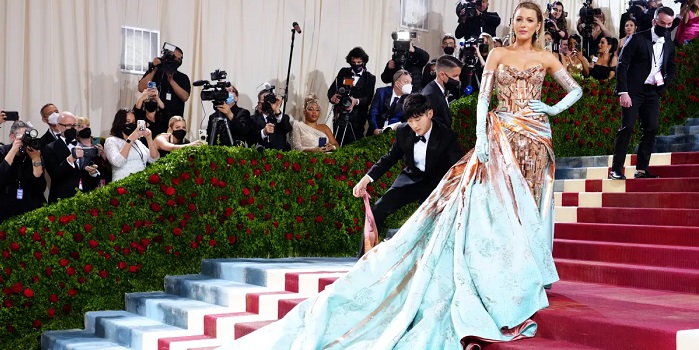 Blake Lively's stunning dress for the 2022 Met Gala was designed by Atelier Versace. The dress garnered significant attention for its intricate and glamorous design and perfectly complemented the Gilded Glamour theme of the year that pulled inspiration from New York's Gilded Age. Blake Lively's choice of this brown Versace gown was unlike any other reveal at the event. Her dress was later transformed into an oxidized green shade. It was phenomenal and garnered praise right away. It showcased her impeccable sense of style and made her one of the standout fashion moments at the Met Gala in 2022.
Blake Lively's 2022 Met Gala Dress's Transformation and Intricate Details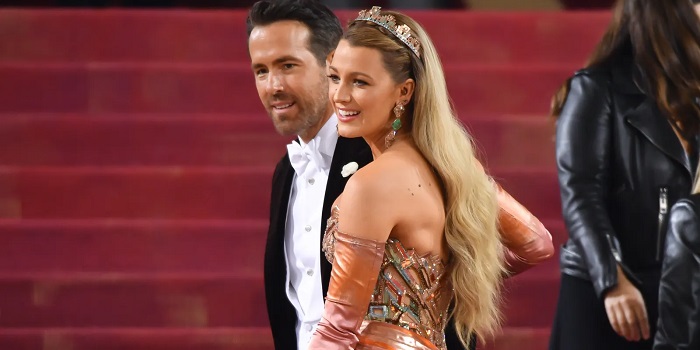 At the glamorous Met Gala, both Blake Lively and her husband, Ryan Reynolds, made an eye-catching entrance. Lively dazzled in a sequined dress that shimmered in shades of brown and soft pink, while Reynolds complemented her in a sharp Ralph Lauren tuxedo. The dress wasn't just a sight to behold because of its colors; it was intricately embroidered with crystals and adorned with metallic leather throughout. Adding to her regal appearance, Lively wore a minimalist crown, double-layered gloves that (initially) were pinkish (but would later transform into oxidized green), and earrings that mirrored the dual tones of her ensemble.
Followed by some chit-chat and pictures, the couple moved up the stairs. Reynolds gracefully stepped aside and allowed Lively's dedicated dress-management crew to step in. The crew unfolded the unique knots of her dress, revealing an underlying oxidized green layer that had been concealed by the brown. This transformation was not just a testament to fashion innovation but also a symbolic tribute to New York City. The dress intricately wove in design elements reminiscent of the Grand Central Station ceiling, the Empire State Building, and the Statue of Liberty. Needless to say, it was a thoughtful and beautiful dress!
Why Did Blake Lively Not Attend Met Gala 2023?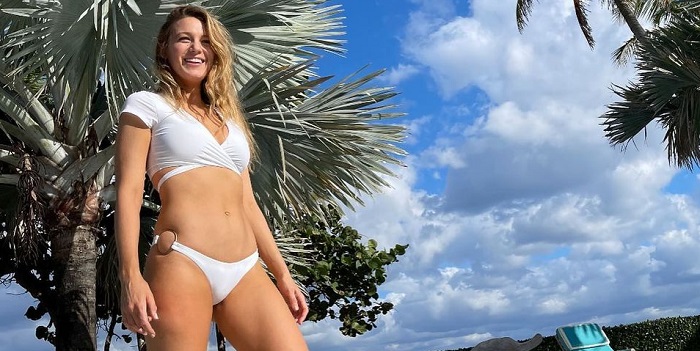 In April 2023, Lively confirmed that she won't be attending the event and it came as a shock to many. However, she did say, "I will be watching." from home. The 2023 Met Gala took place on Monday, May 1 in New York City. Her reasons were personal and she never explicitly revealed the reason behind her not attending the event. But thanks to her Instagram story posted by Lively on the date of the said event, with the caption "First Monday in May," it was clear that her reason for not attending had to do with her becoming a mother as Lively had also added a lactating animation to underscore the point, in the signature Lively-Reynolds humor.
What Will Blake Lively Wear in the Next 2024 Met Gala?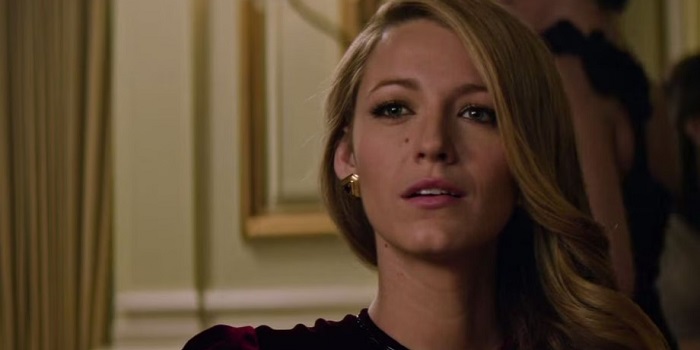 Blake Lively's 2024 Met Gala dress is also likely going to be in partnership with Versace. However, it's too soon to confirm her exact choice as of yet. Lively has always maintained a solid fashion sense. At her most recent public appearance at the Michael Kors NYFW Show, she stunned everybody in her gold-girl look in a metallic sequin jumpsuit accented with a thin tan belt. Her dress had a '70s-inspired design that featured flared legs and a low-cut neckline. So whoever's anticipating her Met Gala 2024 look can rest assured because The Age of Adaline actress, who is a mother of four now, will still not settle for anything less than the best.
Tell us what's wrong with this post? How could we improve it? :)
Let us improve this post!