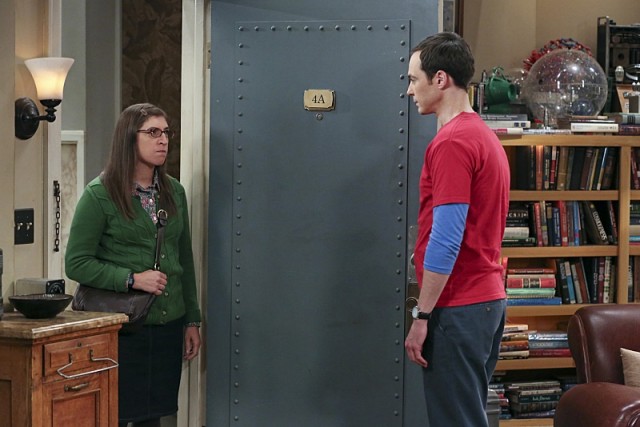 Now two episodes into Season 9, The Big Bang Theory has declared its intention to raise the emotional stakes higher than they've ever been. An aging sitcom must come up with inventive ways to keep stories feeling fresh and new, while not changing the characters drastically enough to alter the show's core. So far, The Big Bang Theory has proved successful. The characters haven't changed who they are, but they've all fundamentally evolved into characters that keep the show fresh.
This week on The Big Bang Theory: Leonard confronts Mandy, as well as his own reasons for telling Penny about her, and Mandy is unexpectedly helpful. Sheldon continues his web series,"Fun With Flags," without Amy. Bernadette wrestles with the fact that she knew about Leonard and Mandy and failed to tell Penny.
What I really love and respect about Big Bang Theory is the way it can simultaneously be funny and hit close to home. Chuck Lorre's shows seem to be moving this way (in case you've never seen Mom) but there's still something to be said about a show that can carry high emotional stakes and laugh out loud funny moments within a short half-hour. The reason Big Bang is so popular, and continues to resonate with so many people, is because we all feel connected to it. We can connect with Leonard or Penny's sense of inferiority. We can connect with Sheldon and Amy, as we've all been through break-ups. We can even connect with Bernadette, who feels guilty keeping something from her friend. Nerdy humor has its place in the world, but #1 rated sitcoms are built on these elements.
I'm really glad that the Leonard and Penny story resolved. I never thought it was enough drama to carry them through a whole season (and was afraid that it was going to try to be). What I really want to see, now that it's resolved, is what does Sheldon do? Leonard and Penny will surely want to live alone. Does Sheldon try to live with Raj or Stuart? He can't live with Amy now. There is so much potential for this story.
I'm really loving everything to do with the "Shamy" breakup, too. Don't get me wrong, because I like them as a couple, but so far Season 9's funniest moments have been caused by their split. With Leonard about to move on from being Sheldon's roommate, it's only going to get more interesting.
As always, here are some of my favorite quotes/moments from the episode:
"In one day you've managed to do what it takes other couples decades to achieve."- Sheldon regarding Leonard and Penny being separated
"You think it's hard having one wife? Try having two."- Howard. Three guesses who his second wife is?
"Am I being weird?" "Yes, and that's coming from me."- Leonard and Sheldon, respectively
I love Fun With Flags. I wish it were a real thing.
"Flags of countries who were torn apart, and the women I have a feeling were responsible."- Sheldon's "Fun With Flags" theme
"Oh you're going to think about that right here?"- Mandy
"And then the Czech Republic says to Slovakia 'I don't think you understand how being broken up works.'"- Sheldon, who wins funniest moment of the night
So two weeks in, and The Big Bang Theory's winds of change are blowing, but all in very positive directions. I'm looking forward to seeing how the series plans to keep the concept fresh in the coming months, but after the first two episodes I'm pretty confident they'll achieve it.
What did you guys think? Did you enjoy this episode? Let us know in the comments!!
The Big Bang Theory airs Mondays at 8/7c on CBS.
[Photo credit: Michael Yarish/Warner Bros. Entertainment Inc.]