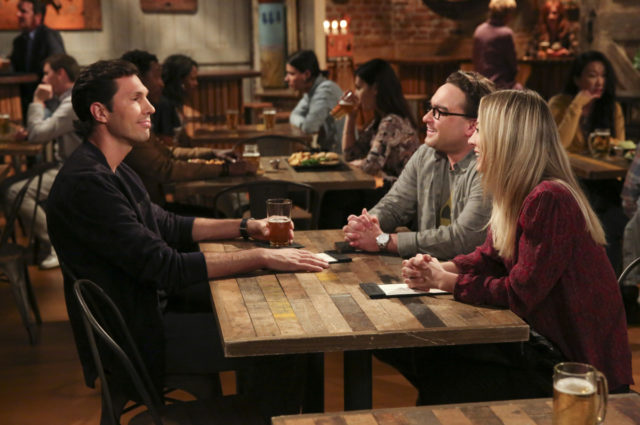 Since The Big Bang Theory is largely focused on intelligent people, with only one average mind in the bunch. Who knew that adding a straight up dumbbell would be such comedy gold. Bringing back Penny's ex-boyfriend Zach gave the show a fresh set of jokes and angles with which to work, and they did not disappoint.
This week on The Big Bang Theory: Sheldon is worried that his mind is not being challenged enough, so he attempts several new tasks to try and keep his mind occupied. Penny runs into her ex, Zach, at a bar when she's out with the girls. Leonard, Penny, and Zach have dinner together, at which Zach offers Penny a job. Penny wants to take the job, but Leonard doesn't think it's a good idea, which causes friction.
I found this episode extremely funny. I should expand a little bit to explain that I am a fan of dumb guy humor, and that having Zach back was right up my alley. But even that isn't just "dumb stuff", but it's well written dialogue. Of course, it helps that Brian Thomas Smith, who plays Zach, has a brilliant deadpan delivery of the dumb guy lines. Smith and Johnny Galecki work well together as opposites. Penny also seems incredibly intelligent next to Zach, which I think is the point of including him. Right? Dumb blonde jokes are a lot more lost on society than dumb jock jokes, and frankly, Penny has proved by being a successful saleswoman and marrying a good guy that she isn't dumb!
Aside from that, the story with Sheldon worked really well too. Obviously, we know that most of the characters on this show are hyper-intelligent people who are good at things like science and math. So exploring the hidden talents of Howard and Bernadette was a fun exercise. Sheldon trying to broaden his horizons was important, too, because not many people even attempt that sort of thing. By even trying to do something he's not good at, Sheldon displays growth and simultaneously makes audiences laugh with his unicycle jokes.
Here are a few other thoughts/funny moments:
"I was thinking about our humiliation at the hands of those teenagers" "You're going to have to be more specific"
"He's like the Swedish Chef puppet. I don't know what he's saying, but he's funny"- Zach, re: Sheldon
Zach said he has a lot of menu jokes. I want to hear all of them.
"Howard said I could borrow it. Bernadette said forever."
"Uni, bi, tri, menstrual. All cycles are dumb"
I was worried going into this episode, because Leonard being jealous about Penny's male relationships is a tired story. So, I was impressed when this initial hesitance turned into an adult discussion, which solved the issue. It happens so rarely even in real life that you have to cherish it.
Ultimately, I'm very pleased. The return of Zach have proved how far Leonard and Penny have come, and that the contrast between extremely smart and extremely dumb is hysterical. This was a solid episode as the 10th season winds down.
What did you guys think? Did you enjoy the episode? Let us know!
The Big Bang Theory airs Thursdays at 8/7c on CBS
The Big Bang Theory Season 10 Episode 22 Review: "The Cognition Regeneration"
Summary
Penny runs into Zach, who offers her a job, while Sheldon tries to occupy his mind on this week's strong episode of The Big Bang Theory