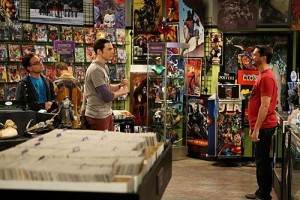 There aren't a lot of recurring bits on The Big Bang Theory, but one of the best is the ongoing rivalry between Sheldon and his 'mortal enemy', Wil Wheaton of Star Trek fame. It's made for some of the most hilarious moments in the show's history, and this week it seems the end of an era is upon us as Will decides to end the contentious state of their relationship so they can finally bury the hatchet. Luckily, there are plenty of other former Star Trek: TNG actors for Sheldon to despise.
Perhaps this is just personal bias coming out, but there's always something special about the scenes that take place in Stuart's comic book store. It's probably a combination of all the replicas on the shelves, artwork on the walls, and the nature of their dialog but it's just always seemed like the place where we're truly seeing the boys in their perfect element. This week, such a scene centers around Sheldon and Leonard debating the purchase of a Game of Thrones replica sword. After we learn Sheldon has absolutely no concept of the value in a good haggling session, the one and only Wil Wheaton enters the store and invites not only Stuart and Leonard, but Sheldon as well to a party he's throwing. And so it begins, as Sheldon views Leonard's acceptance of said invite as a definite betrayal to their friendship.
Later on however, once Sheldon is lured to the party, with the promise of Brent Spiner being in attendance, it's a landmark moment for Sheldon V. Wheaton as Wil makes a move to end the rivalry. I knew as soon as he went to go get something that it had to be a Wesley Crusher action figure since that was the only way this back and forth could ever end–Sheldon ultimately getting his way.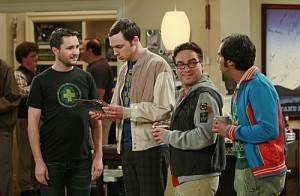 While I'm going to miss the passion and humor of their interactions as enemies, I also really look forward to the potential of Wil and Sheldon: Best Friends Forever. Not to mention, what this new rivalry with Brent Spiner could shape up to be like. There are levels of offense, and I'm pretty sure ruining a mint-in-the-package collector's figure trumps not showing up to a convention for Sheldon.
Elsewhere, there was more growing up for Howard to do as he found a childhood dream of going into space clashing with the fact that he has to consider another person's opinions toward his decisions now that he's getting married soon.This was a nice little aside from the Wheaton story, and it showed that Bernadette and Howard truly could be fit to go for the long haul. Melissa Rauch's impeccable timing and delivery continued to please and now that Howard's mother is aware of this little space expedition, I doubt that he's going to be going anywhere near the upper levels of the atmosphere. He'll be lucky if he can leave his room–she'd probably try to ground him even at his age.
Fav. Quotes.
Two grown-men with a hobbit's dagger, wouldn't we look silly?–Sheldon to Leonard after he mentions buying a replica of Frodo's sword, Sting.
It's hard to put a price on something that's a copy of something that was on pay cable.–Stuart referring to the GoT replica sword the boys were interested in purchasing.
Oh, Boo-Hoo! You're not going to space!–Bernadette telling Howard off after he tried to get her to feel sorry for him.
Of course you would have to believe that, evil always thinks it's doing right.–Sheldon to Leonard about his attitude toward going to Wil Wheaton's party.
I'm going to a party, I'm not turning R2-D2 and C-3PO over to the empire!–Leonard defending his decision.
It's not for us to judge, we're just here to provide comfort and support while you come to grips with what a despicable thing you've done.–Amy voicing her and Penny's role in being there for a guilt-ridden Bernadette.
Howard: want to take a one man sub to the lowest depths of the ocean. Bernadette: Really? You got seasick on Pirates of the Caribbean.
Don't worry,it doesn't take up a whole lot of your time.–Wil Wheaton to Brent Spiner after Sheldon declared the former Mr. Data his new mortal enemy.
2 for $30. And you come to my birthday party.–Leonard haggling with Brent Spiner for some Data dolls. As well as getting him to agree to attend his birthday party.