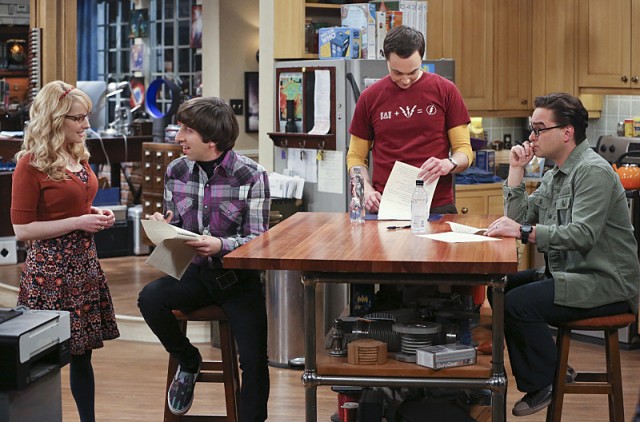 Hopefully you caught my wonderful pun. The Big Bang Theory, now in their 201st episode, has really been doing great work evolving their characters and advancing their story. Though the weird nerd references that don't really apply still seem to work their way in some times (There was no point to the Theon Greyjoy joke), this show has ultimately relied on its characters and their emotional journeys for their stories, and I'm quite proud of what the show has become.
This week on The Big Bang Theory: Leonard, Sheldon, and Howard seek a patent for their invention, but find out that the university gets 75% of everything they make from it. Howard, being a NASA employee, is cut out completely. Sheldon and Leonard devise an agreement that would share their monetary gains with Howard, Bernadette clues him in to a few stipulations he might want to include. Meanwhile, Raj seeks the advice of Penny, Bernadette, and Amy when Emily leaves an expensive gift on his doorstep.
First of all, I really appreciate when the show only divides into two stories. Trying to split up the story more than that just makes it seem convoluted and (more) ridiculous. The two stories that intertwined with each other really worked in the show's favor. I don't think either one was really groundbreaking, but real people dealing with real problems is what creates compelling stories and characters. In that case, this worked.
As much as I liked this episode, I HATED that Raj couldn't decide what to do. He knows that he doesn't belong with Emily, and that other girl was just stating the obvious. If I were Raj, I might've talked to my married, male friends in that case, but come on. We all knew how it was going to end. Raj is weak. As wonderful as it is that these stories paint Raj as vulnerable and sweet, it was hard to watch him fall into that trap. Emily was a fine character, but we ALL know she and Raj aren't right for each other. By the end I was doing everything I could not to scream at Raj to go hang out with the other girl. Ugh.
Though it disappointed me in some ways, it was still very funny. Here are some of my favorite quotes/moments from the episode:
"Is the impression that your first name is Pee Wee?"- Howard, re: Sheldon's bow tie
"You're an engineer. End of joke. Burn."- Sheldon
"Guy gets a little money, goes straight up his nose."- Howard
"For all I know it's a voodoo doll of me with a fork stuck in my junk."- Raj
"Once I found a stash of contracts under his bed. It was weird." – Leonard, with today's weird Sheldon confession
"Any chance you can send me a PDF of that playbook?"- We've all been trying that for years, Raj.
"Oh baby it's addendum time!"- Sheldon
There were some funny moments, but Sheldon's contract obsession easily takes the cake. Hilarious. Ultimately, I found this episode entertaining and containing plenty of substance. While not the greatest episode in history, it did well and served its purpose.
What did you guys think? Did you enjoy the episode? Let us know!!
The Big Bang Theory airs Thursdays at 8/7c on CBS
The Big Bang Theory Season 9 Episode 18 Review:
Summary
Howard, Leonard, and Sheldon file a patent on an invention in this week's funny Big Bang Theory.