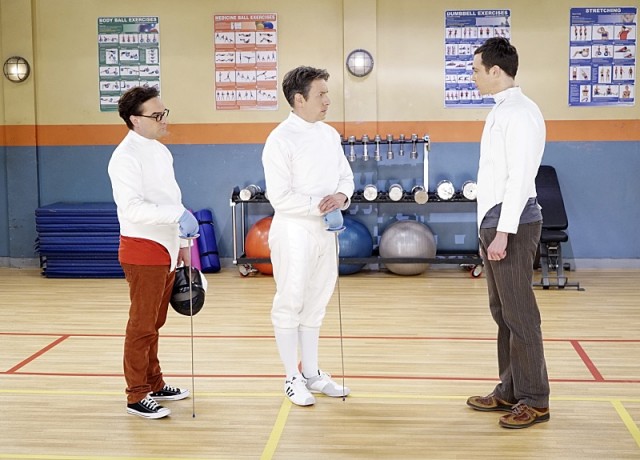 The Big Bang Theory has done an excellent job of raising the stakes, and overall, the show has made a pretty strong go of things in its ninth season so far. It still feels like the same show, and it's still funny, but there is a real feeling of digging deeper and doing a lot of character legwork. "The Perspiration Implementation" proved that the series can take this approach, and still produce one of the funniest episodes on television. This was easily the funniest episode of The Big Bang Theory's ninth season, and it still told a touching and emotional story.
This week on The Big Bang Theory: Spurred by Bernadette's urging, Howard and the rest of the guys decide to take fencing lessons from Barry Kripke. Stuart asks Penny, Bernadette and Amy for advice on how to attract female customers to his store. Barry Kripke asks Amy out on a date. Sheldon and Amy have a post break-up encounter.
Honestly, I'm really impressed. The ninth season of The Big Bang Theory has been great so far, but my favorite part of it has largely been its attention to its characters and the emotional stakes. What I didn't expect was carrying those traits into the funniest episode of the season. The amount of sheer physical comedy in this episode was enough to make it a humorous half-hour comedy episode, but Big Bang, as it often does, goes above and beyond. They parlayed the physical comedy into a raw, real look at breakups and how they affect people. Sheldon and Amy's interaction at the end of the episode was beautiful, and unsettling in a "real-life" sort of way. How do you speak to your ex when you run into them? How do you talk to each other about dating other people? These are some of the questions Big Bang is tackling.
Of course, the physical comedy can't be overlooked. First, Howard's robot that kept track of his Fitbit miles? Let's just say I can relate. Then, of course, they really upped their game and put the boys in a situation that requires athleticism. You don't have to watch the show regularly to know that it will be funny. There were some other good physical moments, like when they were warming up. The best part, though, was Barry answering his phone and all of the amateur sword fighting that took place when he was turned around. I haven't laughed that hard in a long time. Physical comedy is sometimes undervalued in today's comedy spectrum, but when used well it's an absolute goldmine.
As always, here are some of my favorite quotes/moments from the episode:
"I feel cool, like Puss in Boots."- Raj
"Yeah, I'm here cause I think it'll be like Game of Thrones!"- Again, Raj
"This is easy. I didn't need to wear a cup."- Leonard
"Excuse me, Barry, when can I stab one of my friends?"- Sheldon
I have to mention it again. Sword fighting behind Barry's back is easily the moment of the week.
"Look at us, we're like the Rockettes!"- Raj had all the best lines this week
"Okay Leonard, prepare yourself for a rigorous touching."- Sheldon, now using proper terminology
"The Perspiration Implementation" was easily Big Bang's best episode of the season. It was funny, emotional, and hit all the right notes while staying true to forumla. Not an easy feat today.
What did you guys think? Did you find this episode as hilarious as I did? Let us know in the comments!
The Big Bang Theory airs Mondays at 8/7c on CBS.
[Photo credit: Monty Brinton/CBS]