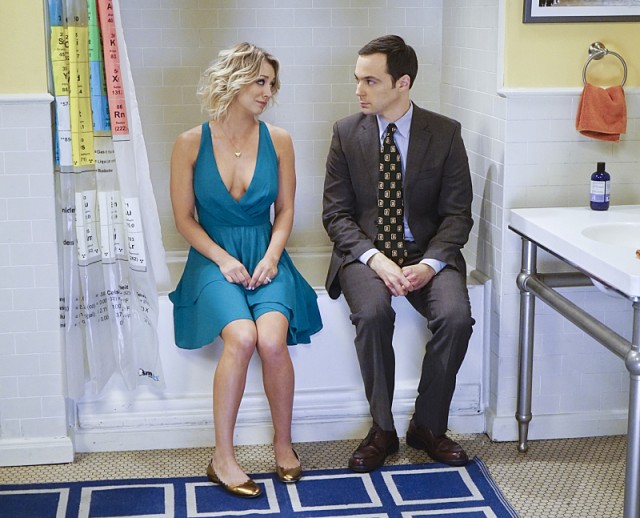 It's finally arrived. The 200th episode of The Big Bang Theory has come and gone. Characters of old, and new to the show but not to the convention circuit, showed up all in the name of giving Sheldon his first genuinely happy birthday. It merged the history of the show and the nerd culture with the constant character growth that all of Season 9 has exhibited so far. I was worried they'd back-track in the name of references and humor on the 200th, but instead they proved exactly why this show is so beloved.
This week on The Big Bang Theory: Sheldon's birthday approaches. Sheldon doesn't usually celebrate his birthday, not surprisingly related to a childhood trauma. Amy convinces him to let her throw him a birthday party, and the whole gang (along with a slew of new and returning guest stars) pitch in to make it unforgettable. Guest stars include Sara Gilbert, Wil Wheaton, John Ross Bowie, Christine Baranski, and Adam West.
As you can see, there were plenty of guest stars to go around in this special installment. I was impressed at the way that they seamlessly inserted the plethora of guest stars into the episode in a way that felt (mostly) natural. Having a party for Sheldon for the first time in forever was a good way to have characters that wouldn't normally be there come together. The party format felt natural.
I've constantly been impressed at the depth that Big Bang has shown its characters over the 9th season. Other characters have done plenty to grow, but Sheldon in particular has had a big year. "The Celebration Experimentation", while a pretty big episode for all of them in terms of expressing growth, was particularly big for Sheldon. I think some people who watched this show in the beginning found Sheldon to be a caricature and hard to relate to. Now, however, I think everyone can relate to him. Who doesn't have insecurities from their childhood seeping through into their adult lives? This episode was also proof of growth in the others, whose disdain for Sheldon has evolved over the years into fondness and love. Wil Wheaton even became his friend after being his mortal enemy! There's a ton of depth to these characters that gives Big Bang that extra something special that only certain shows have.
As always, here are some of my favorite quotes/moments from the episode:
"How thick can a soup get before it becomes a stew?"- Sheldon's alternative conversation topic
"He won't take the bus. He won't pack his own lunch. He won't let you sleep on his couch."- Stuart, re: Adam West
"I love me some Clooney!"- Raj
"Sweetie, we're on the clock here, can you hate yourself and frost at the same time?"- Penny, to poor Stuart
"Me, Keaton, Kilmer, Lego, Bale, and the pretty boy Clooney."- Adam West ranking Batmen.
It's really funny, but Leonard's mom is the worst.
Love that Leslie Winkle just slipped in for the party.
"How do you know I'm not using the facilities?" "Because you email me your bathroom schedule once a week, even though I've clicked unsubscribe like a thousand times"
"Wil Wheaton in the bathtub. Batman on the toilet. It'll be like the weirdest Comic Con ever."- Penny
"Everyone will think I'm weird"- Sheldon
I don't think this episode was the best episode of the season, but it was still a strong, funny, episode that packed some strong character growth inside. I laughed, and it moved me.
What did you guys think? Did you enjoy this episode? Let us know in the comments!
The Big Bang Theory airs Thursdays at 8/7c on CBS
The Big Bang Theory Season 9 Episode 17 Review: "The Celebration Experimentation"
Summary
Sheldon lets the gang celebrate his birthday on The Big Bang Theory's 200th episode