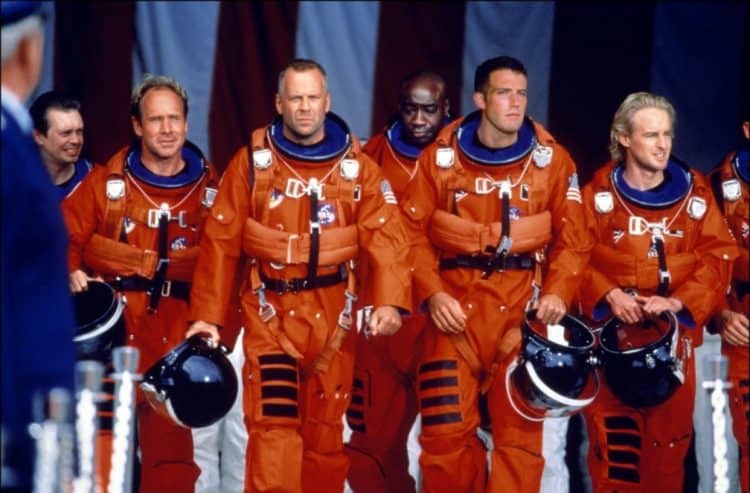 If you don't know who Aerosmith is at this point or know any of their songs then I feel a little bit bad for you but will at least take the time to try and help educate you. They're one of the greatest rock bands to ever live, they've been around for longer than some of us have been alive, and their music is one of the best additions any movie could ever ask for. Despite being opinionated, that's a small lesson that many people could benefit from. Aside from that, check out iTunes or any other music platform if you really want to get into Aerosmith and their long list of tracks.
Otherwise, enjoy the songs as they're played below.
5. Sweet Emotion – We're the Millers
What do you get when you combine a drug dealer, a stripper, a street urchin, and a nice but clueless kid? You get the Millers, the perfectly staged family that don't like each other, want nothing to do with one another, and are only together to provide the perfect image of the fun and friendly family they aren't. Now tack on the fact that they have to run an RV full of drugs from Mexico to America and you get a truly hilarious movie.
4. Back in the Saddle – The Fighter
The true story of boxer Mickey Ward was an inspiration despite the fact that the movie, per usual, leaves out a few things and hypes up a few others. The real truth is that Mickey did in fact need to win a title and did have a lot of issues with his brother Dick Ecklund. But eventually he overcame just about everything and was able to become the pride of his town.
3. Last Child – Grown Ups
It's amazing what happens when we grow up and then get back together. Granted, the guys got back together for a funeral, but it brought them a lot closer than they'd been in years and reminded them what it was like to be young. As films go it wasn't the best but it was far from being the worst. Sandler might have a lot of critics but honestly critics' jobs are just too easy when it comes to ripping films apart.
2. Cryin – Be Cool
I'm willing to bet that a lot of you had either forgotten or didn't even know about this movie to begin with. The premise is very simple. Travolta's character is after a new talent and finds one in Linda Moon. Unfortunately her contract is currently held by a manager that is actively exploiting her. Travolta takes over her contract, there's trouble, he handles it, end of story. Kind of a funny movie though.
1. I Don't Wanna Miss a Thing – Armageddon
The song actually topped the charts longer than the movie did. Armageddon kind of cashed in on the disaster movie craze and then faded out soon after. It's biggest draw by far was this song, which in turn was sung at a LOT of weddings the year it came out.
So now you get it. Aerosmith is one of the absolute greatest bands to ever hit the stage.
Save
Tell us what's wrong with this post? How could we improve it? :)
Let us improve this post!