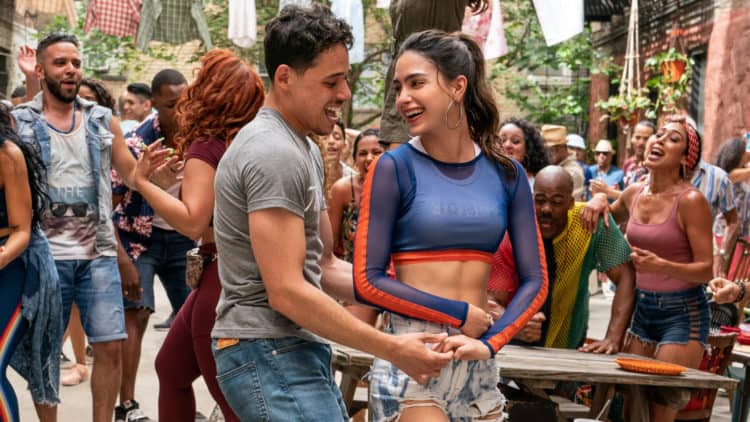 Sure, lots of us love a good summer action blockbuster. From the Harrison Ford adventure movies in the 80s and 90s to the Marvel movies that come out pretty predictably every summer, there's nothing like a good chase and a few nice big explosions to remind us why we love movies so much. On the other hand, we've got a soft spot for musicals, too. They're a completely different vibe, of course. But just like those big explosions get our blood racing, a nice big musical number with the entire cast singing and dancing thrills us and also reminds us why we love movies.
There are a bunch of musicals headed to the big (or little, depending on how you stream) screen soon. "Dear Evan Hansen" is scheduled to be released September 24. Steven Spielberg's take on "West Side Story" is coming out this December. "Matilda" should be out next year. Nick Jonas is working on a version of "Jersey Boys" that will head to a streaming service. And there are so many more movie musicals that are either in production, or being talked about. While we wait for all of those to be finished, here are the ten best you can stream right now.
1. In the Heights
Lin-Manuel Miranda's first musical, which he wrote in college, came to the big screen and to HBO Max in June. It was one of the first "you-HAVE-to-see-this-in-theaters" movies since the lockdown prevented us all from going to theaters…and prevented actors from making movies for a while. It gets you toe-tapping from the very beginning with a huge musical number, and doesn't stop til the end. Insider tip: make sure you watch through the credits for a funny little post-credits scene that you'll appreciate especially if you're a "Hamilton" fan.
Where to stream: "In the Heights" is on HBO Max.
2. Dreamgirls
This 2006 movie musical about a Detroit black vocal trio in the 1960s called The Dreamettes won Jennifer Hudson an Academy Award for her role as Effie White. Beyoncé and Anika Noni Rose round out the amazing singing group. The movie has some showstopping numbers, of course (how could you not with those three?), and some intense acting as well.
Where to watch "Dreamgirls": You can stream the movie on HBO Max, or rent it from Amazon, Google Play, YouTube, Vudu, AppleTV, or DirecTV.
3. Singin' in the Rain
We're digging deep in the archives for this one, but "Singin' in the Rain" is a classic from 1952, with a great storyline, a lot of humor, and Gene Kelly (with Princess Leia's mom!). There are so many scenes that have become iconic that everyone who loves movie musicals should see this one at least once. It's also a great pick for family movie night.
Where to stream: You can stream "Singin' in the Rain" on HBO Max or rent it from Amazon, Google Play, YouTube, Vudu, AppleTV, or DirecTV.
4. Hamilton
Yep, Lin-Manuel Miranda gets two mentions on here. "Hamilton" wasn't filmed the way most movies are, but was shot as a stage production complete with an audience. You feel more like you're watching the show in the theater than watching a movie. The audience reactions and the cast's acting in a theater make this a unique experience and it's definitely one to watch.
Where to stream "Hamilton": You can stream this movie on Disney +.
5. Little Shop of Horrors
Steve Martin! Bill Murray! Man-eating plants! This 1986 movie starring those two, plus Rick Moranis as Seymour is a "horror comedy rock musical." Naturally. Everyone in this movie is over-the-top, plenty of people die (and – spoiler alert – are eaten by the plant), and it's generally ridiculous, goofy fun. Interestingly, the movie ending was redone after screening audiences didn't like the bleak way the musical actually wraps up.
Where to stream: You can stream the movie on HBO Max, or rent it on Google Play, iTunes, Vudu, or Amazon.
6. The Prom
"The Prom" is based on the true story of a lesbian teen in Indiana who wanted to bring her girlfriend to prom but wasn't allowed. The movie musical version features Hollywood stars Meryl Streep, Nicole Kidman, James Corden, and Andrew Rannells who play washed-up actors that decide they're heading to Indiana to gain some publicity and help the teen out. It's got some great show-stoppers, but the best is "Love Thy Neighbor," about halfway through.
Where to watch: "The Prom" is streaming on Netflix.
7. West Side Story
While you're waiting for the new movie to come out, watch the original from 1961. If you're not familiar with the plot, it's a take on Romeo & Juliet, with the two lovebirds being played by characters who are involved with rival gangs in New York. Rita Moreno kills it as Anita and won a Best Supporting Actress Oscar for her role.
Where to stream: You can rent or buy the movie on iTunes, Amazon Instant Video, Google Play, and Vudu.
8. The Greatest Showman
"The Greatest Showman" is one of the few musicals that began as a movie and then went to Broadway, instead of the other way around. It's got everything a big, blockbuster musical needs – lots of choreography, big numbers featuring tons of people, nice loud anthems you can't help singing afterward. In short, a whole lot of fun.
Where to stream: The movie is streaming on Disney +.
9. The Muppets
Jason Segel co-wrote and starred (along with Kermit, Fozzie, Miss Piggy, and the rest of the gang) in this Muppet movie that's just. So. Happy. There are also plenty of songs scattered throughout, which we think qualifies it as a musical. "Man or a Muppet" is the heartfelt ballad, and there are big numbers with plenty of singing and dancing both to kick off the movie and for the big finale at the end.
Where to watch: You can stream "The Muppets" on Disney + and on Netflix until August 31.
10. Moulin Rouge!
The tragic love story of Christian and Satine at the Moulin Rouge is another musical that was a movie first…then a hit Broadway show. There's plenty of singing and dancing in the movie (it is set in a caberet, after all). You'll recognize several of the songs in the movie that are given a new twist. The glitz, the costumes, and the dancing all make the movie a whole lot of fun…but have the hankies nearby for the end.
Where to watch: You can stream Moulin Rouge! on Amazon Prime, iTunes, Vudu, YouTube, and Google Play.