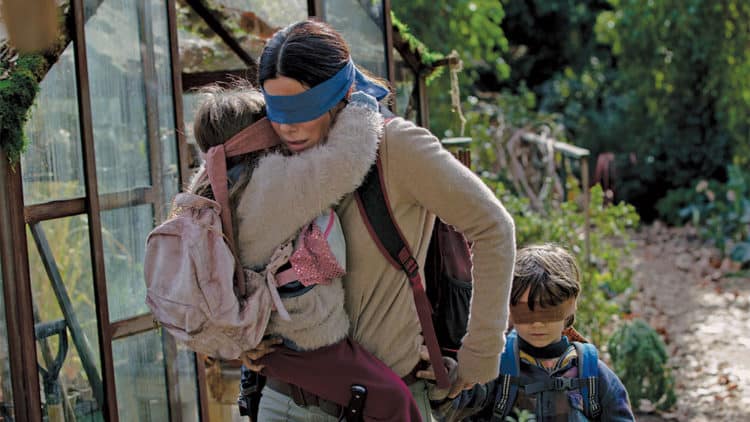 We have witnessed the different phases of Sandra Bullock's career over the years. She has kept us at the edge of our seats with her action-packed movies, made us swoon over her love stories, and had us laughing our hearts out at her comedy films. She's a versatile actress who has managed to stay on top of her game even after all these decades. Bullock also has this air of mysteriousness that may come from her being elusive. She shies away from social media accounts and stays away from the spotlight unless she has a new film to promote. She makes an effort to keep her personal life private, and this just makes us appreciate her all the more. We look forward to every interview and get excited about each red carpet appearance. Here are five heart-stopping scenes starring Sandra Bullock:
5. The Net
Action thrillers from the 1990's are a breed of their own. They certainly don't do it like they used to anymore. Bullock played the role of Angela Bennett in the film, a computer programmer who gets to the bottom of a mysterious disc that may have been the reason for her colleagues' deaths. Her investigation puts her life and identity on the line, and she must do everything in her power to save herself. The scene where Angela used her programming knowledge to trick the film's antagonist, Devlin, portrayed by Jeremy Northam (The Crown), into destroying the software that has been endangering peoples' lives. It was a heart stopping moment in the film, as Angela was racing against time and a brutal antagonist. The film was filled with twists and turns that Bullock managed to carry like a true pro.
4. Speed
We experienced some heart-stopping stunts and a heart racing chemistry in the action thriller. The film followed a bus that was rigged by a terrorist to explode if it fails to keep up with a speed of 50 miles per hour. Bullock starred as Annie Porter, an innocent civilian who got trapped in the deadly bus ride. She starred alongside Keanu Reeves (The Matrix), who played the role of Officer Jack Traven, an LA Bomb Squad specialist who was on a mission to stop the terrorist attack. The film was Bullock and Reeve's first onscreen collaboration, which proved to be highly successful in many ways. The film was a box office hit and the pair's newfound chemistry created a new fanbase that brought forth more future collaborations. The scene where Annie successfully maneuvered the bus to jump over a gap in the freeway had us holding our breaths the entire time. Bullock is such a well-versed and skilled action star that could make a car stunt look so cool and effortless.
3. Miss Congeniality
The action comedy was all sorts of fun. The film followed Gracie Hart, portrayed by Bullock, an FBI Special Agent who had to go undercover as a beauty pageant contestant in order to stop a potential terrorist attack from happening during the Miss United States pageant. Agent Gracie started off as a tomboy who acted like one of the boys. Seeing her transform into Miss United States was hilarious and mesmerizing at the same time. The scene towards the end of the film where Agent Gracie had to stop the bomb from going off during the crowning ceremony of the pageant was a critical moment in her mission. The stakes were high and the lives of a lot of people were endangered. Agent Gracie acted swiftly and with presence of mind. This tense moment was the culmination of Agent Gracie's undercover mission, and she tackled it like a true girl boss.
2. Ocean's 8
Bullock portrayed the role of Debbie Ocean, a professional thief and ringleader of a massive jewelry heist in the film. She starred alongside an all-star female ensemble, which also served as a proud moment for women in Hollywood, as they start to penetrate the male-dominated action movie space. Viewers were introduced to Debbie through the scene where she conned her way into a luxury shopping experience and five-star hotel room. Debbie was an ex-convict who proved that old habits die hard. She entered dangerous territory once again, as she began her new heist mission with a bang. One wrong move could land her back behind bars in no time, but Bullock acted cool as a cucumber as she executed the thrilling con scene flawlessly.
1. Bird Box
We saw a different side of Bullock in post-apocalyptic horror thriller. The film followed Malorie Hayes, portrayed by Bullock, a mother who has to protect herself and her two children from mysterious entity that cause people who look or who come face-to-face with them to die by suicide. Malorie and her children wore blindfolds throughout the film and embarked on a dangerous journey through the woods to find a place that can offer them safety. The scene where Malorie and her children had to use a boat to get to their destination was suspenseful and nerve wracking. Malorie's maternal instincts kick in and she does everything in her power to ensure herself and her children's safety. Protecting her children is one thing, but fighting the entity while blindfolded is a whole other animal. Bullock proved herself again as she immersed into the role and gave us another unforgettable portrayal.