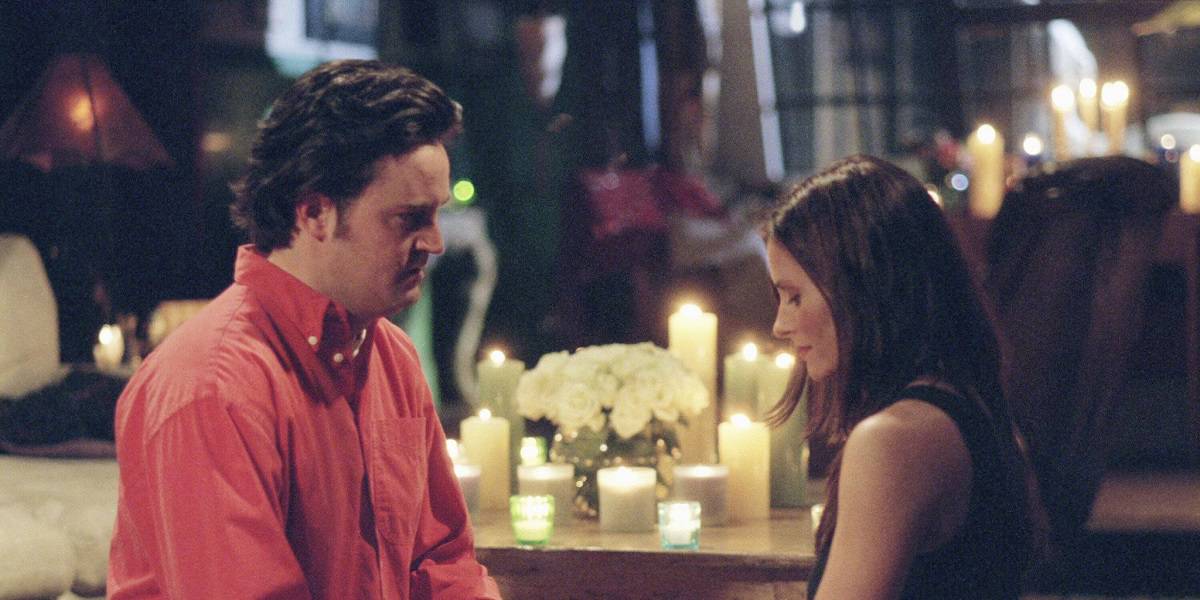 Valentine's Day is coming up so while you were hang out with your sweetie, go out to dinner and catch a movie, we at TVOvermind were busy watching old episodes of Friends on Netflix. In honor of the "holiday," we decided to look back at all the kisses among our favorite coffee-drinking gang. Who knew that there could be so much smooching between six people over the course of a decade? Some of the kisses from the series you may be expecting to see on the list (Ross and Rachel), but there may be a few that surprise you (remember when Joey kissed Chandler?) Here is our list of our ten favorite kisses from the TV series Friends. Did your favorite make the cut? Find out by reading below. Please note that these kisses are only among the core group of six, so though Phoebe and Mike are a cute couple, they are not on this list.
10. Rachel and Joey from Season 9 Episode 24 "The One in Barbados: Part 2," original airdate May 15, 2003
Having Rachel and Joey together as a couple on Friends was not a good idea. However, the two kissing in Barbados does make the list as one of the ten best kisses from the series. Luckily, this relationship was short-lived and Rachel and Ross end up together in the end.
9. Joey and Chandler from Season 1 Episode 10 "The One with the Monkey," original airdate December 15, 1994
New Year's Eve came a little bit early on the first season of Friends. And it turns out that it is not a very happy one for the core group of six. It is almost midnight and no one has a date to kiss when the ball drops. Chandler is upset so he keeps screaming for someone to kiss him. His best friend comes to the rescue with Ross catching the moment on film.
8. Ross and Joey from Season 2 Episode 24, "The One with Barry and Mindy's Wedding," original airdate May 16, 1996
This storyline from the second season finale of Friends was pretty minuscule, but still pretty funny. Joey has an audition for a new Warren Beatty movie and his character has to kiss another guy. He asks for help from his buddies. Ross finally comes to his aid, but it is too late. The audition is over and Joey does not get the part.
7. Ross and Rachel from Season 10 Episode 18 "The Last One: Part 2," original airdate May 6, 2004
It had been a rocky ten years with Ross and Rachel. They date in Seasons 2 and 3, had a baby in Season 8, and then Rachel was going to be moving to Paris in the final episodes of the series. She finally realizes her love for Ross while en route to France. Luckily, she got off the plane, and the two share this passionate moment.
6. Chandler and Monica, Phoebe, and Rachel from Season 5 Episode 2 "The One with All the Kissing," original airdate October 1, 1998
Chandler and Monica have just returned from London and their relationship is brand new when Season 5 of Friends begins. They do not want anyone to know so they are keeping it a secret for now. However, Chandler accidentally kisses Monica in front of the group, so he must cover up this error by giving Rachel and Phoebe a peck as well.
5. Phoebe and Joey from Season 1 Episode 17 "The One with Two Parts: Part 2," original airdate February 23, 1995
Lisa Kudrow was working on Mad About You while she was also starring on Friends. In these two episodes, worlds collided and Ursula appeared on this two-parter and begins to date Joey. After a short while, she loses interest and Phoebe decides to pretend to be her twin to break up with Joey. The two share a kiss and he figures out it is actually his friend he is kissing and not Ursula.
4. Phoebe and Rachel from Season 7 Episode 20 "The One with Rachel's Big Kiss," original airdate April 26, 2001
In 2001, it was less likely that you would find two television characters of the same gender share an onscreen kiss. However, Rachel and Phoebe did have a special moment on Friends' seventh season. This is of course after Rachel kisses her college friend Melissa, played by Winona Ryder. Phoebe claims she just wanted to see what all the fuss was about, and after the smooch she admits that she was not all that impressed.
3. Chandler and Phoebe from Season 5 Episode 14 "The One Where Everybody Finds Out," original airdate February 11, 1999
This is by far one of the best episodes of Friends. Phoebe has just found out that Chandler and Monica are dating. She decides to devise a plan with Rachel and Joey that will force the two to confess that they're in a relationship. This turns into Phoebe and Chandler sharing a very awkward and funny kiss before Chandler finally admits that he cannot pursue Phoebe because he is in love with Monica.
2. Monica and Chandler from Season 6 Episode 25 "The One with the Engagement," original airdate May 18, 2000
The end of the sixth season focused on Chandler and Monica getting married. Phoebe even helped him pick out the ring in one hilarious outing. However, Chandler wanted Monica to think that marriage was the last thing that was on his mind. Because of this, he almost lost the greatest woman in the world to Richard. Monica realized that Chandler was the guy for her and set up the apartment for a romantic proposal, that Chandler eventually gave to her!
1. Ross and Rachel from Season 2 Episode 16 "The One with the Prom Video," original airdate February 1, 1996
This was not the first time that Ross and Rachel kiss on Friends and this certainly is not the last. The two shared a romantic kiss a few episodes prior, but Rachel found the list that Ross had made that was comparing her to Julie. However, Rachel was no longer mad at Ross when she watched the prom video that Monica's parents brought over to her apartment that depicted Ross as a knight in shining armor. Phoebe was right: Ross is Rachel's lobster!
Which kiss is your favorite from Friends? Let us know in the comments section below.
[Photo via NBCPhoto Bank]
Tell us what's wrong with this post? How could we improve it? :)
Let us improve this post!