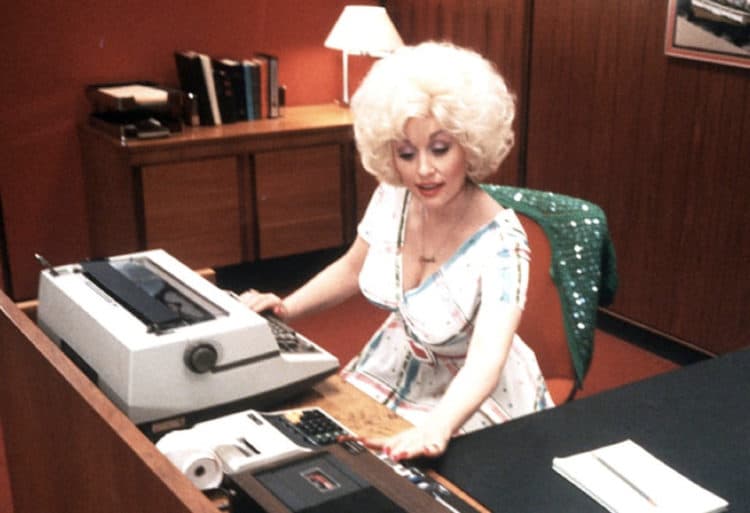 For a long time now Dolly Parton has been an absolute icon when it comes to music and she's also been a surprisingly good actress as well, though it doesn't really seem as though anyone's been lining up to give her an award for her roles in so many movies. This could be due to the fact that as good as she is on screen, and she is quite funny really, she's still so much better on the mic since her voice is one that a lot of us grew up to and can easily recognize once she starts to singing. But in the movies it would seem that she's been typecast a few times and been made to perform in ways that really plays more to her musical talents at times and her more physical attributes in others. There are those movies in which she's been allowed to just be a person and not have to live up to a stereotype, but in terms of her best there are only a few that could be described this way.
Here are Dolly's five best movies.
5. The Best Little Whorehouse in Texas
Despite being described as campy by Jerry Portwood of Rolling Stone, and rightly so I'll add, this movie did earn Dolly an award that made it clear that she is a great actress, though I'll stand by my estimation that she's always been and will always be a better singer. Being adapted from a stage play this movie had a lot to live up to it seems and while it might have made a lot of people laugh and it did provide a means of Dolly getting back into acting after her start in 1980 it would seem that as fun as this was and as well put together as it seemed, it was still more of a film to get a good laugh at, and it worked quite well in that regard.
4. Straight Talk
It's great to give people advice and be able to help them out, but when Shirlee is accidentally put on the air and starts handing out advice on the radio she becomes a huge hit and instantly attracts the attention of many people that are willing to listen, and some that are just ready to tear her down. Jack is unfortunately one of the latter and someone that has already met Shirlee and is a bit suspicious about her new position. After finding out that she's not really a doctor however he's also fallen head over heels for her and decides not to print his story. In the end Shirlee discovers that whether she's a doctor or not people don't care because they've come to appreciate what she's done for them.
3. Joyful Noise
This movie did well enough to make its money back and even profit from the number of people that found it to be engaging and fun to watch as Parton and Latifah went back and forth as two women that were up in arms about who should be the new choir director after the old one passed. Added to this calamity are the two youngsters that end up being each other's love interests but are almost kept apart by their warring mother and grandmother. And on top of all of this is the fact that if they can't get together and make it work their choir program, which is sorely needed for their church, could be finished if they don't find a way to coexist.
2. Steel Magnolias
Jennifer M. Wood of Mental Floss brings up a very interesting take on this movie since it was inspired by a true story and it's not hard to see how this could be since the movie is very down to earth and has a lot of characters that are easy to relate to. Truvy is one of those ladies that tells it like it is and doesn't bother to sugarcoat things all that often, but has a heart of gold and is willing to accept just about anyone into her life so long as they're polite and good company. Her role in this movie is pretty strong since she's the hairdresser, the friend, and one of the women that has a man that doesn't always seem to understand her but is still there for her no matter what.
1. 9 to 5
According to Yohana Desta of Vanity Fair there's been a reboot or remake of this movie brewing for a while now and it's a wonder if we're ever going to see it. The reboot would involve the original trio of Jane Fonda, Lily Tomlin and Dolly Parton while focusing on three younger actresses that are facing the same troubles they did and come to their older counterparts for help. If you've seen the original then you know that this means that they're going to end up getting their revenge on those that are making their lives miserable.
She's an icon without a doubt.
Tell us what's wrong with this post? How could we improve it? :)
Let us improve this post!