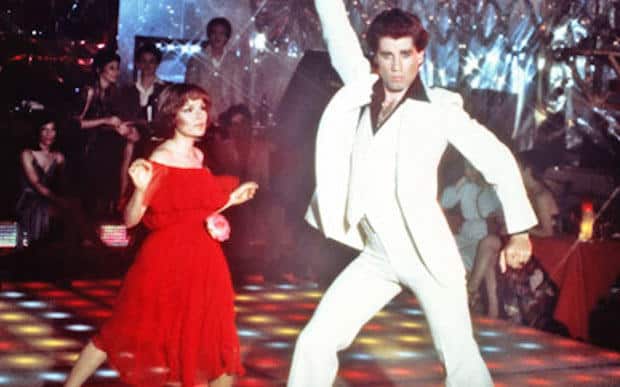 The year was 1977. It was a time marked by perms and afros, huge flares and sweet dance moves — not to mention John Travolta's first blockbuster hit, Saturday Night Fever. This classic film, which celebrated its fortieth anniversary this month, is widely renowned as the quintessential story of 1970s Brooklyn. In fact, the movie was added to the National Film Registry in 2010 — a section of the Library of Congress reserved for movies deemed "culturally, historically, or aesthetically significant".
The movie exposed the gritty reality of disco culture, following the story of dance enthusiast Tony Manero (played by Travolta). If you've seen the film, you will know that Tony had a rough home life and a dead-end job. But, every Saturday night, he took to the illuminated dance floor, busted out some killer moves, and became king for a night. It is clear that he is not happy — yet he doesn't strive for more than the party. His friends are much like him; Joey, Double J, Gus, and Bobby C are trapped in the Brooklyn life, not caring about much more than Saturday night at the Odyssey.
Saturday Night Fever explores themes of promiscuity, abuse, gang violence, and racism, set against the neon lights of disco culture in 1970s Brooklyn. In this article, we will discuss the top five scenes of this classic film, along with some interesting facts about each scene.
This scene is a great example of the vibe director John Badham wished to lend to the classic film. Not only does it have a great joke — "Oh my god, I just kissed Al Pacino!" — but it is set against the song that lent the film its namesake. Saturday Night Fever's working title was "Tribal Rites of the New Saturday Night", later shortened to "Saturday Night". However, producer Robert Stigwood, who also managed the Bee Gees, convinced Badham to change the name to "Saturday Night Fever" after the Bee Gees' song "Night Fever" was released.
Tony and Stephanie's "tango hustle" rehearsal scene is an iconic part of Saturday Night Fever. Their shared love of dancing really brings this section of the movie to life. It is interesting to note that their choreographer was not present during the filming of this scene, so they had no moves already created. So what did they do? They improvised. John Travolta and Karen Lynn Gorney simply came up with some brand-new moves in order to shoot the scene on time — a testament to their superior acting and dancing skills!
This scene also involves Travolta and Gorney, but instead of dancing they are merely talking. Travolta's character is sharing some facts about the bridge from Brooklyn to Manhattan — which is symbolic of the gulf between new horizons and the life he is living — when Gorney's character leans over and kisses him on the cheek. You may also notice Travolta's eyes tearing up at the end of this scene. In fact, the kiss was completely unscripted. Travolta's real-life girlfriend had recently died, and he had returned from her funeral shortly before shooting this scene. Travolta's tears are not simply an act — he was truly going through a hard time in his life when this shot was taken.
John Travolta's solo dance scene to the Bee Gees "You Should Be Dancing" epitomizes the tunes and moves of the 1970s. But did you know it was almost shot in a completely different way? Director John Badham suggested using only close-up shots rather than full-body shots for this part of the movie. However, John Travolta had worked so hard on this set that he threatened to quit if the scene didn't show his moves in their entirety.
This is the scene that started it all. Though the intro to Saturday Night Fever was originally meant to be only lower-body shots of a body double, Travolta pushed for his face to be shown. And it resulted in one of the best movie intros of all time! Another fun fact about this scene is that the woman who serves Tony pizza is played by Ann Travolta, his real-life sister. His mother, Helen Travolta also makes an appearance in the intro — she plays the woman that Tony sells the can of paint to.
Saturday Night Fever will go down in history as one of the best films ever made. We hope that you have learned something new about this classic movie. Let us know in the comments below!