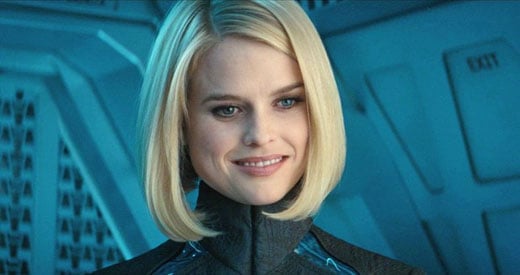 It doesn't seem fair to label Alice Eve as generic but in some cases that seems to be just what she is. She has the pedigree of many stars and is the kind of actress you tend to find will play in roles that are deemed as throwaway roles now and again because they're easy and sometimes quite forgettable. Like I said though it's not exactly fair to pigeonhole her in this manner since she's done a fair amount with her career and has shown that she can be versatile as well. Throughout her time on the big screen so far she's had successes and been part of clunkers that didn't go anywhere but she's been professional through all of it and has kept moving forward, which is a trait that's easy to admire since it implies that no matter what comes her way she's going to keep reaching for roles that she believes she can take on. That alone is inspiring enough since it shows that she happens to like what she does.
Here are a few of her best movies to date.
5. Criminal
She plays a small part in this movie but it did seem to get a bad reputation since it wasn't all that well-received. The story was actually kind of interesting but maybe it was the overall development that needed help. In any case the memories of a dead operative are placed in the mind of a noted sociopath in order to find something, and someone, that both the good guys and bad guys are looking for. By the end of the movie however things take a decidedly odd turn since the sociopath seems to have exited his own mind and the guy that was implanted seems to be kicking around inside.
4. Before We Go
Sometimes people meet in the strangest ways and under the strangest circumstances but it almost seems like it's meant to be. When Nick and Brooke meet in New York they know nothing about each other and while Nick is just trying to do the right thing he gets caught up in Brooke's life just as much as she gets caught up in his. As the story goes along we get to find out that both of them have relationship issues that need to be sorted out and end up becoming a big part of why they are the way they are and how it is that they can connect so easily. By the end of the movie they do part ways, but on a good note at least.
3. Replica
Some laws are not meant to be broken. The laws of nature, for instance, are among those that are the most dangerous to ignore, even in times of great duress and emotional pain. But William Foster cares nothing for this as after losing his family to freak accident he takes the cloning applications and neural mapping that he is responsible for and clones all but the youngest member of his family due to there not being enough available equipment. When his company comes for him to tie up loose ends he makes it clear that they can let him and his family go and prosper with the new technology that's been unveiled.
2. Star Trek: Into Darkness
Some folks weren't too impressed with this movie and others were actually quite pleased. In terms of how Star Trek is viewed by the fans that's actually not a bad outcome really since some people would love to roast the director that made a movie that they didn't like. But as this one and all the others are going to have to follow the line that was created when the timeline was changed in the first one in the series, bringing Khan into this was actually a decent way to introduce a few more characters and keep the active story line going in a way that would inspire even more innovation and creativity.
1. She's Out of My League
This stands out as one of the many movies that people love but wouldn't believe in a million years largely because the odds against it happening are massive, as in on a scale of Pikachu trying to beat up Godzilla massive. The whole story, as you can guess, is about a nice enough guy that's a moderate 5, is an airport guard and is kind of a goof, somehow attracting a woman that's a definite 10 and is highly successful. Of course there's going to be disbelief by design since this kind of thing doesn't happen every day in real life, but that's kind of the point of the movie since it's all about getting a good laugh and finding a reason to say 'awww' when the movie is over.
Her movies don't always get the most notice, but when she's on the screen she's really hard not to notice.
Tell us what's wrong with this post? How could we improve it? :)
Let us improve this post!