Last week, in conjunction with his upcoming appearance as a guest judge on Face Off (February 8th), Sam Huntington answered questions about his Being Human character, Josh.
As the latest season's progressed new characters have been added resulting in less time spent between the core trio, how has this change affected the dynamics between the central characters? Sam explained, "Yes, there are a lot of new characters this year which I think broadens and makes the show more rich. But at the same time, yes, it means that the three of us, Sam and Meaghan and I, didn't get to spend as much time with each other this year. The funny thing is it didn't change the dynamic between the three of us at all. In fact when we do get to work together, which is less often – but still often, we're like school girls. It's ridiculous and it makes the silliness and stupidity on set just – inappropriate." Chuckling, he confesses, "We love each other like siblings. I mean, it's really truly the closest I've ever been with my cast mates, for sure."
Still, Sam can't help but miss them since they now spend more time apart? "Oh yes – yes, I miss them desperately. Because the other thing is not only do I miss them personally and we have such – this crazy and amazing bond, but we know that when we're working together, when we walk on a set, we're all working together. We know what we're doing is going to be great. It's just comfortable and natural and organic as it comes out. And we're able to help each other, and guide each other through — it just works. It's like we were meant to be put together, to work together. It's just a bizarre thing, it happened immediately and it's only gotten better. So I love them so much, it's crazy."
Fans praise Huntington's ability to inhabit his emotionally complex character with seeming ease. Is it because he and his alter-ego share some personality traits? "Oh so much, so much. His nervousness, his eagerness to please, his guilt, his… a lot of his humor. A lot of the humor that you see on the show is just me being me. So much, so much. I look just like him. Yes, all those things — all those things. A lot of what makes him him."
No doubt a large part of Sam's believability comes from the discipline born of theatrical training. Thanks to his mother (a talented playwright) running a children's theater company Sam was performing on stage by age seven. At age nine he joined a New Hampshire regional theater and the rest is, as they say, history. "I pretty much knew at that point that not only did I love acting, but I was decent at it and I wanted to do it for the rest of my life. So I feel really lucky to have found something that I'm not only so passionate about, but have been able to make a living doing."
Would Sam like to direct an episode if the opportunity arose? "If they'd let me, I'd do it tomorrow. I'd do it now. But you know what, we're extremely lucky to have such talented directors on the show. People who inspire me and people who help me and challenge me. Adam Kane, one of our executive producers, is one of the more talented directors I've ever worked with and he's always, always, challenging me to be better. So that being said, I would love to direct an episode of Being Human – I would absolutely love that. Someday maybe they'll let me."
* Be warned, the following paragraphs contain spoilers pertaining to the rest of this season.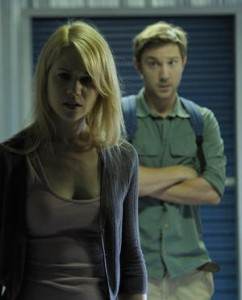 This season Sam has had a lot to chew on as his character's fraught relationship with Nora (Kristen Hager, Valemont) has taken some unfortunate turns, but, it's clear their bond is deepening. When asked to expound on Josh and Nora's relationship Sam earnestly confided, "Well, Kristen Hager is for all intents and purposes the fourth roommate, right? I mean she, especially this season, she's as much a part of the show as any of us I think and is such a brilliant actress. So for me, I feel like the luckiest guy on the planet. My scene partners are so, so, brilliant: Sam and Meaghan and Kristen. But yes the cool thing is, like, I have a deep connection with Kristen. So when we are in these scenes that are so very heavy and so relatable – I mean they're real relationship issues. Between the miscarriage, and, also like a pregnancy that's probably too soon; way too soon in a relationship. These are things that people, I think, can probably really relate to and Kristen and I take that into everything that we do. She does such a beautiful job that it makes me have to work harder to keep up." And as for the writing? "They continue to write their relationship like a rollercoaster. I mean, it's – Josh's – basically his main thing this year and it's all over the place and it really has to do with her being — without revealing too much — it really has to do with her being a werewolf, the kind of trauma that causes to the relationship and how Nora reacts to it." Concluding the subject of castmate Kristen Hager Sam shares, "That party scene where she breaks down is one of my favorite scenes I've ever been a part of – ever. It's so amazing. It's just so crushing."
One inevitable question remains. What would Sam Huntington like to see happen in Josh's future? "Well, a lot of what I'd want to happen actually happens this season. Ultimately, somewhere down the line, I'd like Josh to find his inner peace and I'd like him to be able to have the normalcy that he so desperately wants. I'd love him to have a family. Playing Josh everyday, I – I feel for him. I feel for his want and need for normalcy. So that's what I would want for him,… because he's a great guy."
Watch what happens between Sam and the gang tonight in, "(I Loathe You) For Sentimental Reasons," at 9/8c on Syfy.
Tell us what's wrong with this post? How could we improve it? :)
Let us improve this post!