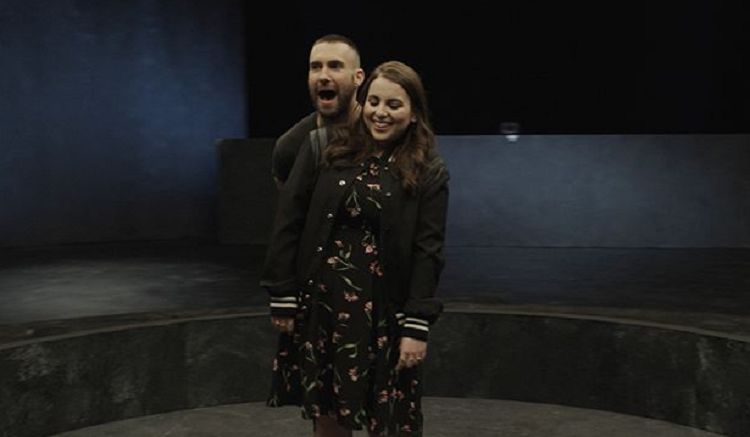 Grey's Sloan Memorial is getting a new intern. Star of Lady Bird and Booksmart Beanie Feldstein has set her sights on the small screen and is ready to impress in her new role as Grey's Anatomy latest over-achieving newbie, Tess Desmond. Whether or not we'll get to see her in a multi-story arc, we don't yet know. What we do know is that this is one actress whose career is most definitely on the rise. Find out more with these ten fast facts.
1. Acting in the Blood
Feldstein isn't the only famous member of the family. Whatever her parents (Sharon Lyn, a costume designer and fashion stylist, and Richard Feldstein, an entertainment accountant) were doing, it clearly paid off. All three of their children ended up hugely successful in showbiz: her eldest brother, Jordan Feldstein, was the manager for Maroon 5 until his sad passing in 2017, while her other brother is the actor, director, producer, screenwriter, and comedian, Jonah Hill.
2. A Change of Name
It probably seems hard to believe that two people with such traditional names as Sharon and Richard ended up calling their only daughter Beanieâ. And, indeed, they didn't. Beanie was christened Elizabeth but earned the nickname Elizabeanie from her English nanny. After her brothers decided they'd much rather have a sister called Beanie than Elizabeth, the new name stuck.
3. Famous Friends
As well as being able to claim Jonah Hill as a brother, Beanie can also call one of Broadway's fastest rising stars as her best friend. One of her classmates at the prestigious Harvard-Westlake School was none other than the Tony award-winning actor, Ben Platt. The pair struck up an immediate friendship and were inseparable for the rest of their time in high school (so much so in fact, Beanie refers to Platt's mother, the board director of The Jewish Federation of Greater Los Angeles, as a second mom. They've remained close ever since, and when Platt won his Tony, there was clearly no one happier than Beanie. "At 12, we met at a bat mitzvah, at 14, we became best friends, at 16, I gave him cufflinks to wear when he wins his first tony, at 23, we are on Broadway at the same time… and he wore the cufflinks," she gushed on Instagram.
4. No Compliments, Please
Growing up, Beanie was always on the brunt end of negative comments about her weight. After eventually learning to accept herself for who she was, the physical demands of her Broadway career saw the pounds start to melt away inviting a lot of unwelcome comments in the process. In an article for the Refinery, Beanie reflected on how the comments had made her think about her body for the first time in years. After years of finally not feeling judged by myself or others, all of a sudden I felt so seen. And I have to be honest: It really messed with my head," she wrote. After years of pain, I had finally found such a beautiful peace, one that most people, no matter what size they are, don't have. And all of those compliments took that away from me. So, if you ever chance to meet Beanie in person, you might want to do as she asks and "please stop complimenting me!."
5. The Role of Faith
Beanie grew up in a Jewish household (her bat mitzvah, as you'd expect, had a theatrical theme), and has spoken about how the religion remains a vital aspect of her life today. I think we're a very culturally Jewish family, and there is a beautiful sense of community in Judaism, Feldstein told the Jewish Journal I love that.
6. Refusing to be Defined
Beanie, who's been in a relationship with English producer Bonnie Chance Roberts since 2018, might be open up her sexuality, but she's determined not to be defined by it. "For me in my life, it is a part of who I am but it is not at all my defining feature," she told People. It doesn't mean I don't love my girlfriend, it's just part of who I am."
7. A Shared Obsession
Beanie and Jonah Hill don't just share DNA- they both share a deep, wholehearted obsession with Melissa McCarthy. As well as flooding social media with adoring comments (most of which simply refer to McCarthy as our queen, they've both made no secret of how much they'd like to work with her¦ although if Beanie's Instagram post from 2017 is anything to go by ("don't mind me just starting my morning by watching Melissa McCarthy acceptance speeches and sobbing!!!!!!"), she might want to bring some Kleenex if she does.
8. Girls Like You
Beanie and Maroon 5 frontman Adam Levine go way back. Thanks to her dad being their accountant, Beanie was there right from the start. At one of their earliest gigs, Levine even dedicated a number to her… although the then 5-year-old Beanie was less enthusiastic than she'd be 20 years later when she featured in their "Girls Like You" music video. "When I was five years old, Adam dedicated a song to me at one of the band's first gigs and I stood up on my chair and yelled, "I HATE YOU! STOP EMBARRASSING ME!" and ran out of the room," she shared on Instagram. Almost twenty years later, he invited me to be a part of something very, very special and I decided not to run out of the room. Love you, @adamlevine. #girlslikeyou."
9. Starting Young
Beanie made her TV debut all the way back in 2002 on My Wife and Kids. At the time, she was just nine years old. It'd be another 13 years before she hit our screens again, this time around in an episode of Orange Is the New Black. Since then, she';s been lighting up our screens in everything from Will and Grace (2017) and What We Do in the Shadows (2019) to The Simpsons (2020) and Greys Anatomy (2020).
10. Golden Globe Nominee
Over the past year, Beanie has well and truly emerged from the shadow of big bro Jonah. If her current role of successes is anything to go by, Hill has some real competition on his hands for who scoops the title of most famous family member. This year alone, Beanie has already received a prestigious Golden Globe nomination for her stunning performance in Booksmart, having already bagged the Virtuoso Award at the Santa Barbara International Film Festival.