Unlike previous episodes, "A Boy and His Dog" addressed the concept of control directly. Norma, after learning that Norman's school is requiring him to see a therapist, decides to take him to one on her own and not through the education system. During the session, the therapist asks Norman questions pertaining to how he likes living in this new town and if he misses his father; however, Norman doesn't get to answer much himself. Norma knows all the answers for him. She has control over him. And the therapist sees that. After Norman leaves the room, the therapist addresses Norma and wishes for her to either stay out of the next session or start going to sessions on her own. He says that people who normally have control issues are the ones that do not have control inside them. Threatened, Norma begins to typically lose control and accuse the therapist of being stupid and uneducated about his practice. It's a clear state of denial inside her because she knows that she does not have control over most of her emotional life and it scares her.
Back at home the unsettling man renting room 9 at Bates Motel, Jake Abernathy, wants to clearly show how much power he has over Norma. She comes to clean his room, and he invites her in, but he begins to discuss Zack Shelby and Keith Summers, two sensitive points for Norma. Both men have hurt her and violated her in addition to running a human trafficking ring. The idea of sex and how personal it is might be the heart of the physical matter, but it's really Norma's insecurity with the men in her life that is being rooted. Later, Norma decides it's a great idea to follow around Mr. Abernathy after he ominously drives away at night, leading her to the docks. The same docks where Keith Summers and Zack Shelby were holding a girl against her will. Because Norma is probably the worst spy ever to grace the small screen, she is caught and is threatened by Jake. Then, when Norma is back at the motel, she marches up to room 9, throws rent money in Jake's face and demands that he leaves her property, which he does, but not without threatening her again. She tries to convince herself that she has the power in this situation. She wants control, but he is determined to prove her wrong. When he leaves, Norma thinks that she has won, however, she does not expect the dead body of Zack Shelby to be lying in her bed when she goes upstairs to change later that night, the cliffhanger of the episode.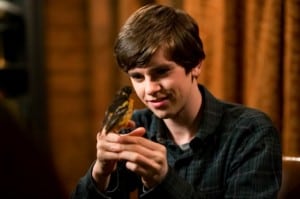 Meanwhile, over in Norman-land, Norman is approaching the curve of the slippery slope that leads us to the infamous killer. After having his "dog for a day" pet get hit by a car and die, Norman decides to take it to Emma's father, a taxidermist. After the dog is stuffed, Norman decides to pick up taxidermy as a hobby with Will, Emma's father, as his teacher. Now, everyone remembers the scene from Psycho when Marion, the woman from the famous shower scene, and Norman are sitting in the motel office and stuffed birds surround them? Good. It's when he reveals to Marion that this is his hobby and why he loves birds, all while showing how peculiar he can be.
In addition to this little hobby, Norman also learns that Emma told a bunch of girls in the girls' bathroom that Bradley and Norman had slept together. Bradley finds out and is angry because she has a boyfriend and doesn't want this to go around the school. However, the subtle fact is that Bradley really doesn't want to be known for sleeping with Norman Bates. Norman is the weird kid in school. He keeps to himself (and doesn't stereotypically instagram every thing he eats and tweet everything he says). An angry Norman rushes over to Emma's house wanting to know why she told everyone about his rendezvous because she must have an ulterior motive; but no. Emma simply replies that the girls were making fun of him and she thinks he is special and doesn't want that to be the way people think of him. But it's not because she loves him, of course.
During this little gossip drama, Norman decides to leave school in the middle of the day without a note. His teacher, Miss Watson, sees him and tries to get him to come back inside. Norman is not having any of it, thus making her call Norma to the school bringing us back to the therapy issue. Also, this resurrects whatever plot line they are developing with this single, caring teacher.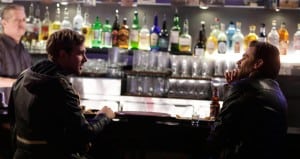 While all this is going on, Dylan is still following this marijuana story line. It turns out the man who is working with him has also been working for the same higher-up boss for 23 years, but because he lacks the ability to lead a team, he is still in the same position he has always been. After a clichéd bar fight, the two men start bonding and eventually learn to trust each other. At the end of the episode, with seven other workers in their van, they all crash at Bates Motel, giving Norma business for two weeks. And to thank him, Norma decides to get dinner with her eldest son, once again showing us how he used to be Norman: infatuated with his mother.
This is all leading up to something. It's a big blender of plot lines waiting to be mixed together, and probably violently. Norman is on the brink of crazy, and his mother might already be there. Poor Emma is falling in love with this soon-to-be psychopath and Bradley will probably be a quick, first fatality. Dylan is making money illegally, but in a town that runs on illegal business. Following a typical TV stigma, this will all probably explode in the last two episodes of the season.