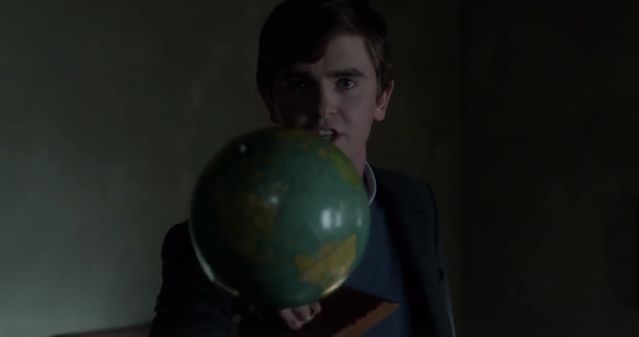 As sick a show as it is, and as sick a character Norman Bates is on Bates Motel, there are times that you simply have to laugh (in a twisted way). The very first lines on the trailer for tonight's episode are classic. Norman sounds like he's a little fed up with doing what his mother tells him and says, "I don't want to be getting rid of bodies, or have people chained up in my basement, or dump people in lakes" to which Norma responds, "What the hell crawled under your pants?"
I mean, how could you not at least grin at that? The situation itself is hilarious. It almost reminds me of the scene in Fight Club when Tyler Durden's imaginary friend has to remind himself that he's actually talking to an imaginary friend. Despite out sick it is, there's a comic relief side to it that does make you smile (in a gross way).
The trailer gets a little chilling when Norma says "I will always protect you." It's at that point you see Norma having a little make out session in a kitchen and who's there to watch? Norma. It doesn't help that the lass he's kissing has blonde hair. You can't help but to make a bit of an association there. It's sickening but at the same time, the show is extremely captivating.
"Hidden" airs tonight on A&E.