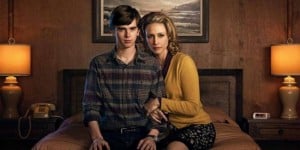 We begin the episode with a "previously on Bates Motel" which sets up the tone of the night. Bradley's dad is dead, and it's brought her closer to Norman Bates. Last week, they slept with each other and Norman missed his mom getting arrested, something that she guilt trips him with. However, the clips from last week put Bradley, saying how much she liked spending time with Norman, up against Norma, saying how much she loves her son, thus highlighting a confusing theme present in Norman.
The actual episode starts with Norman strutting down the street coming home from Bradley's house from the previous night. His good mood, however, quickly depletes when he is informed that his dear mother was arrested while he was out. With a $100,000 bail, Norma demands that her sons leave her in jail and insists that she will figure it out herself. Her trust issues peak in this scene because the current love of her life, her son, has betrayed her by telling her other estranged son about their move-in night murder.
However, Norman slightly saves the day when he finds the deed to Bates Motel and uses that to post bail for his mother. Emma, who drives him to Jonn's Bail Bonds, kisses him, trapping Norman between the three sexual desires of his life: Emma, Bradley, and Norma (even if this one isn't set in stone yet). Before she leaves, Norman tells Emma about the girl he saw in Deputy Shelby's basement. He says that he can't tell her why they can't go to the police. Emma just agrees, making her look more like the little puppy who follows Norman Bates around. Norman later gets a text from the bail bonds shop — because they do that now? — and says his mother will be out in the morning.
Showing up looking like he's picking up a date, Norman nervously waits outside the police station with flowers, but is denied any form of compassion for saving his mother by a very angry Norma storming out and eventually leaving him on the side of the road to walk home. Don't worry, Dylan picks him up and Norman gets a taste of what it would be like if he and his brother lived without their mother. Also, audiences get to see a tiny glimpse of a normalcy that overcomes Norman and what he might have been if not for Psycho.
With Norma, Deputy Shelby, also known as Zack, or as Norman calls him, "Mr. Wonderful," saves the day by stealing the carpet fibers that were on Keith Summers' watch (the man who raped Norma and was consequently stabbed 30 times and dumped in a lake), linking him to one of the motel rooms. The case is dropped against Norma, but Norman brings up the point of what is she going to owe Zack now. Suddenly, the relationship Norma thought she was building with Deputy Shelby might be more manipulative than the "I love you" that he dished her earlier.
Meanwhile, Dylan is handed a load of cash from Ethan, his pot-boss. However, when an ex-pot worker staggers up to their pick-up truck, this man shoots Ethan in the neck. Dylan rushes him to the hospital, but leaves as soon as the doctors have him. Later, when he sees the staggering man walking down an alley, he brutally runs him over with his truck showing that this entire family solves their problems with murder.
Back at the motel, Norman and Norma have a fight over Zack. Norman leaves with Emma to investigate Keith Summers' boat, where they think Zack might have hidden the kidnapped sex slave who was previously in his basement. After they discover this girl frantically hidden in a closet, they bring her back to the motel to calm down. Norma is working in the motel office and sees Emma's car. She acts like a normal parent for three seconds, asking what they were all doing in her motel room, but switches into her "Norma" state when the sex slave says that Deputy Shelby was the one who was responsible for everything that was done to her. After clarifying it with a picture from a newspaper, Norma finds more of her world crashing around her.
Tonight's episode (and the ones before it) did not live up to the pilot's standards; however, the themes that were introduced to us are still present. Control is constant. Norman is trying to control his desires for basically every woman in his life — Bradley, Emma, Norma, his teacher — and still trying to be the man supporting Norma. Norma, who thinks she has control of her life, is still realizing how much is slipping through her fingers. Next week, we see that if she turns Zack in for running a human trafficking ring in his basement, he will most likely turn her in for killing Keith Summers. The more she tells herself that everything will be okay, the more hurtful her denial becomes.
Vera Farmiga (Norma Bates) is, by far, the best thing that could happen in this show. Everyone is great, but is obviously being carried by Farmiga's talent. Her portrayal of this mysterious cinematic enigma is what is highlighting Freddie Highmore's (Norman Bates) depiction of psychotic obsessions. She is the mother to the cast and I don't doubt that she will be recognized for this role.