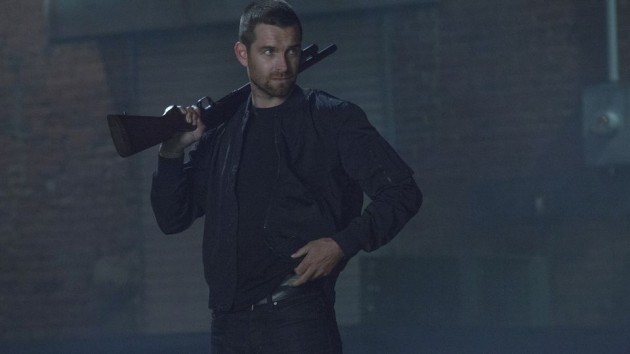 Banshee is a show that has no right being so good. Trashy, violent, direct, over-sexed, everything about Banshee screams B-grade action series, yet it's the single most thrilling television show right now on a week to week basis. Banshee might be the only show on television satisfied with being simple; that is, keeping its scope small, both on character and plot levels, giving itself more room to work horizontally and flesh out its world, rather than a dramatic structure built vertically on pure plot, the way so many modern dramas want to be composed. And with "The Fire Trials", Banshee not only continues the fantastic storytelling and dreamy cinematography of season two, but doubles down on that focus, clearly defining its stories in the first few scenes, bringing the audience into the 'new' world of Banshee in near-flawless fashion.
"The Fire Trials"represents the first Rabbit-less hour of Banshee; and to replace him, the show's doubled down on antagonists, throwing Chayton and an angry, horny admiral into the mix as two adversaries for Hood along with Kai, who as always, remains the show's most intimidating figure, even when Chayton's massive physical frame is taking up the entire screen. More importantly, however, is how the show fills out the rest of the world in the wake of last season's finale. Rebecca and Kai are full-on incest power structure, getting ready to rule the world; Chayton's returned to steal military equipment and take down the white power structures of Banshee, kamikaze/suicide style; Ana's a disgruntled waitress, taking a night career of cat burglar to keep her from drowning in mid-life crisis… from beginning to end, "The Fire Trials" represent people pushing themselves into the next phase of their lives, even if friction from the world around them threatens to hold them back.
It all makes an endlessly exciting, rewarding hour, whether it's the group saying farewell to Emmett (which I'm still upset about how poorly that was handled), or simple things like the show trying to turn Brock into a living, breathing character (which means give him facial hair and have him sleep with a woman, two things Banshee can handle without batting an eyelash, and does). There's little touches of improvement all over "The Fire Trials" (like Deva, who seems like she might not be a cypher of boredom this season), and those subtle changes in each scene coalesce and make for a much fuller whole.
And the "big score" conceit surrounding it is genius: not only will Hood have to take down the Redbones and Kai while wearing his police badge, but he's planning a massive heist of a well-guarded military base, one that employs private mercenaries (which in Hood and Sugar's game usually means "go rob someone else!"). This episode is all about establishing those stakes, both for Hood's ever-changing sense of morality, or for the lives of everyone involved; this is the most dangerous thing they've ever done as a group (save for season one, when ambushing Rabbit from various angles). It's a "get the team back together again for one last heist" story (or in Longshadow's case, "I'm the only sibling left home to get revenge") – and I couldn't be more excited for Banshee to spend an entire season setting up the dominoes, only for them to be knocked over in gory, satisfying fashion.
The wonderful, fragmented cinematography, the performances of each cast member… there's a lot to gush about in "The Fire Trials", whether it's how well the show side steps become pure lunacy with its genius casting, or how the show's learning how to use its addiction to nudity to evocative ends, giving each skin-laden scene its own tone, tambor, and film making style, in order to evoke a deeper emotion than "Yeah, that's hot – and hey look, breasts!" They're passionate, dangerous – and at times, intimate in unexpected places, bringing some much-needed allure and visual flair to the most eye-rolling sequences from the show's earliest episodes.
In short, Banshee hasn't lost a step in the first hour (and from what I've seen past the premiere, early hours) of its third season, in fact appearing to gain momentum and mastery of its craft as it continues. Banshee, unlike many shows of its kind, has figured out how to embrace the louder, visceral components (the marketable assets of the show, one could say) without losing the depth of its characters or the fine-tuned, barely plausible world it's set in; and simply put, it makes for awesome television.
[Photo via Cinemax]