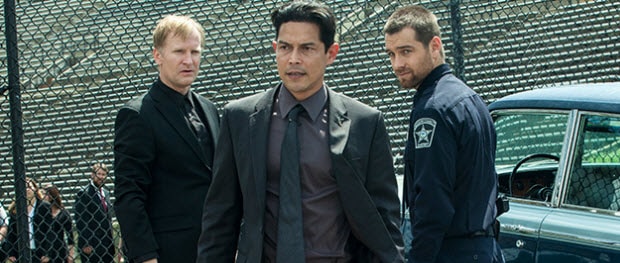 Banshee's first season was a bit of a surprise last year: it's not a show that tries to be very smart or philosophical, trading in big monologues and symbolism for violently entertaining fisticuffs and an abundance of adrenaline. It was pulp-TV lightning captured in a bottle: the show's ability to harvest tension from any situation (even those with one-dimensional character) made it one of the most exciting new shows of 2013.
My biggest concern with the season finale, "A Mixture of Madness", was its unwillingness to push the narrative needle forward. Rabbit was shot (but not killed), and a mayor nobody cared about died, continuing the pissing contest between Alex and Kai Proctor, and creating a political power vacuum in the town. Not-Lucas wasn't forced out of Banshee, and neither was Carrie: essentially, "Madness" was a lot of action-packed, anti-climatic noise. That same stagnation plagues the 49-minute running time of "Little Fish", an episode that is either explaining what happened in the season finale, or scrambling to justify retaining the show's status quo (Lucas gets to be sheriff again, Rabbit's hunt continues, so on and so forth) for the next batch of episodes.
In all honesty, nothing really happens of significance at all in "Little Fish": the only time the episode registers a heartbeat is when Lucas, Ana, and Job take down an armored truck, only to be ambushed by a disguised Nola (Alex's Native American assassin sister). I suppose this speaks to the natural appeal of Banshee — nobody really tunes into this show for an exposition-filled talk-fest: we're here for knuckles meeting faces and awful people doing awful things to each other, like a gorier version of Dallas without the soapy elements (and replacing oil fields with hotels and casinos, of course). When there's only two minutes of action (not including the numerous flashbacks to "Mixture") to be seen in "Little Fish", it leads to way too much talking about what happened last season, and how much more dangerous things are going to be in the "new" Banshee – which looks and smells a lot like the old Banshee, with a few more scars.
The one new element added to the season premiere — Special Agent Jim Rancine, Cinemax's own Smoking Man — doesn't really add much: his pale presence and Zeljko Ivanec's vibrant delivery of dialogue sure feel ominous, but the script is vague to the point that it doesn't matter. He prances around, glares at people who complain about him smoking cigarettes in court, and alludes to a larger criminal conspiracy at hand: one that involves a bearded priest in cahoots with good old Rabbit (who wakes up in the forest in his only scene with a bloodied face, crushing a squirrel in his hand out of anger), and Rancine's long-lasting hunt to take down Rabbit, which I imagine will be revealed to be personal over the next few episodes.
With lots of dramatic talking – and staring: everyone from Lucas to Gordon just glare at each other – delivering speeches describing the events of last season's finale, "Little Fish" doesn't have any ambition to push its story forward. There are mentions of Real Lucas Hood's murder and Rancine's plan to use Lucas and company as bait to draw Rabbit out, but they're mere whispers amongst the recanting of "A Mixture of Madness", making "Little Fish" like a prologue or a recap than an actual season premiere.
Other thoughts/observations:
– Near the end of the episode, Nola sleeps with Lucas, thanks to his ever-present magic pheromones (which are also driving Siobhan bonkers, apparently). For a guy that should be looking over his shoulder at all times, he has no problem sleeping with random women who could easily be trying to kill him.
– The incestuous undertones of Rebecca and Kai's relationship will continue this season, and will continue to be silly and completely unnecessary.
– Gordon's speech over the montage of scenes in the third act was painfully overt.
– What is with premium dramas and their inability to tell unique stories about children? A teenage girl shoplifting to act out, does not an interesting character make.
– There are "tribal council concerns" that Alex's leadership is failing the tribe. Like the mayor, he's assumed to be "too young" for the powerful position he's in — will he bungle it like the mayor did? Against Kai, does he really even have a chance?
– Lucas won't leave Banshee because he knows Deva is his daughter, and obviously still wants Ana – I don't think we need a scene with Sugar to explain this obvious bit of character motivation. I think the half-dozen scenes of him refusing to leave preceding it (as well as his arrival in Banshee back in the pilot) speak for themselves.
[Photo via Cinemax]