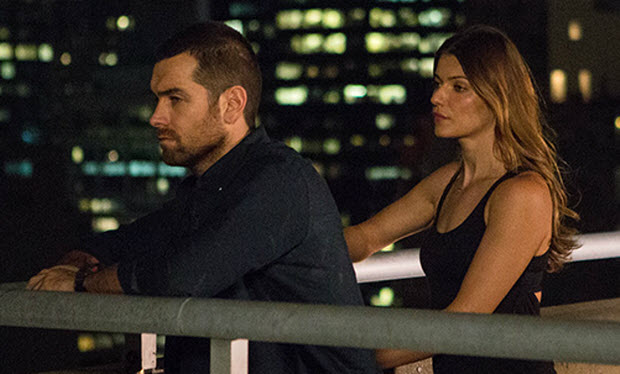 In case you were worried Banshee would continue the Rabbit/Ana story lines for another season, "Bullets and Tears" goes out of its way numerous times to point out this time, it's life or death. These stakes are established from the kinetic opening sequence, following Job on a solo mission to New York to take on the big Ukranian cheese; when he fails, it sets the tone for the episode, setting the clock ticking on a number of the season's climatic events.
There's almost too much coming to a head at once in "Bullets and Tears", and it takes a little pushing and prodding to get things neatly into place: Rebecca's first night home occurs while Job is waiting for the arrival of some silencer-wielding non-priests in a hospital, just as Brock's investigation into Lucas is coming to a head (right as Proctor's case continues along full-steam, with Shadow pulling a power move on the very same night). If Banshee is Rabbit and Yulish's chess game, it's become a rapid-fire sequence with pawns flying off the board as the kings and queens of both sides head towards each other with reckless abandon. Everything is on the line in "Bullets and Tears"; Siobahn and Lucas' "relationship" (if you want to call it that), Rebecca's urge for power, Kai's mother realizing the errors of her ways… emotions and drama run deep in the veins of the episode, and its a marvel how well the script is able to juggle all these things without losing focus – that is, ending the Rabbit story and returning to the familiar question of "Who is Lucas Hood… really?"
It makes every moment of the episode exciting, a stomp on the gas pedal after the slow cruise of Banshee's second season. And slamming on the accelerator always comes at a bit of a cost: there are moments where "Bullets and Tears" spins its wheels before getting a good grip on the narrative road, so to speak. Ana revealing that Hood is Deva's father (while Gordon has a gun pointed at Hood's head) is a particular moment that feels rushed, pushed to the forefront for the sake of letting the fallout take grip in the season finale, where it would traditionally be placed on most shows. I appreciate the attempt to buck the trend, but it feels rushed for the sake of slightly heightening the drama of the episode, a reveal spurned by the need to push the narrative forward in time for the conclusion.
However, some of these moments being pushed forward so quickly (like Longshadow making a play for Rebecca, a predictable but necessary move to cloud the battlefield between him and Proctor) allow for new stories to flourish: we get our first glimpse of Racine's partner, the very same agent who arrested Hood on the crime that would put him in prison for 15 years (which he knows Rabbit called in, to set up Hood). On the long list of problems Hood has to deal with – like police procedure, which just gets in the way of real justice, "which is personal" – now he's got the FBI on his tail once again, with a man who recognizes his face – and like Ana and Rabbit, knows him by his real name, a truth that Hood's desperately tried to forget while wearing his sheriff's badge (which has never worked out well for him… probably a good sign he left the badge with Brock for the time being). He may have finally caught up with Rabbit, but that doesn't mean he can escape his past… in fact, "Bullets and Tears" suggest that you never really can.
Hood is Deva's father; that's a truth that Gordon and Ana will always have to live with, regardless of where they go in their lives (it's already ingrained in Gordon's head, as we see in the post-credits scene of him smoking a joint while looking at the family picture he found in Hood's apartment). Proctor and Sugar will always be connected by the time Sugar did while working for Proctor (or so it's implied), just as Rabbit and Hood will forever be connected; the decision these characters have to make as people is whether they'll be defined by these events in the past, consumed by the regrettable choices they made when "circumstances outweigh the consequences". Eventually, we have to move on, or the past will continue to haunt and destroy us; "there will be no peace for me," Rabbit says near the episode's conclusion, a man finally realizing how consumed he was by a daughter he couldn't let go.
Other thoughts/observations:
– there's no way Job walks away from that accident with just a concussion. Sure, he might survive, but can you say long-term physical therapy?
– boy, Proctor is good at cleaning up loose ends.
– Brock connects the dots with Gordon that Hood blew up the ecstasy plant… I'm guessing Gordon will be pursuing that through season three, along with whatever else he can dredge up against Hood (unless he points a gun at him again, that is – then Gordon's in trouble).
– Hood, discussing theology with Emmet: "God kind of ruins the fun in the argument."
[Photo via Cinemax]