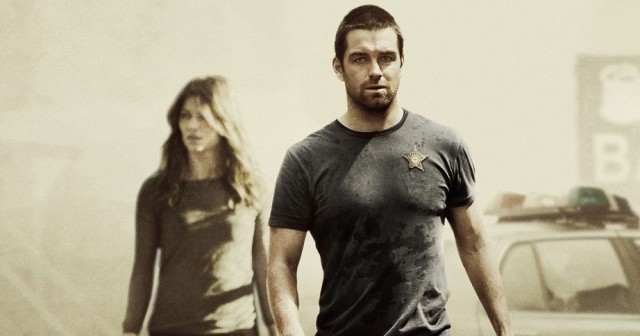 Banshee returns for its eight-episode fourth and final season Friday, April 1 (10:00-11:00 p.m. ET/PT), exclusively on Cinemax. Alan Ball, Greg Yaitanes, Jonathan Tropper, Peter Macdissi, Adam Targum and Ole Christian Madsen executive produce. Debuting in Jan. 2013, Banshee stars Antony Starr ("Wish You Were Here") as Lucas Hood, an ex-con and master thief who assumes the identity of the sheriff of Banshee, Pa., where he continues his criminal pursuits while enforcing his own code of justice.
Other cast members include Ivana Milicevic ("Aloha," HBO's "Mind of the Married Man") as Carrie Hopewell, a notorious jewel thief who lives in Banshee under an assumed identity with her new family, which has recently learned of her criminal past; Ulrich Thomsen ("The Celebration") as Lucas' arch-enemy, Kai Proctor, an intimidating, wealthy businessman who believes he is above the law; Hoon Lee ("The Blacklist") as Job, a dangerous transvestite computer hacker who assists Lucas and Carrie in their criminal enterprises; Frankie Faison ("The Good Wife," HBO's "The Wire") as Sugar Bates, a wise and powerful former boxer who owns the local watering hole and serves as confidante to Lucas and Job; Matt Servitto (HBO's "The Sopranos") as Brock Lotus, Lucas' long-suffering veteran deputy; Ryann Shane ("Lights Out") as Deva Hopewell, Carrie's teenage daughter, who is rattled after learning Lucas fathered her; Lili Simmons (HBO's "True Detective") as Rebecca Bowman, Proctor's sexy niece, who has taken on a larger role in his criminal activities; Matthew Rauch ("The Blacklist," "The Wolf of Wall Street") as Clay Burton, Proctor's multifaceted, complicated bodyguard and right-hand man; Tom Pelphrey ("The Following") as Kurt Bunker, a former skinhead who joins the Banshee sheriff's department as a deputy; and Chris Coy ("The Walking Dead," HBO's "Treme") as Calvin Bunker, Kurt's unsavory brother, who has kept his Nazi ties.
New to the cast are Eliza Dushku ("Dollhouse," "Buffy the Vampire Slayer") as Veronica Dawson, a tough, sexy and shockingly reckless FBI profiler with no shortage of personal demons, who joins forces with Lucas; Ana Ayora ("The Big Wedding") as Nina Cruz, a Banshee deputy working as an inside plant for Proctor; and Casey LaBow ("The Twilight Saga; Breaking Dawn, Parts 1 and 2") as Maggie, wife of a local Aryan Brotherhood leader, who desperately wants a better life for herself and her son.