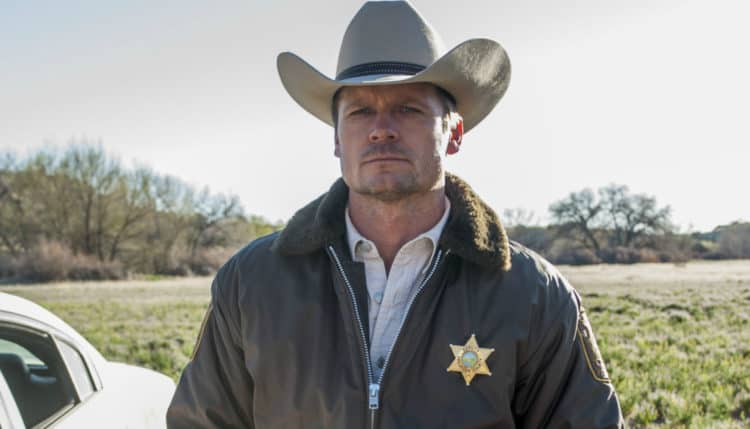 Looking at Bailey Chase you might get the impression that he's big, he's tough, and therefore doesn't do a lot other than stand there and, well, look big and tough while saying only a few words. While the former is true he does in fact speak and he does it very well. In fact if you ever watch him on anything he does he's not always the most eloquent person but he doesn't have to be since his looks speak for him at times when his words don't, or aren't meant to, do the trick. In many ways he's the kind of rough-and-tumble actor that's there to add some toughness to the scene, but he's still fully capable of being the kind of person that can contribute to the project in many different ways. After all we're not stuck in the past when men had to be solid blocks of granite that grated out a few inspirational words, they can actually act and carry on a conversation now.
Here are a few things you might not have known about him.
10. He played football at Duke University.
Bailey made it to Duke on a full athletic scholarship and managed to play ball for one of the most well-known universities in the country. That's pretty impressive when you really think about it and something that looks good on a person's resume.
9. He was in an improv group.
The improv group was called the Groundlings and it's been host to a few other actors as well during its time. Improv is a great way for many actors to go since it forces them to think on their toes and develop skills that they might not have taken the time to think about otherwise.
8. He graduated in 1995 with a degree in psychology.
This kind of proves just a little more that he's not just a big dumb jock that managed to get to and through school on his athletic ability. Anyone that's in college might argue that you can get through on just talent alone, but these days such things just aren't as possible since to get through school you've actually got to do the work.
7. He was in Longmire.
His character and the main character were constantly at odds it seems since he seemed to always want the top spot, the big desk, but wasn't anywhere near ready for it since he didn't have the level of humility or character that was needed quite yet.
6. He was in Saving Grace.
There are a few shows where he stuck around for a while and made a difference as one of the recurring or main characters, further proof that he's pretty good at what he does and is a valued part of the cast.
5. He started his career in 1996.
Bailey didn't wait too long after graduation to start moving into an acting career since he graduated in 95 and then made his way forward from there. A degree in psychology no doubt helped him a little bit of the way since figuring people and figuring out his characters might have gone a little easier after being able to understand what their mindset is all about.
4. He had a part in Batman vs. Superman: Dawn of Justice.
It's a small part in a movie that a lot of people were disappointed in since the sequence didn't seem to fit in with the movie all that well. But considering the numbers at the box office and the overwhelming disappointment that came after it's probably best to let this one sink to the back of one's memory for a while.
3. He's had guest roles in a lot of shows.
He seems to fit in wherever he's put for the most part and not a in a typecast sort of way. He is kind of the big tough guy a lot of the time but he can play an intelligent and cunning character as well that doesn't rely on brawn as much as brains.
2. His social media following isn't that big.
It seems fair to say that some actors really don't care much about social media and might just peek in on it from time to time to see how things are going, or respond when someone brings to their attention that someone has really said something worthwhile about them. But otherwise it's kind of a distraction at times that seems to warrant little if any real attention from the actor.
1. He trained at the London Academy of Music and Dramatic Art.
Many actors have trained either at this site or somewhere in London as the idea that great theater and even better actors have come from this city and England in general is widespread and has been for some time. After all the UK is essentially where Americans first came from if you really think about it, those that would be Americans eventually.
Bailey Chase is definitely more than just a big tough guy, but he plays the part well.