Bad Bunny is a singer and rapper from Puerto Rico. He first became popular on Soundcloud and then got more famous with two songs in 2018. These songs were "I Like It" with Cardi B and "Mia" with Drake. After that, he made four albums that were well-received. Two of these albums were number one on the Billboard 200; even more, he has been nominated for six Grammy awards and won two.
In 2021, his album YHLQMDLG won a Grammy for the best Latin pop or urban album. The next year, his album El Último Tour Del Mundo won a Grammy for the best música urbana album. Even though Bad Bunny's music is loved all over the world, he doesn't share a lot about his love life. So, let's learn more about Bad Bunny's girlfriend or lack thereof.
What Happened To Bad Bunny And His Nearly Three 3 Years Relationship?
Bad Bunny was in a close relationship with a model named Gabriela Berlingeri. They went public on social media in April 2020 when he posted a video of them kissing, which he later took off his page. They spent a lot of time together, especially during the COVID-19 lockdown. He said she was special to him and helped him a lot when he was feeling down. There was even talk that they might have gotten married secretly, but this was never proven. Altogether, it was clear that she was Bad Bunny's girlfriend.
They were seen together for the first time at a big music event in September 2021. Berlingeri owns a jewelry store in Puerto Rico, which she started in 2020. They first met in 2017 when Bad Bunny was having dinner with his family. Overall, they've been together since then. But in a 2020 interview, Bad Bunny said he was in love but didn't say with whom. He thinks honesty and trust are the most important things in a relationship.
However, recently, it's been believed that they may have broken up. Gabriela deleted most of Bad Bunny's pictures from her Instagram, causing fans to think they might have split. In a live video on Instagram in May 2022, Bad Bunny said that he and Gabriela are best friends and they could date others if they wanted to. Still, some fans believe they were more than friends. But Bad Bunny was seen with another woman at a basketball game in January, which added to the rumors.
Bad Bunny Was Once Linked To The Rapper Cazzu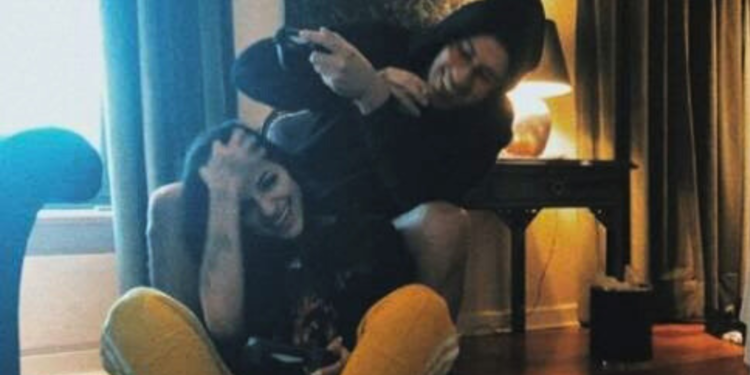 Back in 2019, Bad Bunny and Cazzu, another rapper, hinted at being in a relationship. They posted a picture of them kissing during a performance. They even shared more pictures of them together on Instagram but later deleted them, which upset some of their fans. However, their romance didn't last long.
In 2020, at a music festival in the Dominican Republic, Cazzu addressed her relationship with Bad Bunny. She clarified that he was simply a close friend to her. While they did share some special moments together when the occasion called for it, their bond went no further. Cazzu emphasized the positive vibes they had around each other and how they developed into good friends.
During the festival, they had their first encounter on stage since they hadn't met prior to the show. Their connection felt natural, and they both found it peculiar how they got lost in the moment, oblivious to the thousands of people in attendance. The genuine energy between them sparked a strong friendship that continues to thrive.
Is Bad Bunny And Kendall Jenner Dating?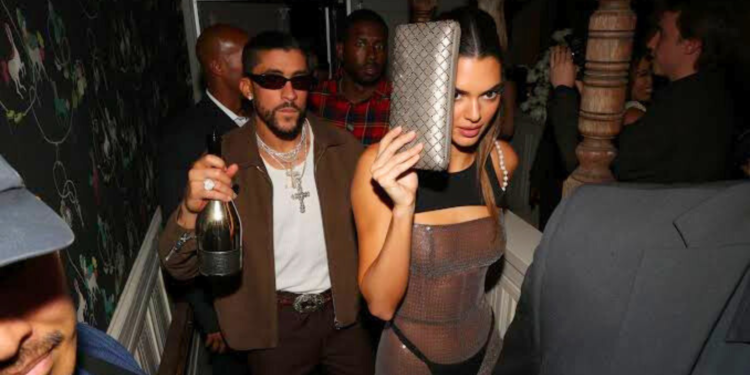 In February 2023, rumors circulated about Kendall Jenner and Bad Bunny taking their friendship to a romantic level. According to sources, they spent a considerable amount of time together after being introduced by mutual friends. With Bad Bunny's recent move to Los Angeles, Jenner appeared to enjoy their company. He stood out from her previous dating experiences, and she seemed genuinely happy. Paparazzi captured them leaving a fancy restaurant in Beverly Hills, seemingly on a double date with Justin and Hailey Bieber.
From February onward, Jenner and Bad Bunny were frequently seen together, unafraid to display affection. They shared kisses at a Los Angeles restaurant and even embarked on a horseback riding adventure in April. Their interactions exuded joy and comfort. The duo attended the 2023 Met Gala as companions, though they didn't walk the red carpet together. Later that evening, they were spotted at an after-party.
Jenner looked stunning in a sparkling dress, while Bad Bunny chose a plain white t-shirt and brown jacket. Interestingly, her sisters, Kim Kardashian, and Kylie Jenner, were also in attendance. They were spotted enjoying a relaxed lunch together in Beverly Hills, igniting rumors about their connection. Although no official confirmation has been provided, the growing evidence hints at a deepening bond between them. The fact that Bad Bunny has already met her well-known family raises the possibility of a more significant relationship in the future.