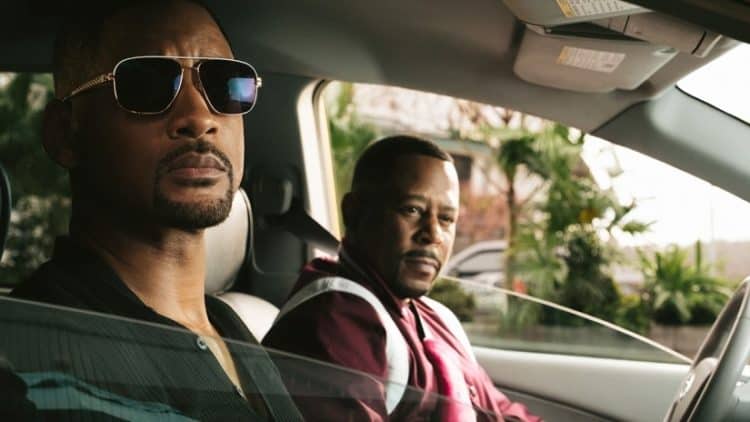 The buddy cop novelty was popularized in the 1980s, with films such as 48hrs, Beverly Hills Cop, and Lethal Weapon helping to legitimize the whole genre. That carried over to the 90s and arguably two of the most popular buddy cop films to come out during that time was Michael Bay's Bad Boys and Brett Ratner's Rush Hour. By now, you understand how the buddy cop film works: Two partners with a different set of personalities come together to solve a big crime. In this case, Will Smith's Mike Lowrey was the wild and daring big ladies' man where as Martin Lawrence's Marcus Burnett was the straight-laced family man. Jackie Chan and Chris Tucker's characters were a bit similar; however, Detective Carter was a big-mouthed lone solider and Jackie Chan was a non-sense foreigner. Bad Boys came out with mixed reviews, a low 42% on rotten tomatoes, whereas Rush Hour did a bit better critically, garnering a 61% score. The Jackie Chan/Chris Tucker vehicle made more at the box office as well, amassing a strong $244.4 million worldwide. By all counts, it appears that Rush Hour is the better film; however, is that truly the case? Let's dig deep into both movies to determine which buddy cop film is better.
The Will Smith/Martin Lawrence vehicle will also be remembered because of the amazing chemistry between the two leads. In reality, the overall story is nothing original; however, the ongoing banter and interplay between the two leads is a blast to watch. Tea Leoni's Julie Mott nicely plays off the two men and her interactions with Martin Lawrence – who's pretending to be Mike Lawry – makes for some truly funny moments. Another standout is Joe Pantoliano's Captain Howard, who contrasts nicely with the main leads. By no means is Bad Boys a terrible film. However, it leads more into popcorn territory, valuing action sequences over a compelling narrative. Tcheky Karyo's Fouchet is nothing more than a generic foreign villain. Despite the personal connection between him and Mike Lawry (killing Maxie), The film fails to give him any substance beyond drug lord. Still, while the plot is thin and the action outshines the story, Bad Boys is a fun ride and the 1995 film doesn't insult your intelligence. While much doesn't change about either Mike Lawry and Marcus Burnett once the final bullet is put into Fouchet, it still doesn't hinder the fun journey that these two provide along the way. Definitely one of Michael Bay's better films.
Rush Hour
Just like Will Smith and Martin Lawrence, Jackie Chan and Chris Rock have stellar chemistry. The odd couple act works better here because it ties into the main storyline. Speaking of which, the plot has more emotional weight to it and both characters actually grow from their overall arc. Chris Rock's motormouth character plays off well against Jackie Chan's silent type, and there are several hilarious moments that play off their personalities. We're given a bit more to chew on when it comes to the villain and Ken Leung's Sang plays his part well, never venturing into the over-the-top territory that some action bad guys tend to do. Still, there's nothing particularly different about the character that makes him stand out from most evil action villains. The supporting cast plays off the leads well, with the standouts being Julia Hsu's Soo Yung, whose yelling for Sang to push the button with Detective Carter is one of the funniest scenes in the film.
Despite the small screen time, the young actress manages to impress with her versatility in emotions. Not surprisingly, the action sequences are well done. Granted, the action doesn't match the quality of stunts that Chan has done in his Chinese films; however, for a toned-down American version, they're still pretty darn good. Going back to the story, there's a better balance between the plot, jokes, and action. The story is nothing you haven't seen before, but the narrative remains cohesive and the characters help you invest in the plot that has a few nice twists and turn along the way. Rush Hour may not be Lethal Weapon or Beverly Hills Cop, but that doesn't mean the film is any less enjoyable.
Who Wins?
So, which buddy cop film is better? Rush Hour. With a stronger focus on the narrative that helps boost the chemistry between Lee and Carter, along with the jokes, Rush Hour is more of a serviceable action affair than Bad Boys.
Tell us what's wrong with this post? How could we improve it? :)
Let us improve this post!