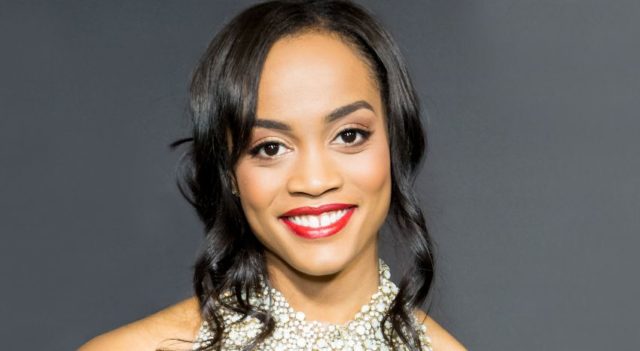 Ever since The Bachelor finale, people have moved on extremely quickly to The Bachelorette. It's been for good reason. Just about every single viewer on the show was getting extremely tired of Nick Viall and the consensus was that this was one of the worst Bachelor seasons in the show's history. The only two decent things to come out of this was the entertainment that Corinne Olympios brought us until the day she was sent home, and Rachel Lindsay. Lindsay was quickly selected as the next Bachelorette and will be the show's first African American Bachelorette.
Even on the finale of The Bachelor, Rachel was surprised to meet her first suitor. You just knew there was going to be buzz about the show when he said, "once I go black, I can never go back." Both he and Rachel Lindsay started to dance a little and from that moment on, nothing but buzz.
Recently pictures have been released of Lindsay's first day on the show and Mike Fleiss (whose Twitter account they're on), the show's creator has been quoted as saying he thinks that Rachel will be one of the top 3 bachelorettes of all time. Lindsay has admitted to feeling the pressure of being the first African American Bachelorette but she's also pretty confident the show will go well. That said, here are some predictions I'm making about the upcoming season.
Less gratuitous than the recent season of The Bachelor
A huge criticism of Nick Viall's season on The Bachelor is that the show was extremely raunchy. I agree. There's only so much you can show and talk about until you start airing the show late night on Cinemax. Expect the editing department to tone it back a little.
There will be a racist contestant in the group
I don't know why but I just feel that this is inevitable. Whether it's one of the contestants making an innocent racist comment or one of them is just flat out racist and wants to send a message on the show, I think we're 100% going to be something like this surface. And I personally think it's all by design.
An extreme amount of backlash on social media
If you think people are racist now that Donald Trump is President, wait until you start seeing comments online about a black Bachelorette being paired with mostly white guys. I think the show is not only prepared for this but that they're counting on it.
It won't last
I mean come on. Whoever Rachel Lindsay winds up picking, this thing is not going to last and we all know this. It was still worth pointing out though.
More Diversity in Future Shows
I personally think that no matter what the reception of the show is, good or bad, it's going to be a ratings boon for ABC. And because of this, expect a ton more diversity moving forward. It won't just be black and white. It's gonna be Asian, Indian, Latino, you name it. Just watch.
Tell us what's wrong with this post? How could we improve it? :)
Let us improve this post!