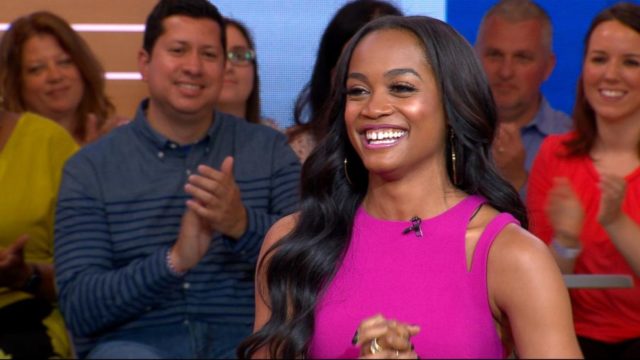 Season 13 of The Bachelorette started airing on May 22, 2017. This time, the titular bachelorette is Rachel Lindsay, a 31-year-old attorney who participated in Season 21 of The Bachelor but lost out in the ninth round. Although the TV show has just started airing, its viewers are already arguing over which of the contenders have the best chances of winning Rachel's heart. Even though 8 out of the 31 participants have already been eliminated in the first episode, there are still 13 of them remaining, meaning that the fandom speculation is just heating up.
Here is our opinion on the top five contenders on The Bachelorette so far:
Anthony
Anthony Battle is a 26-year-old education software manager from Chicago, IL. He has taught in the Ivory Coast on a Fulbright Grant, which is awarded to no more than a small number of meritorious candidates. Furthermore, he has taught English in Indonesia. Combined with the fact that he likes people who can maintain an intellectual conversation, it seems safe to say that he has the mind needed to keep up with Rachel, which is a plus in his favor.
Bryan
Bryan Abasolo has the distinction of being the oldest participate at the age of 37. In brief, he is a chiropractor from Miami, Florida, who has shown a charitable streak, based on how he has said that he would like to be Bill Gates for one day to feel what it would be like to help so many people on a regular basis. At the moment, Bryan seems to be the strongest contender, having received the first impression rose from Rachel. Then again, first impressions are no more than first impressions, meaning that it remains to be seen whether Bryan can continue to build on the good impression that he has set so far.
Fred
Fred Johnson seems like another candidate with the mind needed to keep up with Rachel. After all, he did acquire not one but two Master's degrees at the same time from two different universities, which speaks volumes about his dedication as well as his intellectual capabilities. Better still, he shares the same favorite artist with Rachel, Jean-Michel Basquiat, which could be the foundation for a future bond.
Josiah
Josiah Graham is a 28-year-old prosecuting attorney from Plantation, Florida. As a result, he shares more than a bit of common ground with Rachel, which could provide the basis for something more as the show continues. Interestingly, both of them have tattoos of a bible verse, which is another thing out of the ordinary that they have in common.
Peter
Peter Kraus from Madison, Wisconsin is a business owner. To be precise, he is the owner-operator of Worth Personal Training as well as someone who seems to model in his spare time. According to his profile on his company site, he loves his chosen profession because he finds pride and happiness in helping people overcome the same problems that he used to suffer from, which is an admirable motivation.
Tell us what's wrong with this post? How could we improve it? :)
Let us improve this post!