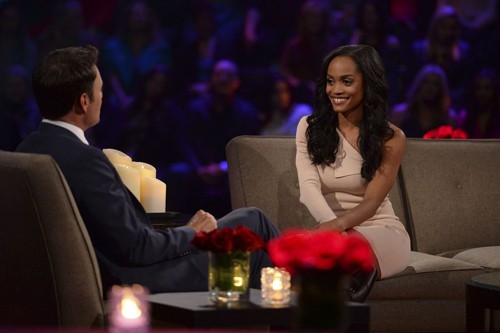 It didn't take long for Nick Viall's The Bachelor to transition right into Rachel Lindsay's The Bachelorette last night. After the debacle that was Nick Viall's season, ABC decided that they would enlighten us to who some of the new contestants vying for roses would be on the next season of The Bachelorette. The first four guys came out and needless to say it was extremely odd. Right out of the gates the race card was pulled as this flaky guy says "I just want you to know, I'm ready to go black, and I'm never going back." Rachel Lindsay laughed and the crowd went wild but you know she must have been thinking, "WTF?"
While the upcoming season of The Bachelorette's main focus will probably steer towards interracial relationships, that one line should give audiences an indication of just how uncomfortable this season may get. And frankly that's probably a good thing. Part of the allure of introducing an African American bachelorette is going to be how awkward the show is. That's exactly what the producers are banking on. The funny thing is that while on the surface it'll be about trying not to see in "black and white," that's exactly what ABC will be exploiting.
P.S. nice move by ABC to shift attention right off of Nick Viall. They knew exactly how bad this season was. Save for Corinne Olympios there weren't too many moments worth watching. Here's that extremely creepy first pick up line. Should be an interesting season.
Oh no he dint #TheBachelorFinale pic.twitter.com/nigyt6JK0L

— HeavensBarstool (@HeavensHawkeye) March 14, 2017
Tell us what's wrong with this post? How could we improve it? :)
Let us improve this post!