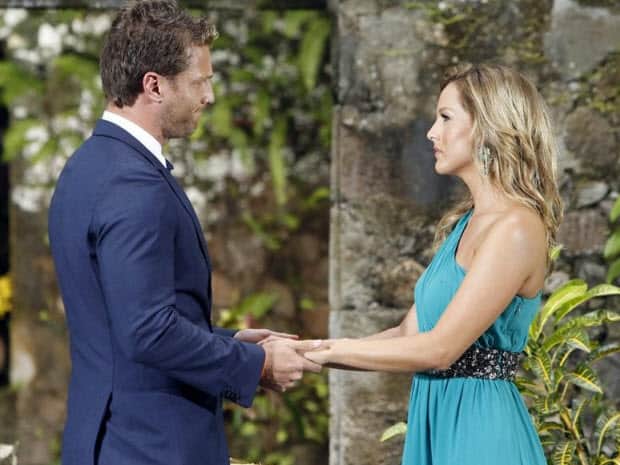 Did anyone else feel like ABC was just trying to put us out of our misery last night? The whirlwind season 18 of The Bachelor finale ended rather abruptly and confirmed what viewers suspected all along: Juan Pablo is the worst bachelor in the history of the program. The much-anticipated Latin lover came into the season with more hype than any previous contestant. Unfortunately, he failed and he failed miserably.
The finale started as it always does with Chris Harrison hosting a live studio audience, who would be watching the final episode and offering input. Clare and Nikki would each get an opportunity to meet his family and go on one final date before the final rose ceremony. Clare would go first – her day with Juan Pablo's family was pretty standard. Of course, she was commenting about how great a father he is and how that's the type of guy she wants to be the father of her kids. The same can pretty much be said by Nikki. Both girls were well-received by what appeared to be a normal family. No drama yet… yet.
The final dates were a different story. Clare Crawley's date was a disaster a la Andi Dorfman. Apparently, when they were landing in a helicopter Juan Pablo whispered in her ear that he didn't know her and something overtly sexual. Clare was appalled and offended YET to no one's surprise continued on the show seemingly ready to accept a proposal from Juan P. Nikki's date was what we've come to expect from her: gushing over Juan Pablo, boobs, and making out. Ultimately, she was left crying as well because she loves Juan Pablo and she's scared her life won't continue with him. ABC used these two girls crying well in an effort to keep us hooked in previews, but in the end it was pretty much pointless.
The rest of the show was a whirlwind that made you realize that this was going to be the worst final rose ceremony of all-time. Of course, it was. First, Clare got sent home. She then flipped on Juan Pablo for telling her everything was OK and that he could see himself with her yesterday. Clare – every single bachelor has done that, including making out with the loser the day before. Even Captain America Sean Lowe did it. Anyway, she goes off prompting Juan Pablo to perhaps make the comment of the season – "I'm glad I didn't pick her". Yes, Juan Pablo was in this for the fame and game – clearly not love. An idea that was supported when he gave Nikki Ferrell the final rose, but not a ring. You could tell she was devastated, but played it cool. (By the way, it must have been hot in St. Lucia, both girls were sweating horribly).
So there you have it – the entire season including the final was a total disaster. If you stuck around for the After the Rose program it didn't get any better. I've never in my life seen a bachelor or bachelorette so HORRIBLY received by the live studio audience – you could even tell Chris Harrison hated J.P. Anyway, we're finally done with Juan Pablo. He and Nikki Ferrell will last about two weeks and than Juan Pablo will do what he can to stay in the spotlight. The show was a terrible failure and Juan Pablo destroyed his name. Sad.
And just an FYI – as we've been predicting for a LONG time – Andi Dorfman is going to be your new Bachelorette. She has a tall task in trying to restore the show's quality after Juan Pablo annihilated it.
[Photo via Rick Rowell/ABC]