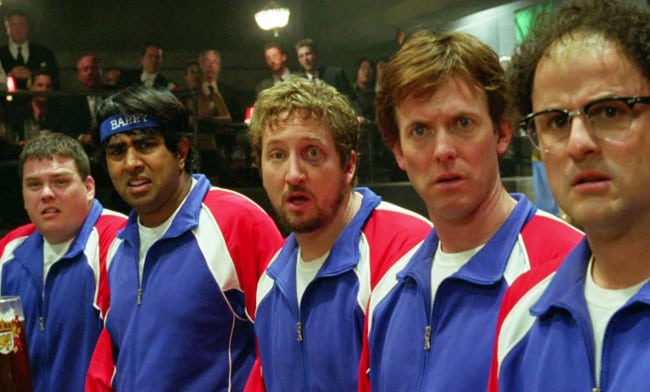 At first glance a lot of people don't even know who these guys are but if you've seen at least one of their movies then you'll understand why others might talk about them in such glowing terms. Broken Lizard is the name of the production company that these five friends formed back in the 90s at Colgate University. The man that started it all, Jay Chandrasekhar, put together a troupe after being asked by a student theater director, and the group was formed. They performed various sketches in clubs and wherever they could under the initial name of Charred Goosebeak. Needless to say their humor is a bit unconventional at times but is still highly entertaining and in many ways can cause even the most jaded viewer to break out laughing as they try to hold it in. The dynamic between the five friends is so great in fact that one might actually think they're really going to town on each other in the films, but they've been friends since college and after reuniting upon graduation have been performing in movies ever since.
If you can watch their movies and not laugh then your sense of humor might be broken and you should get it checked.
Super Troopers was their first wide-release film.
If you're looking for a spoof movie about cops, well, this is definitely one of them. The guys were still fairly unknown at this point and while the movie didn't exactly do well in theaters it gained a cult following soon after, which is really how these guys have become known in the years after. They're not the top of the line comedians that you would expect to see everywhere, but they're the kind of guys that a select few people you know might watch on a regular basis when they can and will tell you about if you don't happen to know their names already. Super Troopers is wrong on so many levels that it can't help but be funny since in the real world you know what would happen to cops that did half the stuff these guys do. But the fact that it's a movie makes it so much better and enjoyable since it's so unreal that you can just kick back and enjoy it.
Of course those that like realism in their movies might not like this, but again, these guys are all about being unconventional and if you can't handle the craziness and wild nature of the films then you might need to loosen a few screws and see what happens.
As you can guess, they kept going.
Despite still not being entirely known by everyone their cult status has still kept them up and running and they've managed to put out several movies at this time, including Beerfest, which is a hilarious spoof on Oktoberfest. The movie depicts an underground drinking contest that is continually won by the German team as they are considered the world's best, while the Americans don't even have an invitation to the games. That changes however when two brothers go to Oktoberfest and through sheer circumstance are brought to the games and discover that they are the rightful heirs to a famous brewery and an untold fortune. Upon assembling their own team they discover just how hard it is to participate in the games, but eventually they make their way back to challenge all comers and take their rightful place in the pantheon of beer-drinking countries.
This is the greatness of Broken Lizard, that they can take some of the most fun and engaging stories and make them into spoofs that create enough buzz to be funny, engaging, and yet not so widespread that they become an institution unto themselves. They're one of the greatest groups to ever come together on film and the fact that so few people seem to know who they are is wonderful as it means that they'll likely retain their popularity without getting too big and therefore suffering the very real possibility of outgrowing the core group that they've been seen as over the years.
So yeah, their humor is a little, or a lot, over the top, but they've refined it throughout the years and it's still pretty much the same but has managed to evolve along with the times since as you can see in the clip below they're still the same bunch of guys as they were when they started out.
Same guys, different movie, same jokes and attitude…yeah, it's all awesome. This is the kind of comedy that takes some getting used to but if you can stick with them then you've found something that doesn't seem likely to go away or get old and stale anytime soon. Broken Lizard is, for lack of a better description, just absolutely awesome.