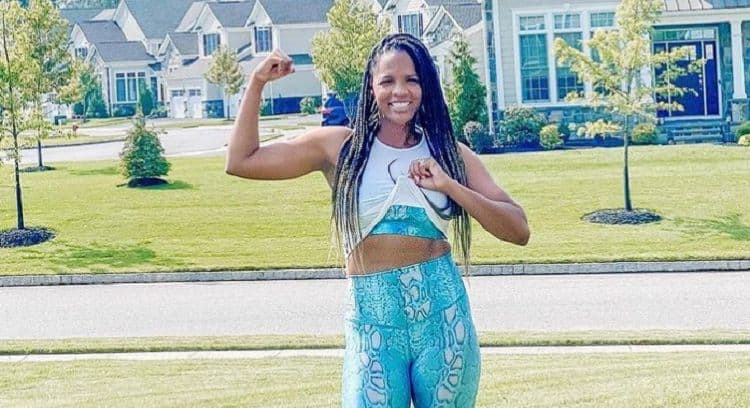 When your husband is one of the most famous faces in the sports industry, you might expect that fans want to know more about who you are. Even if you're not famous, you're not in the spotlight, and you don't want to be, being the wife of former NFL star and current television host and sports commentator Nate Burleson means fans want to know your name, your face, and everything else they can find out about you. Atoya Burleson married Nate Burleson for love and for a lifetime of happiness, and she knows that being married to a man this famous means being in the spotlight. Here are a few things about his lovely wife that you might not know.
1. She Met Her Husband in College
She and her husband met in college. They were both attending university working on their futures, their educations, and their own respective sports. He was not yet the famous NFL star he is today, but he was a college football player. They met while they were both attending the University of Nevada.
2. She's a Former Athlete, Too
In case anyone thought that Nate Burleson is the only athlete in this marriage, they'd be mistaken. Atoya was attending the University of Nevada alongside her future husband because she earned a track and field scholarship. She was a hurdle champion and track champion in college. Her husband might have been on the more famous college team, but she was the one winning college athletic championships.
3. She Hosts a Podcast
Atoya Burleson has the most unique and amazing podcast. It's called inSIDELINES, and she sits down and talks about what it is like to live with a pro athlete, to raise a family, to be married to someone who does what her husband does, and to be the wife of a superstar. She talks to other wives who are also married to athletes, and she shares the ups, the downs, the funny moments, and everything in between.
4. She Loves Relationships
If there is one thing she really is good at doing, it's forming relationships with the people she meets. She gets to meet them all over the place, from wives of her husband's former NFL colleagues to fans to everyone in between, and she adores connecting with them and forming relationships. She knows that it's so important to have all of that, and she is happy to be that woman who knows how to be a friend.
5. She's a Mom
She's a mom of three, and that has not slowed her down a bit. She is a mom who works hard to ensure her kids are taken care of, that they are raised well, and that they are close. Their kids are Nathaniel, Nehemiah, and Mia Pearl.
6. She Adapts Well
Atoya Burleson knows how to change and adapt when life throws things at her. She's moved more times than she can probably even remember thanks to her husband's career. She's done this with one kid, two kids, and three kids, she's had to change her life at the drop of a hat, she's had no control over certain aspects of their lives, and she's had to learn how to make a house a home more times than she can remember. She adapts well, and she's a woman we can all look up to.
7. She Loves Travel
As a woman, a mother, and a wife, it's good for the soul to travel. Whether you and your spouse are with your kids or without them when you travel, it's a lovely way to unwind, relax, and escape. Traveling means no dishes, no cooking, no laundry, no obligations. It means letting go, having fun, exploring, learning, laughing, and making memories, and it's no wonder she's a woman who loves to travel. What's not to love about it?
8. She is Happy to Admit She's Not a Perfect Mom
She's got her fair share of parenting tips – all good parents do – but she's also wise enough to realize that she's not perfect. She's messed up. She's failed. She's not done the best every single day, but she loves her kids and she fiercely protects them every moment of every day. While this is pure speculation, we imagine Atoya is just like the rest of us – she sometimes lies in bed at night and feels sad that she let the kids down that day, she wonders if she was too hard on them that day, if she told them she loves them enough, if she hugged them enough, if she was too short or too impatient or too frustrated.
9. Her Marriage is a Happy One
She and her husband have been together since 1999. That's around 22 years now, and they are just as happy now – if not more so – than they were then. Of course, it's easy to be happy when you prioritize your marriage, your family, and your happiness, and that's a lesson so many people could take a moment to learn. When you choose to be happy and you choose your family and spouse each day, you are living a very good life.
10. She's Private
We love Atoya because she is so open and honest with her fans, but we know that beneath the stories she shares and the glimpses into her everyday life she allows her fans to see, she's fiercely private and protective of the things that really matter. She's not sharing anything her family doesn't want her to share. She's not sharing what's most important to her, and she's not letting anyone in more than she wants them in. It's what moms and wives do. We can be exceptionally open, but there are small, intimate, wonderful parts of our lives and our marriages and our families that no one else will ever be privy to, and there is beauty in that.
Tell us what's wrong with this post? How could we improve it? :)
Let us improve this post!