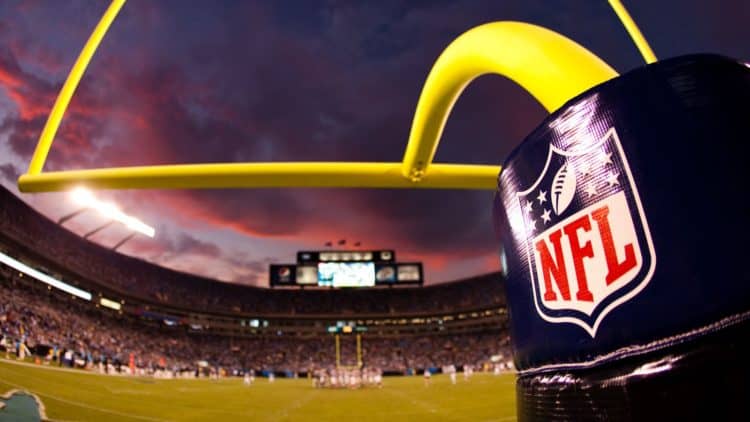 It's hard to imagine that Thanksgiving is already upon us, but here it is. Thanksgiving can mean a lot of things to a lot of people, but beyond family, friends, and food one thing about Thanksgiving is also important in many households, and that's football. No matter who your favorite team is, it's always fun to watch the game with family while munching on pre and post-dinner delights. Best of all, there are so many ways to watch each of the games that will be airing this year. Thanks to streaming, whether you have cable or not, you can choose how you watch each game, whether it's on your phone or your big screen TV.
Thanksgiving is all about tradition for many families. For example, you might start the day with the Macy's Thanksgiving Day Parade. After dinner and the football games are over, you might end the night with one of your favorite Thanksgiving movies. Before we look at how you can watch each Thanksgiving Day game, you need to know when and where to watch them. According to the Thanksgiving football schedule, the games airing are:
Bears at Lions on CBS at 12:30 pm ET
Redskins at Cowboys on FOX at 4:30 pm ET
Falcons at Saints on NBC at 8:20 pm ET
Now that you know where the games are, let's look at how you can watch them. We'll get into cable and cord cutter options shortly, but first let's look at free options. Whether you pay for a live cable alternative or you're a cable subscriber doesn't matter. Anyone can use the following services for free.
NFL App
You can actually watch every game on the NFL app for free, not just the ones on Thanksgiving. The only issue, for some, will be that you're going to be stuck watching on your phone. You won't be able to cast through Chromecast or any other device. The games are limited to Apple and Android phones and tablets. That said, if you can live with that, it's a great way to watch each of the games absolutely free.
NFL on Yahoo Sports
Watching the football game on Yahoo Sports is as easy as enabling location services on your phone and streaming the game you want to watch. Yahoo Sports offers local and primetime games on your phone or tablet. Like the NFL app, you won't be allowed to screencast. Still, if you want a free option, this will allow you to watch this and other games.
That covers the free options, so now let's look at the paid choices. Here you'll find a mix of options that you can use as a cord cutter or that cable subscribers can use. All of them are decent options and give you plenty of choices about where to stream the game.
CBS All Access
This is only going to cover the Bears at Lions, when they play at 12:30 pm on CBS. If you want to stream the game and you don't receive CBS through another streaming service, CBS All Access is a great choice. You get live and on-demand CBS content for $5.99 a month. You even get the first week free, so if you sign up before the game, you can cancel after it's over and get to watch it for free! CBS All Access is also available as an Amazon Prime channel. You can stream on most devices, so you can pick between watching on your phone, tablet, computer, or TV through many different streaming devices.
FOX Sports Go
You'll need a cable or streaming provider login to use FOX Sports Go, but if you have one you can watch the Redskins at Cowboys on your phone or TV. Most streaming devices, including Amazon Fire devices and Roku, will stream FOX Sports Go. It's a free way to stream the game and any other FOX sports, if you have cable. If you cut the cord, you can also sign in with services like DIRECTV NOW or fuboTV, but you'd need to check your package to ensure that this app is covered in your service.
NBC Sports app
The NBC Sports app works just like the FOX Sports Go app, except the games you'd be watching are ones that air on NBC. Again, this app works with many different streaming devices and you can sign in with both a cable provider and some streaming providers. Just remember to check your package ahead of time if you're a cord cutter, to make sure that NBC Sports is included in your package.
The following options are all live streaming cable replacements. If you're a cord cutter, this will give you some additional ways to watch each game. These services provide an alternative to cable, are often more affordable, and provide additional options that cable may not offer.
fuboTV
fuboTV is a sports-centric streaming service. They offer 70+ channels and a lot of them are sports oriented. You can stream on most streaming and mobile devices. There's one package that's $45 a month, but you get the first week free. Local channels can be tricky on any streaming service and are often location-based. However, many areas do receive locals on fuboTV. If not, both FOX Sports Go, and NBC Sports app are included in your package.
Hulu Live
Hulu with Live TV is another solid option. The main draw here, other than getting the free on-demand version of Hulu, is that they offer local channels to more cities than any other streaming service. Like fuboTV, Hulu Live works on most streaming devices and if you're in an area without a specific local channel, you can still watch live on the FOX Sports Go and NBC Sports apps. Hulu Live is $40 a month and also includes a free one-week trial.
YouTube TV
While Hulu Live offers more homes local content than other services, YouTube TV comes in second. They also have an amazing mobile app and a bottomless DVR. Otherwise, you'll find many of the same perks that you would with other streaming services. YouTube TV is also $40 a month and has a free trial that lasts for a week. You can stream on most devices, but Amazon Fire devices are not compatible.
That's how to stream football this Thanksgiving. Have a great holiday and may the best team win!