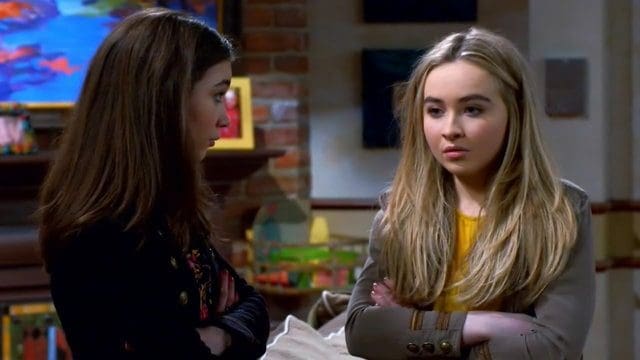 Girl Meets World is slowly building towards the climax of its love triangle right at the moment that high school is forcing everyone to evaluate who they are becoming. It's not a coincidence that the two storylines are converging. The focus this week is on Maya and the drastic changes people have begun to see she's gone through since starting high school. They're not necessarily bad, but it poses one of the most challenging questions any young adult has to answer. Is the person you are becoming the person you used to be, or is it someone completely different?
Maya's individuality seems to have taken a hiatus since going to high school. Everyone knew that her rising grades were unusual, but it seemed like a nice change of pace. The one class Maya has always excelled at, Art, now fails her. Her art teacher claims that Maya's lost who she is and what she's trying to say. Even when she tries to change the subject to their triangle with Lucas Maya gives up too easily, wondering if she's been selfish voicing her feelings. That is definitely not the Maya we know.
The whole situation has a strange effect that is unnerving to those around her. Even Cory and Topanga are disturbed that Maya's behavior is suddenly much more toned down, similar to Riley. It takes away her individuality away. Maya's mother Katie returns, firstly wondering how she could possibly help if Cory and Topanga don't have the answer. Soon Katie realizes that her little girl has changed quite a bit. Maya is offended, thinking that others just won't accept who she is if she changes. Maya realizes that she accidentally painted the same picture as Riley, so she needs more help than she realized. Riley decides the only choice she has is to kidnap Maya to figure it out.
In the meantime Lucas tries to figure out once and for all who the right girl is for him. Zay and Farkle try but really fail to help. No form of scientific method, reverse psychology, or pro/con list helps. Lucas has always had a connection with Riley, but his pull towards Maya came out of nowhere and continues to grow stronger. It's difficult, but he FINALLY comes to a decision…once the girls are already gone. He tells Cory, Topanga, and Katie his choice under duress. Sorry audience members, we will have to wait a few weeks to learn who is getting the Final Rose.
Girl Meets World returns in 2 weeks when Riley and Maya will seek out Shawn's counsel on this issue. Can Uncle Shawn be the one to help his surrogate daughter figure out what comes next? Who do you think Lucas' final choice is?
Tell us what's wrong with this post? How could we improve it? :)
Let us improve this post!