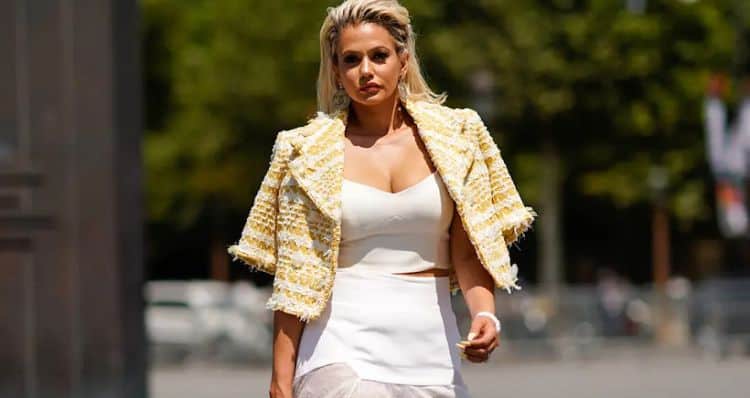 If there's one word that could describe Ashley Hutson perfectly, it's stylish. Ashley is the true definition of a fashionista and she knows exactly how to put an outfit together for any occasion. While some people put on clothes simply because they have to, it's clear that Ashley views clothing as an extension of herself. Although Ashley has been doing her thing for years, she recently started getting more attention after making an appearance on an episode of Siesta Key. After being on the show, lots of people are interested in knowing more about the stunning 'fashion entrepreneur'. Keep reading for 10 things you didn't know about Ashley Hutson.
1. Her Website Has Conflicting Information
According to Ashley's Instagram bio, the link to her website is AshleyHutson.com. However, the information on this website says that Ashley is a creative writer based in Maryland. Everything else about Ashley suggests that she was born and raised in Sarasota, Florida. With that being said, it's unclear if she's also had a career as a writer or if the domain simply belongs to someone else now.
2. She Has A YouTube Channel
Ashley is constantly on the go. Between attending fashion shows and other events, she has had a lot of cool experiences that she likes to document. In the summer of 2018, she created a YouTube channel for her brand, Red Hot Paris. Since then, her videos have gained more than 7,000 viewers. Unfortunately though, she hasn't posted any new videos in a year.
3. She Studied Marketing
Even though Ashley really loves fashion, it looks like she may have had different career aspirations at some point. She started her college career studying marketing at Dallas Baptist University. She ultimately transferred to The University of Texas Austin where she completed her bachelor's degree.
4. She's Rubbed Elbows With Some Celebrities
To be honest, it's not entirely clear what it is that Ashley does. However, what is clear is that she's gotten to meet lots of celebrities throughout the years. She seems to frequent events where she comes across some pretty famous names. Some of the people she's met include Kanye West, Mary J. Blige, and Robert Pattinson.
5. She Prefers Paris To Florida
Ashley spends her time living between Florida and Paris. Out of the two places, she says Paris is more her speed. She told Bellamag, " I just love the way the French live, I love the food and the lifestyle. There's just a way of living over there, people want to enjoy everything. I think the quality of life is different, you feel like you've lived a lot more in a shorter period of time."
6. She's All About Confidence
Have you ever heard the expression it's not what you wear but how you wear it? According to Ashley, there's definitely some truth to this. During her interview with Bellamag, she said "To me, beauty is when you feel self-confident. And whatever that means to you, whatever number on the scale that is, whatever outfit that is: that is beauty."
7. She's An Interior Designer
In addition to having a degree in marketing, Ashley also studied interior design at Fashion Institute of Design & Merchandising (FIDM) and KLC School of Design. At the moment, it doesn't look like Ashley is doing any worth with interior design, but that could change in the future.
8. Siesta Key Isn't Her First Time Being On TV
Ashley isn't exactly a reality TV regular, but she's not quite a rookie either. Her appearance on Siesta Key isn't the first time she's been in front of the TV camera. According to an old Instagram post, she was working on a TV show in 2017 that was dedicated to helping people "find and develop their inner brand and glam." As far as we can tell, the show never made it to the air.
9. She's An Aunt
Ashley's online presence is mainly centered around her brand, so she doesn't share too many things that don't relate to fashion and travel. However, in 2016 she shared a photo that showed her spending time with her nephew and it's clear that she takes lots of pride in being an aunt.
10. She Doesn't Have A Big Social Media Presence
Despite positioning herself as a fashion influencer, Ashley doesn't really have a big social media presence. Her personal account has just over 5,000 followers on Instagram. Her account for Red Hot Paris has less than 3,000 followers. While these numbers definitely don't quite meet the criteria for influencer status, it could be that the following she does have is very engaged with her content.