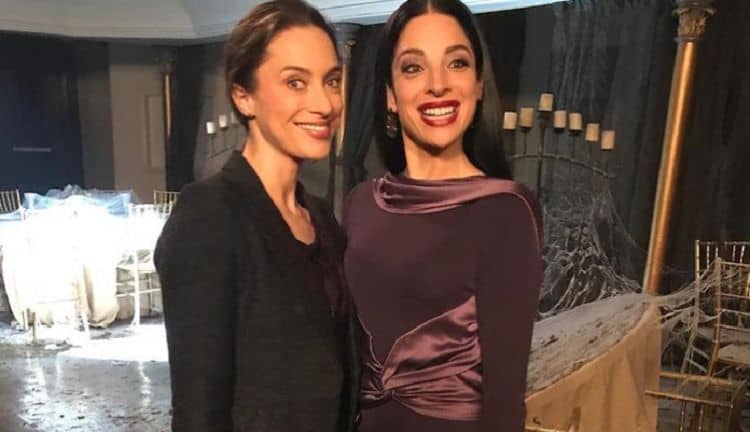 Alexandra Ordolis is the kind of actress who lights up the screen every single time she steps in front of the camera. In the years since making her first on screen appearance, Alexandra has worked hard to gain access to bigger and better opportunities. Even though she doesn't always have the biggest roles, she always makes an impact regardless of the project. She is most recognizable from her roles as Olivia in Shadowhunters and Caro in Nurses. She doesn't have any upcoming projects at the moment, but we'll probably be seeing plenty more for Alexandra in the years to come. Keep reading for 10 things you didn't know about Alexandra Ordolis.
1. She Was Born In Greece
Canada is the country that Alexandra is more commonly associated with, and it's true that she has lived there for most of her life. In reality though, she was born in Greece. Her father is Greek and her mother is British. She lived there for a few years before she and her family relocated to Montreal. She still lives in Canada.
2. She Is A Trained Ballet Dancer
Being a performer is something that Alexandra was born to do and one thing she's always known how to do is put on a good show. Before her acting career began to take off, she spent several years training as a ballerina at the Royal Academy Of Dancing where she reached level 8.
3. She Studied English
For all of the English majors out there who have been made to think they'll never find a job, I'm here to offer you a glimmer of hope. Alexandra has a bachelor's degree in English from McGill University. While acting may not be the traditional path for an English major, this just goes to show that possibilities are endless. Alexandra also studied acting at the National Theatre School of Canada and the Canadian Film Centre.
4. She Is A Very Active Person
Alexandra's dancing days may be over, but that doesn't mean she's stopped being active. She loves working out and spends a lot of time doing yoga. She is also passionate about teaching others about it. In addition to yoga, Alexandra also likes to stay active by swimming and bike riding.
5. She Is A Pet Parent
Alexandra may not technically have any children, but she's still a very proud parent. She has an adorable dog named Bobby who she affectionately refers to as her "doghter". As you can probably guess, Bobby makes frequent appearances on Alexandra's Instagram.
6. She Likes To Travel
Not only has Alexandra gotten to experience what it's like to live in more than one country, but she's also had the pleasure of visiting several. She enjoys learning about different cultures and she is always looking forward to a new experience. Some of the countries she's been to include Spain and the Bahamas.
7. She Speaks 3 Languages
Having the ability to speak more than one language is certainly impressive, and Alexandra can speak three. According to her LinkedIn profile, Alexandra speaks English, French, and Greek. By the looks of things, English is the only language she's acted in so far. We weren't able to find any information on whether or not she plans to work in any other language.
8. She Is Married
Even though Alexandra isn't the type to share all of her personal business with the public, one thing we do know is that she's happily married. She and her husband, Tom Mullins, have been married since 2015. Tom doesn't appear to work in the entertainment industry and his Instagram profile doesn't reveal any details about him.
9. She Loves Nature
The lights and cameras of the entertainment industry have their perks, but sometimes it's nice to get away from it all. Alexandra enjoys spending time outdoors and it's one of her favorite places to rest and recharge before getting back to work. She has a deep appreciation for nature. From hanging out by the water to going skiing, Alexandra loves to get as much fresh air as possible.
10. She's Not Really Into Social Media
If you're a fan of Alexandra's work and you've hoped to get up with her on social media, I have a little bit of bad news. She does have accounts on Instagram and Twitter, she doesn't post very consistently. In fact, she hasn't posted on Instagram and over a year and she hasn't posted on Twitter in several months. While she's clearly on a hiatus right now, there's a chance she could pop back up on social media in the future.