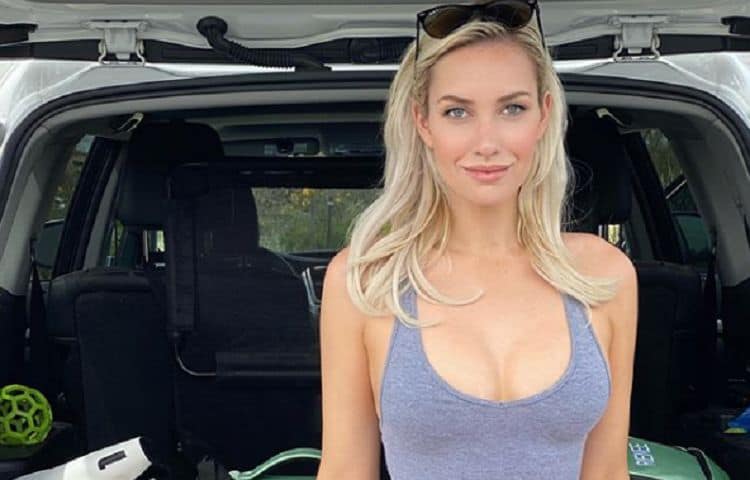 Golf star, media personality, social media influencer, anti-bullying ambassador… we could go on, but you're probably already well aware of Paige Spirinac's extensive list of credits. Since Instagram turned her into an overnight sensation, the 27-year-old has become one of golf's most famous faces… something that's not necessarily been to the liking of the sport's more traditional elements. But with 2.3m Instagram followers and counting, Spirinac is well past the point of needing the approval of the old guard. Find out more with these 10 fast facts.
1. Childhood Bullying
When Paige was a kid, she suffered from severe asthma, sometimes experiencing such terrible attacks, she had to be hospitalized. If that wasn't enough, she also developed a rare scalp condition that left her with hair loss: in a bid to combat the problem, she adopted a short bowl cut haircut…. something her classmates wasted no time in taking and using as fodder for their vicious bullying campaign. "I was this weird kid with a bunch of problems, and they all shunned me," Spiranac says. "I would sit down at a table and every other kid would stand up and move. At recess one of their favorite games was to throw rocks at me. It was like in a movie except that was my life."
2. Finding Solace in Sport
Tormented by bullies at school, Paige looked for comfort elsewhere, eventually finding it in the gym. She took to gymnastics like a duck to water (no doubt helped along by the encouragement of her mom, a professional ballet dancer, and her dad, a former college football hero), often training for up to 7 hours at a time. Stamped as an Olympic hopeful, she and her mother even moved to Colorado Springs just so she could train at the same gym as Kerri Strug and a string of other big-name gymnasts. And then disaster struck: at the age of 12, she was forced to give up the sport after two successive knee fractures. Desperate to find something to fill the void, she tried her hand at various other sports but found none that gave her the same thrill. And then she discovered golf, and with it, a new all-abiding passion.
3. Business Minded
Paige's public profile has made her a huge draw for businesses looking for a new face to represent them. In 2017, she signed a major deal with PXG (Parsons Xtreme Golf) to boost their profile on social media and TV commercials. Since signing with the brand, she's played a key part in campaigns such as Growing the Game, Inspiring Women, Healthy Living, and Promoting Anti-Bullying. Since 2018, she's also acted as an ambassador for 18Birdies, with one of her main focuses being the development of the brand's golf app.
4. Anti-Bullying Ambassador
Paige's experiences of bullying as a child have given her a unique ability to understand the position of other victims, and it's an ability she's determined to work for all it's worth. As an ambassador for Cybersmile, Paige works to support its educational and support programs aimed at eradicating cyberbullying among the young.
5. The Craziness Starts
When Paige inadvertently became an overnight Instagram sensation, it turned her life upside down. A normally shy and introverted person, she found the sudden publicity overwhelming and struggled initially to process the new level of attention. "I'll never forget the day the craziness began," her mother, Annette, told Golf, "She was getting thousands of new Instagram followers every hour. We were visiting my husband's relatives and Paige was in her room, laying on the floor in a fetal position, crying. She kept saying, 'I don't know why this is happening. I'm so scared.'"
6. Turning Pro
After enjoying some success on an amateur level, Paige turned pro at the 2016 CoBank Colorado Women's Open. She ended the tournament in ninth place, winning $1,750 in prize money in the process. We next saw here on the Cactus Tour at the Las Colinas club in Queen Creek, Arizona. She finished in 14th place, earing a relatively small fee of just $100 for her troubles. The rest of the tour bought mixed fortunes: at Scottsdale's Orange Tree Country Club, she earned her first tour win, while the 2016 Arizona Women's Open in Sun City, Arizona (the final event of the season) saw her finish in 30th position.
7. Changing Direction
After the CoBank Colorado Women's Open finished, so, effectively, did Paige's career in pro golf. Determined to make the most of the platform she'd been given, she changed agents and announced her decision to take a break from professional golf to concentrate on building her career as a social media influencer. Despite receiving floods of offers to compete in high profile tournaments, she's turned them all down- although if the many photos of her brandishing a golf club are anything to go by, she's not lost her love for the game just yet.
8. Comic Book Collector
If she's not working, Paige can usually be found either working on her trick shots or enjoying some of her favorite activities, which include everything from collecting comic books and traveling the world to indulging her passion for fashion.
9. The Nude Pic Scandal
In 2016, Paige's life was turned upside down when an ex-boyfriend leaked an intimate photo she'd shared with him before their breakup online. Earlier this month, she recalled the devastating impact it had on her. "Just getting these random messages from people you don't know and they've seen you in such a vulnerable way. It was disgusting," she told News. "I would wake up every single day, I would check my phone and be like, 'Am I going to be on (website) TMZ today? Am I going to be here, am I going to be there?'" Fortunately, her 2018 appearance in Sports Illustrated Swimsuit helped her finally take back control. "Winning in my mind was taking control of my body," she said, adding that the nude shot she'd made for the spread made her feel "empowered." "I was nude, I was completely naked. That was the best moment for me," she said. "That was the moment I won, right there, when I did Sports Illustrated Swimsuit."
10. Fighting Back
Ever since Instagram turned her into an overnight sensation, Paige has been fighting back against the criticism that she's only got where she is because of how she looks. And it's not just keyboard warriors that like to point the finger… almost since the get-go, Paige has been criticized relentlessly by the golfing community, with her reputation, her face, her figure, and pretty much everything else about her seen as ripe for ripping apart. But if they think she's going to take the criticism lying down, they can think again. "[It's] unfair to me and unfair to all of my accomplishments," she told NY Post of the comments. "I probably do more community service than any other professional golfer. For people to say, 'You only show some cleavage, that's why you have what you have,' is unfair. That's the injustice that we face every day as women and I see it a lot in golf."