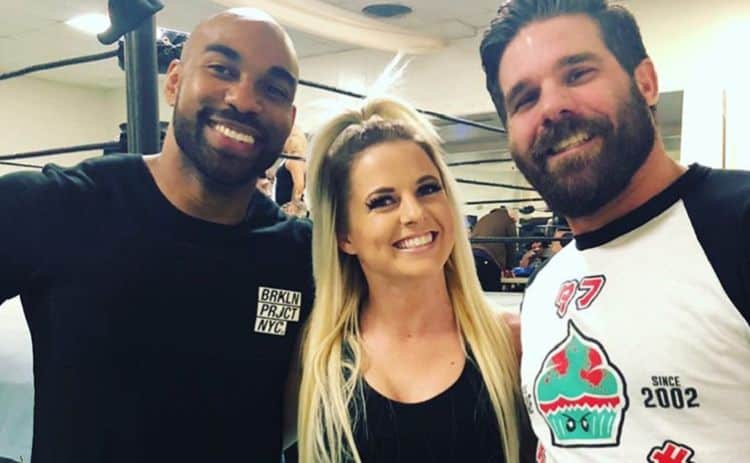 Professional wrestling fans everywhere know Candice LeRae isn't someone you want to mess with. Although wrestling is a male dominated sport, Candice hasn't let that stop her. The talented wrestler has made a name for herself as a fierce competitor in the independent circuit and she's even won a few championships. Although it's been nearly 20 years since she made her debut, Candice is still going strong and it doesn't look like she's going to slow down any time soon. Continue reading for 10 things you didn't know about Candice LeRae.
1. She's Always Wanted To Sign To WWE
Candice LeRae has had the same dream for most of her life. She always knew she wanted to be signed to WWE and says it's been her dream since she was 6-years-old. No matter what other things she's accomplished her in career, signing to WWE was always the thing she was truly going after.
2. Her Husband Is Also A Wrestler
In 2016, Candice married fellow pro wrestler Johnny Gargano. The couple met at a wrestling promotion in California. LeRae says that Gargano "He was talking to my cousin in an attempt to get my attention, but I didn't take the hint." Over time, the two began to continuously run into each other at events before finally connecting on social media. Gargano made his debut in 2005 and he is also signed to WWE. Like his wife, Gargano has also won several championships.
3. She's Very Hard On Herself
Success requires a lot of discipline. However, on her journey to build a legacy in the professional wrestling world, Candice admits that she's sometimes too hard on herself. In an interview, Candice said, "I am extremely hard on myself, to a fault. I've always struggled with my self-confidence. To be completely honest, I believed I would never be here."
4. She Has A Degree In Culinary Arts
Candice has loved to wrestle for as long as she can remember. She has always felt drawn to wrestling and casually refers to the spot as her first love. However, she also loves to cook. After high school, she earned a degree in culinary arts and spent a few years working as a baker at Universal Studios.
5. She's From California
Candice was born and raised in Riverside, CA. She grew up in a very close knit family and has two brothers. Candice and her brothers loved to play sports and developed a lot of friendly competition throughout the years. The time she spent competing against her brothers helped her become a better athlete. Candice's parents were both very hard working people and she says their work ethic has inspired her throughout the years.
6. She Was A Member Of Her High School Marching Band
Wrestling and cooking aren't the only things that Candice is good at. She also knows how to play the flute and the piccolo and was a member of her high school's marching band. It doesn't look like Candice has continued to play either instrument, but she has fond memories of her time in the band.
7. She's Traveled To Several Countries
Being a pro wrestler has given Candice the opportunity to experience things she never could have imagined. Candice has gotten" to visit Canada, Japan, England, Wales, Germany, Scotland, Ireland, France, Belgium and so many U.S. states."
8. She Loves Going To Disney World
Candice is a huge Disney fan. She currently resides in Orlando, FL and visits Disney World on a regular basis. One of the items on her bucket list is to visit every Disney park in the world. So far, she only has Shanghai and Hong Kong left.
9. She's A Role Model For Her Nieces
Candice doesn't have any children of her own, but she has a very close relationship with her nieces. In fact, making them proud is one of the main things that keeps her motivated to chase her dreams. She does her best to set a good example for them and hopes that she can teach them about the importance of going after what you want.
10. She Used To Play Baseball
As a child, Candice loved to play all sorts of sports. She was especially interested in playing with boys. Candice refused to play softball and instead played baseball on a local Little League team. She continued to play baseball throughout the years and even had a period where she wanted to be a professional baseball player.
Tell us what's wrong with this post? How could we improve it? :)
Let us improve this post!