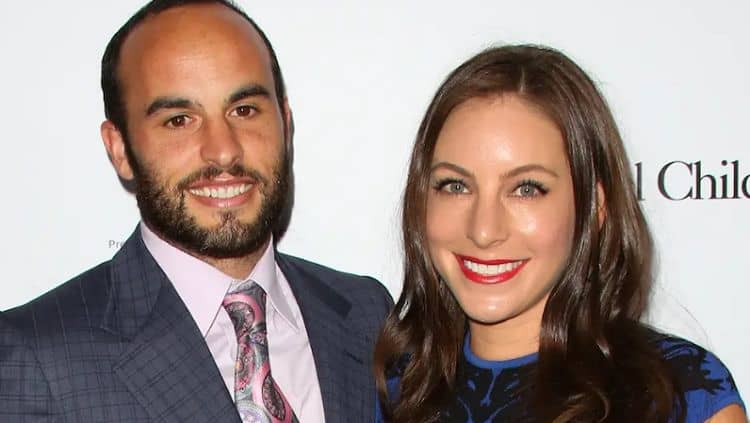 Being married to someone known for being in the spotlight comes with a lot of benefits. Unfortunately, though, one of the downsides is usually that the other person ends up living in the shadows. However, Hannah Bartell is determined to create her own light. Even though Hannah Bartell is highly intelligent and accomplished, most people know her best for her marriage to former professional soccer player, Landon Donovan. There is much more to Hannah than just being a wife, and she is truly a forced to be reckoned with when it comes to business as well. Continue reading for 10 things you didn't know about Hannah Bartell.
1. She's a Hotel Heiress
When most people think of rich and famous hotel families, the Hiltons are the first ones that come to mind. However, they aren't the only successful family in the hospitality industry. Hannah's family owns Bartell Hotels which owns and operates several luxury hotels in California.
2. She's Her Husband's Second Wife
People don't always find love on the first try, but you know what they say: if at first you don't succeed, try again. Prior to his marriage to Hannah, Landon Donovan was married to actress, Bianca Kajlich. Landon and Bianca were married from 2006 to 2010. They didn't have any children together.
3. She Used To Play Tennis
Even though Bianca never played sports at a professional level, she still knows what it's like to be an athlete. She grew up playing tennis competitively and was talented enough to play on the team at Boston University. However, it's unclear whether or or not she had a scholarship or was a walk on.
4. She Has A Master's Degree
Even though Hannah probably had a hotel job waiting for her from the day she was born, she's actually serious about the business and has worked hard to prepare herself. After earning a bachelor's degree from Boston University, she went on to the University of Southern California where she graduated with an MBA.
5. She Worked At LAX
LAX is one of the busiest airports in the country. With a constantly stream of people coming and going, having appropriate accommodations is very important. A few years after finishing school, Hannah decided that she wanted to move back to the west coast and got a job at the Marriott at LAX.
6. Her First Full-Time Job Was At The Marriott
Hannah has worked hard to gain experience in the hospitality industry. She jumped right into the field after college. Her first full-time job was working as the assistant front desk manager at the Boston Copley Marriott. She says, "I was hired by Marriott during recruiting season at BU and was so fortunate to be placed at one of Marriott's most prominent properties with 1,147 rooms."
7. She's Not Active On Social Media
Social media has become one of the most popular ways for people to share information and stay in touch with each other. As the wife of a well-known soccer star, Hannah could have easily built up a very large platform. However, it doesn't look like she's active on social media at all. Although her husband has a large following on Instagram, she doesn't have an account on the platform at all.
8. She's A Proud Mother
Hannah Bartell is all about her business, but she's also all about her family. In addition to being a devoted wife, and is also a proud mother. Hannah and Landon have two children together. No matter how busy things get in her professional life, she always makes time to spend time with her loved ones.
9. She's From San Diego
Hannah is a California girl to the bone. She was born and raised in San Diego. Even though she spent a few years living up in Boston, she eventually returned to San Diego and she and Landon decided to put down roots there. Apparently it's true that there really is no place like home.
10. She Loves A Challenge
Growth is the only way to move forward in life and this is something Hannah understands and appreciates. In order for people to reach their goals, Hannah believes it is important to put themselves in situations that can challenge them and promote growth. She says, "Push yourself to have as many experiences as you can, both personally and professionally, that change you as a person and as a leader."
Tell us what's wrong with this post? How could we improve it? :)
Let us improve this post!