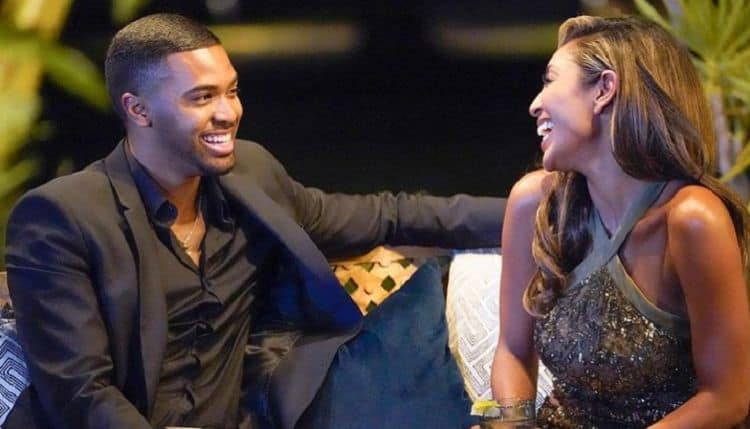 Everybody wants love, but finding it isn't always an easy thing to do. On his quest to find the woman for him, Ivan decided to take his chances on The Bachelorette. As a contestant during season 19, Ivan is hoping to connect with Tayshia Adams and so far things are looking good for him. Not only is Ivan good looking, but his charming personality and ambitious nature already seems to be winning Tayshia over. Fans are loving Ivan as well and there are lots of viewers who believe he has what it takes to win her heart. Even if Ivan doesn't end up finding love on the show, there are countless fans of the show who would love to get a chance with him. Continue reading to learn 10 things you didn't know about Ivan Hall from The Bachelorette.
1. He Comes From A Diverse Background
Diversity is one of the things that makes the world a beautiful place, and Ivan has been lucky to be surrounded by it for his entire life. Ivan was born to a Filipina mother and a Black American father. He is very proud of both of the cultures that have made him who he is and he feels a strong connection to each of them.
2. He Was Born In Chicago
Ivan has moved around several times in his life, but he was born in Chicago. He was raised in the Plano, TX area and currently lives in Dallas. He also lived in Florida for a short while. If he does win The Bachelorette, he may need to consider relocating as Tayshia is from California.
3. He Loves Cars
For lots of people, cars are simply a means of transportation from point A to point B. For Ivan, however, cars are something much more. He loves cars, especially high-end vehicles. One of his biggest goals in life is to eventually open up a car rental company that specializes in luxury foreign cars.
4. He Loves To Stay Active
Ivan's good looks are probably the first thing most viewers noticed about him, and he takes great pride in keeping himself in good shape. He is a very active person who enjoys exercising on a regular basis and he loves doing things like yoga and playing basketball.
5. He Is Family Oriented
Ivan doesn't have any children of his own, but he has a very close relationship with his family and he is a very proud uncle. He loves spending as much time with his loved ones as he can. His love for his family is definitely a quality that will appeal to Tayshia.
6. He Is A Texas Tech Alum
Good looks aren't the only thing that Ivan has going for himself. He has plenty of brains, too. He attended Texas Tech University where he earned a bachelor's degree in industrial engineering. While there he was also a member of the Alpha Pi Mu Honor Society and the National Society of Black Engineers. Ivan currently works as a senior software quality engineer at Lockheed Martin.
7. He Plays Tennis
Ivan may be charming and sweet, but he also has a competitive side. During his time at Texas Tech, he was a member of the club tennis team and he still likes to play now when he has the time. Hopefully, his competitive nature will help him beat out the rest of the guys for Tayshia's love.
8. The Bachelorette Is His First TV Experience
Ivan probably never imagined that he would become a reality TV star, and as far as we can tell he's never made any other attempts to get into reality TV or the entertainment industry as a whole. The Bachelorette is his first and only TV appearance and it will probably end up being his last.
9. He Is Known For His Kind Demeanor
We've all heard the saying 'nice guys finish last' but Ivan is hoping that won't be the case for him. He is well-known for having a kind disposition and his nickname is "Sweet Ivan". So far, the fact that he is a nice person seems to be working in his favor on the show.
10. He Loves Crocs
When the Crocs brand first started nearly 20 years ago, people weren't sure how to feel about their unique looking clogs. While most would agree that they aren't the most attractive shoes on the market, the fact that they're extremely comfortable made them a huge hit. Apparently, Ivan got caught up in the Croc culture at one point, too. According to his bio on the CBS website, Ivan "is a recovered Croc enthusiast".