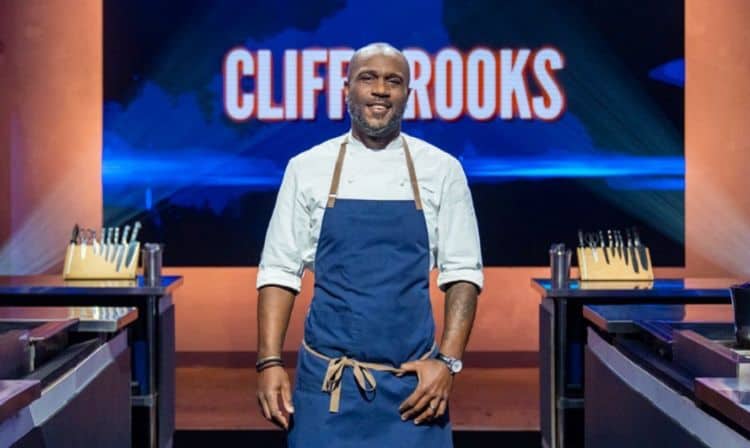 Very few times in life are people given a legitimate second chance, but Cliff Crooks has officially become one of the lucky few. The world was introduced to Cliff back in 2006 when he appeared as a contestant on Top Chef. Many thought he had a shot to win the competition, but things took a bizarre turn when he allegedly assaulted fellow contestant, Marcel Vigneron. Now, more than a decade later, Cliff is back on TV in a major way as the host of a new series called Chef Boot Camp. On the show, Cliff works with chefs from struggling restaurants to help them step their game up. Although lots of people are surprised that Cliff was given a show on a major network, they're also excited to see what it's all about. Keep reading for 10 things you didn't know about Cliff Crooks.
1. He Fell In Love With Cooking At An Early Age
Cliff has been in or around the kitchen for most of his life and his grandmother played a major role in introducing him to cooking. He told New York Moves, "I grew up cooking with my nana—she's a fantastic cook—and that was the beginning of my child-like curiosity about food in general."
2. He Started Out As A Busboy
Cliff was just 15-years-old when he landed his first job working as a busboy at a local restaurant. While most people who work as busboys have no intentions of moving up, Cliff knew that he eventually wanted to take on bigger responsibilities and earn a spot in the kitchen.
3. He's The Only Person To Be Kicked Off Of Top Chef
Top Chef has been on the air since 2006 and during that time only one contestant has been disqualified. After the incident in which Cliff became physically aggressive towards another contestant, he was kicked off of the show due to legal guidelines that prevent contestants from harming each other.
4. He's A Fairly Private Person
Unlike many of the other chefs who have made their way to the industry, Cliff has chosen not to be an open book. Even after all these years, Cliff hasn't shared much information about his personal life. Although he is very active on Instagram, almost all of his posts are focused on his food.
5. He Once Lived in Taiwan
Most chefs would agree that getting able to experience food from other places is essential to developing a well-rounded skill set. When Cliff was younger, he got the opportunity to live in Taiwan for several years and he credits that experience with making him a better chef. Cliff is also a big fan of Asian cuisine and says it's one of the best in the world.
6. He's Happily Married
Despite not sharing much information about his personal life, Cliff has made it very clear that he's a married man. He and his wife, Karina Veig, have been married since 2019 and they currently reside in New Jersey. From what we can tell they do not have any children together.
7. He Believes Fast Casual Dining Is The Future
The food industry has been changing rapidly over the last several years, and Cliff believes there's even more changes to come. When asked what he saw for the future of the restaurant business, Cliff told New York Moves, "More fast-casual restaurants. I see the line continuing to blur between fine dining and more casual service, creating more opportunity to taste things outside of one, formal format. I also think restaurants will expand genres—not just focusing on one type of cuisine or influence."
8. He Loves Cookies
Everybody has a guilty pleasure food that they simply can't get enough of. As a professional chef, most people would probably assume that Cliff's guilty pleasure is something extra special. In reality, however, cookies are his favorite thing and he doesn't discriminate.
9. Top Chef Didn't Hurt His Career
Even though things didn't work out for him on Top Chef, his experience on the show didn't end up having a long-lasting negative impact on his career. He has remained very busy in the years since and he currently the Culinary Director of BLT Restaurant Group.
10. He Likes Feel Good Foods
Usually, when people think about what makes a dish successful, taste is one of the first things that comes to mind. While it goes without saying that taste is important, Cliff also wants to make sure that his dishes make people feel good. After all, food is at the center of a lot of people's favorite memories.
Tell us what's wrong with this post? How could we improve it? :)
Let us improve this post!