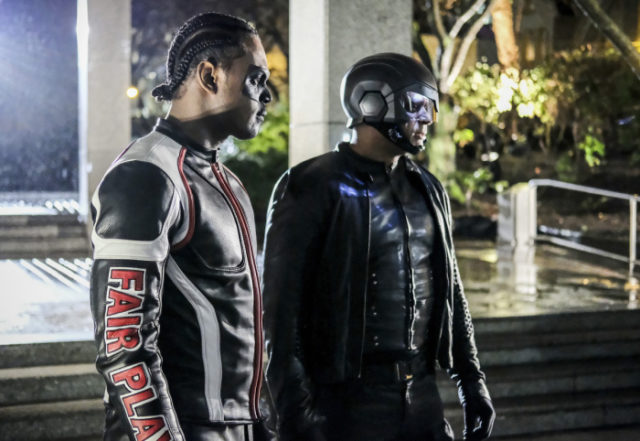 The idea of legacy has been the driving force behind much of Arrow Season 5. From October's premiere (which is actually titled "Legacy") through tonight's installment, "Honor Thy Fathers," the pasts of the show's deceased characters, such as Laurel, Moira, and, most recently, Robert, have hung around Oliver, Thea, and the rest of team like haunting specters, forcing them to question not only their actions in the present but what their own legacies will be in the future.
In some cases, such as Dinah with Laurel, the history of the dead has been a source of inspiration, but more often, the sins of those who have passed away act as anchors pulling our favorite characters down to their murky depths. When Oliver and Thea consider all of the deplorable decisions their parents made during their lives, it causes to them to lose sight of who they truly are and tricks them into believing that they are destined to become like their father and mother. However, as Felicity smartly points out to Oliver in one of the very best scenes of tonight's episode, there comes a time when you have to leave the past in the past and move on, when you need to stop living for the dead and start living for yourself.
The wise words that Felicity delivers to Oliver echo throughout "Honor Thy Fathers," and it's not just because Oliver uses those same words to inspire Thea when the two of them talk in the bunker and the rest of Star City during his press conference about his father. What Felicity says can apply to any of Arrow's main characters this season, whether it be Diggle and his murdering of Andy, Felicity and the impossible decision she had to make with Havenrock, or even Dinah, who we've seen leave behind her past vendetta in an effort to become something better as a part of Team Arrow.
Oliver and Thea feel crippled throughout most of "Honor Thy Fathers," because they watch their father kill a man on the security footage that Chase delivers to them, they believe they're doomed to repeat the sins of their parents. If they didn't truly know the two most important people in their lives, the two people who claimed to love them more than anything, then how can they trust themselves? How do they know that they will lead better lives than Robert and Moira did?
To figure this out, Oliver and Thea need to take a step back and reflect. They need to reflect on how they've helped each other and on how they've helped others to see that they're stronger than both Robert and Moira. No matter what regrets they may have about actions in their past, the future is still ahead of them, and as long as they stand by each other and continue to encourage one another, it's a pretty damn bright future, no matter what obstacles get thrown their way.
What Robert says to Thea about her being stronger than Oliver is, in many ways, true; along with Felicity and Diggle, Thea has been one of the most honest, loyal, and supportive people Oliver has had in his life. But it's very significant that tonight's writers, Marc Guggenheim and Sarah Tarkoff, have Oliver be the one that reassures Thea and not the other way around. This decision doesn't lessen Thea's importance to Oliver or contradict what Robert says in the video; no, instead, it illustrates Oliver's continuing evolution into the best version of himself, a process that truly began with his confession to Chase in "Kapiushon" and has only gained more strength due to his interactions with Felicity in both "Dangerous Liaisons" and "Underneath."
The next step for Oliver after confronting the monster within himself is to confront the monstrous side of his father, the dark, violent part of Robert that he never knew existed. After Thea shows Oliver the security tape, he's clearly shaken in a much different way than Thea is (at this point, she has become numb to disturbing revelations about her parents). For just a second, while Oliver watches that video, he's back in his cell with Chase, chained and tortured, second-guessing everything he's accomplished with Team Arrow over the last five years. But the honest and open conversation he has with Felicity about his worries (notice how free and relaxed the two of them seem now that there's no more pain or distrust between them after last week's episode) brings him back from the brink of despair. After their talk, Oliver possesses the hope and strength he needs to be the one that Thea leans on, to be the brother that she needs him to be, and he also feels inspired enough to don the Green Arrow suit again, simply telling Curtis that "Felicity has a way with words."
Unfortunately, while Oliver and Thea appear to be able to move on from their parents' sins, Rene can't let go of the mistakes that he's made in the past. Despite an emotional pep talk from Quentin, in which he tells Rene that he has an opportunity to make new, great memories with his daughter so that she doesn't have to only remember the pain of the past, Wild Dog is nowhere to be seen at the hearing, and he loses his chance to get custody of Zoe.
Of course, Rene's choice here is disappointing, but it makes sense given how raw and fresh his emotional wounds are. He's still maturing into a hero, into the father that his daughter needs in her life, and while Quentin's words do have an impact on him, they're not enough to convince him that he's ready to be a parent again.
And maybe that's because, while Quentin has hinted at the pain and regret he feels over Laurel's death to Rene, he hasn't outright told him about her. Quentin needs to specifically tell Rene to not make the same mistakes he did with his daughter, to take this second chance with Zoe as a rare gift, and only when Quentin does that will both he and Rene be able to move on from their troubled histories, ones that have clearly defined both men this season given Quentin's drinking problems and Rene's anger issues. This type of resolution is where their story is headed, and I'm sure we'll get it by season's end; however, the journey so far has been an absolute joy to watch, as Quentin and Rene's friendship has been one of the best new parts of Arrow Season 5.
But before Quentin and Rene can find the inner peace they both desire, it looks like the two of them will be a little preoccupied with whatever Adrian Chase has planned next. Chase surrenders to Oliver and lets himself get arrested near the end of "Honor Thy Fathers," and while Team Arrow believes it's a win, we know that this insane villain has something else up his sleeve, especially since last week's episode ended with him tracking down Oliver's son, William.
I haven't been able to predict much of what has happened throughout Arrow Season 5. I honestly have no idea what to expect from these final two episodes. And that's exciting. The series has been firing on all cylinders throughout this entire season, and even though I'm not sure what lies ahead, I'm pretty damn confident that whatever it is will be something super.
Other thoughts:
Tonight's flashbacks focus on Oliver's return to Lian Yu, and while most of his and Anatoly's conversations hit the same beats that we've seen before from the two of them, I did find their goodbye scene to be emotionally satisfying. Plus, we also get Kovar knocking Oliver out at the end of the episode and setting up what should be some incredibly entertaining fights between Stephen Amell and Dolph Lundgren during these final two episodes of the season.
Thea Queen, I missed you. Never leave Star City again, okay? Otherwise, we wouldn't get dialogue gems like "No, but once you find out Malcolm Merlyn is your biological father, you can pretty much handle anything," or the most truthful statement about Oliver Queen ever: "Ollie, you have a habit of giving orders and just assuming they're agreements."
I had the biggest grin on my face watching Curtis and Felicity nerd out over their love of Witness. As much as I enjoyed Felicity's turn to the dark side with Helix, and as necessary as it was for her character's journey this season, I'm glad to see her back with the rest of the team and having fun exchanges like this again.
Nice to see Cody Rhodes back as Derek Sampson. He doesn't have as much to do in "Honor Thy Fathers" as he did in "A Matter of Trust," but he's still a fun presence on screen.
"Rene's right." "Oh. Say that again?"
"Are we good?" "We're terrific. I've been waiting to use that."
"I am not my father. I am my own man."
"The people you care about are not suffering because of you. Their life, my life, is better because you decided to become the Green Arrow."
What did everyone else think about tonight's episode of Arrow? Comment below and let me know.
[Photo credit: Robert Falconer/The CW]
Arrow Season 5 Episode 21 Review: "Honor Thy Fathers"
Summary
Chase forces Oliver and Thea to confront secrets about their father in another excellent episode of Arrow.