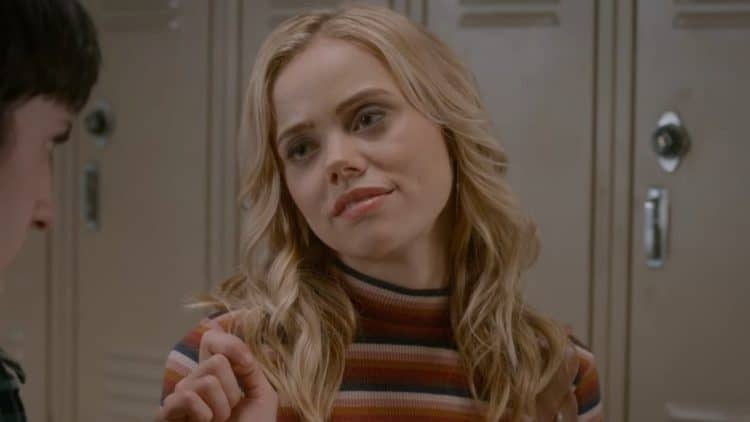 Annalisa Cochrane has spent several years being an up and coming star, and it looks like her time has finally come. After a series of minor roles, her career started gaining serious traction in 2018, and she made sure to capitalize on the momentum. She got a major opportunity when she was cast as Yasmine in the TV series Cobra Kai. Yasmine is the quintessential mean girl and Annalisa has done a great job of bringing her to life. On top of Cobra Kai, Annalisa also has some other projects in the works which means we'll be seeing plenty more of her in the near future. Keep reading to find out 10 things you didn't know about Annalisa Cochrane.
1. She Grew Up In India
Annalisa's upbringing was anything other than typical. She spent 10 years living in India before relocating to the United States with her family and settling down in the Seattle area. These days, she is living in Los Angeles so that she can be closer to the action.
2. She Is Always Wanted To Act
You know what they say, 'when you know, you know' and Annalise knew that acting was for her from a very young age. She started getting interested when she was around 8-years-old and she became involved with acting classes and programs in her area. In the future, she also wants to get into writing and directing.
3. She Isn't Scared To Talk Politics
If there's one thing we've all been taught not to discuss in mixed company, it's politics. Recent events, however, have made it nearly impossible for people to keep their political views to themselves. Annalise certainly isn't shy about where she stands and she has repeatedly shown her supports for Joe Biden/Kamala Harris.
4. She Was In An Episode Of Modern Family
Annalisa has gotten to be a part of several successful shows over the course of her career, one of which was Modern Family. She appeared in an episode back in 2016. Some of the other shows she's made guest appearance in are NCIS: Los Angeles and It's Always Sunny in Philadelphia.
5. She Would Love To Star In A Remake Of Blade Runner
Remakes have become increasingly popular over the years, and Annalisa already knows exactly which potential remake she would love to be a part of: Blade Runner. She told Close Up Culture, "I watched and analyzed that film for a Film Studies class in college, and I was awestruck. It was so many things: a noir film, an arthouse film, a futuristic film, with these deep, philosophical ideas about our world and our future." There are no plans to remake the film as of yet, but Annalisa is hopeful.
6. She Is A Loyola Alum
Many people who plan on becoming professional actors decide to attend drama school after high school, but Annalisa decided to follow a different path. She attended Loyola Marymount University where she earned a bachelor's degree in communication and media studies.
7. She Enjoys Hanging Out By The Water
Now that Annalisa is officially a California girl, she is taking advantage of the beautiful weather and beaches that the Los Angeles area has to offer. When she gets time off from work, she loves to spend it enjoying the outdoors and relaxing by a pool or at the beach.
8. She Loves Doing Theater
Breaking into the TV and film worlds have been huge accomplishments for Annalisa, but she also has lots of theater experience and theater is her first love. During an interview with The Man Cave Chronicles Podcast, she shared that she would love to be able to do theater in England some day.
9. She Is Very Adventurous
Annalisa is a self proclaimed adrenaline junkie and she never shies away from having a fun and exciting experience. In addition to her love of traveling, she has done several daring things including bungee jumping and sky diving. Her fearlessness when it comes to taking risks has served her well when it comes to acting.
10. She Hopes To Show The Human Element Of Yasmine
One of the coolest things about Cobra Kai (other than the fighting of course) is the fact that the show does a good job of showing the good and bad side of all of the characters. This human element is something that Annalisa has worked her to bring to her character. Although Yasmine is a mean girl on the surface, there's much more to her underneath it all and Annalisa wants to be able to bring that to life.
Tell us what's wrong with this post? How could we improve it? :)
Let us improve this post!