The Karate Kid spinoff is ending with Cobra Kai Season 6 confirmed to be the final season, and that is for the best. Since its inception in 2018, Cobra Kai's characters have made a lot of headway in dealing with their issues. With much of the drama in the past, Daniel LaRusso (Ralph Macchio) and Johnny Lawrence (William Zabka) have the opportunity to finally shut down their last remaining enemy and end things on a high note.
Almost every character from The Karate Kid franchise has made a guest appearance in Cobra Kai, and the few exceptions are notable. Cobra Kai season 6 is the last opportunity for writers to reach out to the original franchise actors for a cameo. Despite the few familiar faces yet to appear, Cobra Kai season 6 serving as an end to the series is for the best.
Cobra Kai Season 5 Proved The Show Needs to End
The kids of Cobra Kai are growing up, issues between the major characters and their storylines have been largely resolved, and Johnny and Daniel are finally working together. After a decades-long rivalry stemming from their own youthful days in the dojo, Johnny and Daniel finally have a common goal to take down Cobra Kai and their rivals. Since Kreese (Martin Kove), Johnny and Daniel's biggest rival, was arrested in Cobra Kai season 5, their goal now is to finally take down Cobra Kai and Terry Silver (Thomas Ian Griffith).
Cobra Kai Season 6 does have the potential to end on a happy note, especially since most of the significant character's arcs are already resolved. Daniel once again found meaning in his life, Johnny has worked his way up from rock bottom, and the teenage characters in Cobra Kai are becoming adults. Robby (Tanner Buchanan) and Miguel (Xolo Mariduena) are on good terms, and Johnny and Robby are also on friendly terms. With the majority of the Cobra Kai cast finally on the same page, taking down the Cobra Kai dojo is the only thing left on the agenda for season 6.
Which Karate Kid Characters Can Still Appear in Cobra Kai?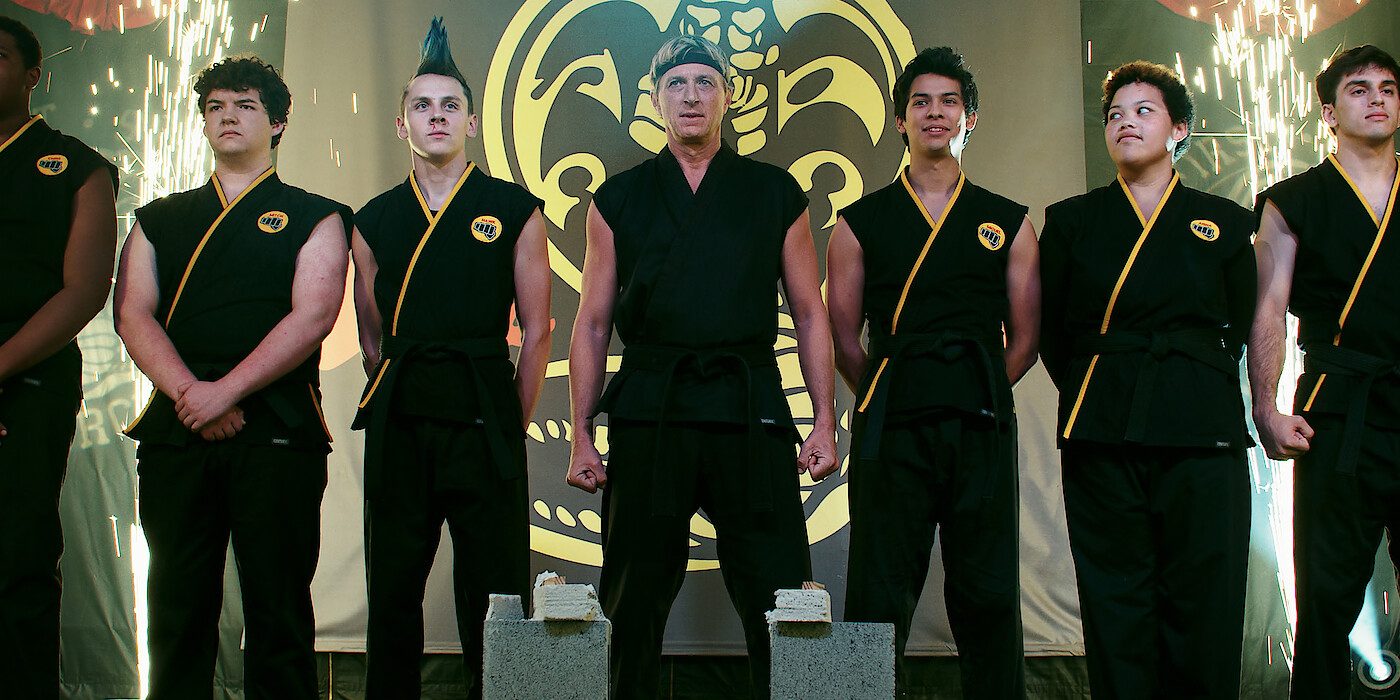 The first five seasons of Cobra Kai introduce cameos from the cast of the original Karate Kid franchise. However, Cobra Kai is running out of movie stars to bring in. Pat Morita cannot make a cameo in person since his death in 2005, but Mr. Miyagi's death is pivotal in the Cobra Kai season 1 storyline. Mr. Miyagi appears in Cobra Kai through film archive flashbacks, which plays an important role in the plot throughout the series.
Cobra Kai Season 6 could introduce three Karate Kid characters who have not already made a guest appearance. Julie Pierce (Hilary Swank) and Eric McGowan (Chris Conrad) starred together in The Next Karate Kid, and it makes sense to bring them back together. Finally, Dutch (Chad McQueen) has, like Mr. Miyagi, appeared in film archives when his friends talked about Dutch's childhood antics. However, Chad McQueen has not yet appeared as part of the Cobra Kai cast. The final season of Cobra Kai is the last opportunity for the remainder of the original Karate Kid cast to make cameos.