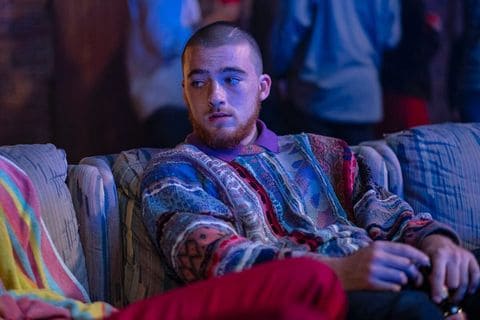 Euphoria is an interesting anti-binge TV show praised for tackling real life issues like depression. It follows the lives of high schoolers who indulge in partying, sex, drugs and relationship dramas. The show, which is aired on HBO, creates a clever balance between brutal honesty, creativity and drama to create a captivating series. Its cast is not a letdown either, the series features talented actors including Zendaya, Maude Apatow, Eric Dane, Astor and Angus Cloud among others. In particular, one of the most memorable cast is Angus Cloud. He plays Fez, a resident high school drop out who spends his time selling drugs to former classmates. Despite being a drug dealer, Fez possesses a heart of gold as he cares about the well-being of his clients. He is especially kind to one Rue (Zendaya) who got out of rehab but is still struggling to stay away from drugs. Cloud delivers the part with such uniqueness and finesse that has earned him many ardent followers. If curious to find out more about this talented actor here are 10 facts you probably didn't know about him:
1. His Background
He was born in 1994 which makes him 26 years as in 2020. Cloud's native home is Oakland, California. However, his mother and father are said to have hailed from Ireland. They both worked in universities within Oakland. Before being cast in Euphoria he was actually planning to move back to Ireland with his family.
2. His Education
He studied in Oakland and was admitted to the regional high school. He later attended the Oakland school for the Arts where he majored in technical theater. The knowledge he gathered enabled him spend his high school days building sets and lighting the stage for plays and shows.
3. Euphoria is His First Acting Gig
Yes, you read that right. Surprisingly, Cloud has never acted in any other show before, neither has he undergone any training on acting. Euphoria is the very first show he has been cast in. It all began in 2018, when he was walking down the street in Manhattan going about his business, a representative who introduced herself as an employee of a casting company stopped him. She thought he would be perfect for a certain role in an upcoming TV Series. At first, he thought she was bluffing and trying to scam him but eventually she bought him over. He went to audition for it and landed his current part. Nevertheless, after shooting the show's pilot, his management decided to set him up with acting classes, with an intention to boost his acting skills. Combined with his natural talent, this should go well for him.
4. He is Likened to Mac Miller
There have been several comments online pointing out to a strong resemblance between the actor and Mac Miller – a rapper who died from drug overdose. His looks and how he speaks reminds fans of the deceased rapper. According to a Twitter post, one of his fans started to cry after watching him take care of Rue in Euphoria. She said he reminded her of Mac Miller who had died from fentanyl OD. Many other people retweeted in support of her sentiments.
5. He is Active on Instagram
Cloud's most preferable social media platform is Instagram where he actively posts promos, photos and memes. He also uses the platform to connect with his fans who love him and are keen on following his every move. He currently has about 500,000 followers on Instagram. You can also find him in Twitter, though he is not as active there as he is on Instagram.
6. He Directs and Edits Music Videos
Evident from his YouTube page where he regularly posts his friends music, cloud is a huge fan of rap music. He personally directs and edits most of these rap videos before posting them on his personal You Tube Channel.
7. His Fun-to-do Activities
Away from acting, Cloud relishes in, skateboarding, cycling and photography. Additionally, he enjoys traveling, naming Miami as his favorite travel destination. He also enjoys watching shows. Cloud has been interested in shows from an early age when he watched them with his mother.
8. His Relationships
Currently there is no girl out there with a claim to him. Or maybe he just too secretive to let the public know about his personal relationships. Since he also does not have any female friends, we can only assume that he not dating and is only focusing on his career.
9. His Net Worth
Before beginning a career in acting, Cloud earned his living from working at a chicken-and-waffles restaurant found near Barclays Center, Brooklyn. Considering that he didn't earn much there, he has only been in the acting arena for a year, Cloud has not accumulated much wealth. Apart from acting, his you tube channel also contributes to his income. This is dependent on the number of views his videos get. Additionally, Cloud earns an extra buck from speaking about his new found careers in events.  According to Dreshare, his current net worth is approximated to be at $200,000.
10. His Future Goals
Following his success at Euphoria, Cloud plans to fully explore his potential in acting. Already enrolled for acting classes, he hopes to use the skills he acquires to act in Hollywood films. He also has a keen interest in becoming a voice over artist.
Final Word
Some people would describe Cloud's first interaction with the movie world as an act of fate, while others may term it as purely coincidental. Whatever the case, Cloud took up the challenge and delivered the assigned role perfectly. In real life Fez, his character, is in a questionable professional. However, Cloud presents him in a manner that lets us see the good side and humanity in him. It is as if to say, though some people find themselves in bad circumstances, there is still some good left in them. Follow Cloud on Twitter or Instagram to keep tabs of what he has been up to lately.