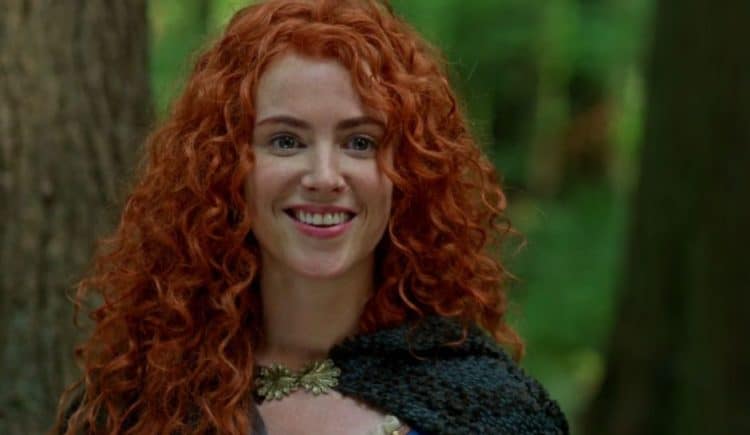 Amy Manson has been acting professionally for more than 15 years and in that time she has become an international star. She got her first big break in 2008 when she was cast in the TV series Casualty and her career has been on the rise ever since. Her ability to move between genres has allowed her to take advantage of a wide variety of opportunities. Although the last few years of her career have been focused film and short film projects, she is about to be back on the small screen in a major way. She has a role in the upcoming HBO series The Nevers and her fans are looking forward to seeing her back in action. Continue reading to learn 10 things you didn't know about Amy Manson.
1. She's From Scotland
Amy was born and raised in Scotland where she also got her start as an actress. After deciding that she was ready to take her career to new heights, she took a leap of faith and moved to Los Angeles. What may have seemed like a risky move at the itme has more than paid off. These days, she appears to be living in London.
2. She Loves Being Outdoors
Sometimes it really is the simple things in life mean the most, and what could be more simple than being outside? Amy absolutely loves being outdoors. She spends as much time as she can out enjoying the beauty of nature and she loves to do things like go hiking, swimming, and exploring local walking trails.
3. She's A Formally Trained Actress
Amy has devoted lots of time and energy into making sure her skills are as sharp as possible. She attended Central School of Speech and Drama although she left early to take advantage of a professional opportunity. The school has a long list of other well-known former students including James Faulkner and Susan Lynch.
4. She's An Avid Traveler
Traveling is one thing that most people would do more of is they had the time and the money. Fortunately, Amy's career has given her lots of chances to travel and she has been able to visit places all over the world. Some of the countries she's gone to include Greece and France.
5. Her Role As Merida Changed Her
Every actor has at least one role that has left a lasting impact on them, and Merida was one of those roles for Amy. When talking about her time playing Merida in Once Upon a Time, Amy told Schon Magazine, "She's changed me. She's so happy and she just wants the best for everybody in life. I think that's such a huge challenge for people. It's also hard to be themselves, and to wear their heart on their sleeves. For me, it's been a blessing to play her."
6. She's Passionate About Suicide Awareness
Acting isn't the only thing Amy has used her platform for. She is also interested in shedding light on the causes that are important to her. In October 2019, Amy supported the Mental Health Foundation's campaign to spread awareness about suicide and suicide prevention.
7. She's All About Kindness
The world can be a very cruel place, and this is something that most of us don't need to be reminded of. Something we can all use a little reminder of, however, is the fact that there are still good people out there. Amy understands the importance of kindness and she loves to spread as much of it as possible.
8. She Likes To Stay Active
Exercise is an important part of Amy's routine. She is always sure to get a good workout in and she likes to switch it up and try new things. Working out doesn't just keep her body in good shape and ready for the cameras, but it also has a positive impact on her mental health.
9. She Has Theater Experience
It's true that Amy has spent the majority of her career doing film and TV roles, but like most formally trained actors she has also dabbled in the theater world. In 2008, she had a role in a production of Six Characters in Search of an Author. We weren't able to find any information on whether she's done any theater work in more recent years.
10. She Encourages People Not To Give Up On Their Dreams
Building a career in the entertainment industry requires lots of perseverance. Even the best actors hear the word no far more often than they hear yes. As someone who knows how rewarding it is to chase your dreams, Amy encourages other people to do the same.