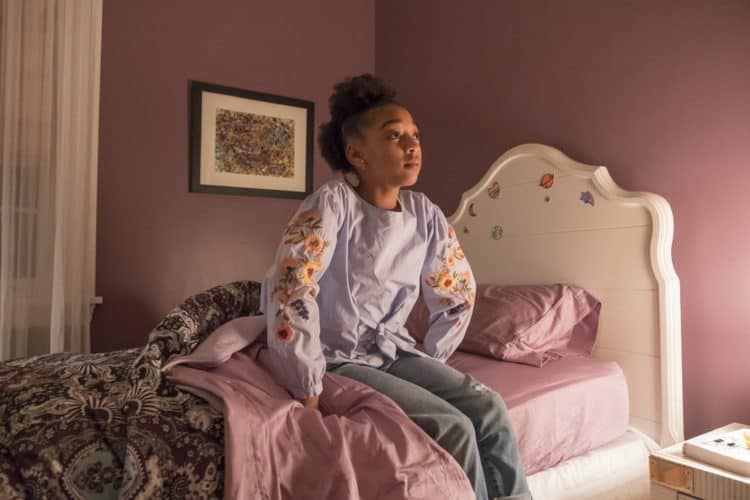 After four seasons of heartfelt drama and emotional rides, we believe it's safe to say that we've all become part of This is Us' Pearson family. Many of us have become defensive and protective of every single member of the Pearsons, and rightly so. They've made us laugh, cry, get angry, and more. When Eris Baker's character Tess went through a difficult time coming out to her parents last season, we felt like giving her a hug, a pat on the back, and a thumbs up all at the same time–all from afar. Eris Baker has done a great job of portraying Tess' role, and it's clear that she's got a bright future ahead of her. Here are 10 things about Eris Baker that you probably don't know.
1. Her Birthday
In the short amount of time we've seen her on This is Us, Baker has already grown before our eyes. Born on August 4, 2005, Baker may only be 14 years old, but she already has more depth than other actors older than she is. Her talent is undeniable at such a young age, and she only continues to improve over time.
2. She has worked before
Baker is no stranger to the small screen. She has gotten other acting gigs after she started on This is Us when she was only 11 years old. She has appeared on a number of kids' television programs including K.C. Undercover (2017-2018), Drunk History (2018), Alexa & Katie (2018), Dispel (2019), and Cherry Lemonade (2019). It's clear that she's been busy, but that's something that we already expected out of this starlet.
3. She's the eldest child
There's not a lot of information about Baker's background out there, but that will change the more she becomes popular. We know that her parents started dating in high school, and they eventually ended up getting married and staying together all these years. They had Eris in 2005 and three more girls after. So Eris actually has a total of three younger sisters. It would be interesting to see if any of her siblings end up following her lead into acting one day.
4. She attends traditional school
It must be challenging for Baker to still attend traditional public school even though she's got a busy schedule of acting. Most child stars end up getting a tutor or homeschooling in order to finish their studies. However, when Baker is not on sets, she's going back to school in order to pursue her studies. It's a testament to how dedicated she could be no matter what she's doing in life. It's hard enough to imagine a 14-year old working an acting job regularly, but it's even more impressive to know that she's doing that all while still going to school.
5. She's a fashion enthusiast
Although it's not necessarily something out of the ordinary these days, Baker is actually a big fashion enthusiast. In fact, she's been one ever since she was a young girl. What does that actually look like? You could just look at her publicity photos, and you'd know exactly what her style is. Fashion has become more accessible to the younger members of this generation, and that could either be a good thing or a bad thing. For Baker's case, it's good. She's got a unique sense of style that's not overboard or too radical. She looks her age and dresses appropriately as well.
6. She's a vegetarian
Baker became a vegetarian at a young age. There are many benefits to being a vegetarian, and it's unclear why Baker became one. Like most other people that turn to vegetarianism, it's more likely that Baker became one for health reasons. It could be how she maintains a healthy figure and glow. Being vegetarian means that Baker still consumes dairy products, but majority of her meals are composed of vegetables and fruit.
7. Her audition wasn't great
Getting the call that she got the This is Us job was truly a dream come true for Baker. According to the actress, she actually messed up her audition big time. She had to repeat her audition over and over again because she kept messing up. At least that's what she thought. Apparently, they were directing her to keep repeating because they wanted to see how well she could take direction. According to her mother, Baker cried like a 2-year old after her audition. At least all those tears were worth it.
8. She's an award-winning actress
Baker can boast of something that not many 12-year olds can. She is now an award-winning actress after having won a Screen Actor's Guild award for Outstanding Performance by an Ensemble in a Drama Series. We know that this is just the beginning for her and that more awards will come in the future. For Baker, having the award on her resume at such a young age is a testament to her hard work and dedication to her craft.
9. She has difficulty keeping the show's secrets
This is probably the biggest understatement for the young actress. The success of This is Us comes from letting viewers in on the details little by little, giving us peeks instead of the whole vista. In an interview with Pastemagazine, Baker tells how her family constantly asks her what's going on in the future of the show. She loves surprises herself, so Baker makes sure she doesn't spoil it for her family.
10. She takes from personal experience
In order to do a scene as difficult as her coming out scene, Baker took from personal experience to do the job justice. The young actress didn't know much about the LGBTQ community before she filmed her scene, but she has had a friend come out to her before. Drawing from that experience, she framed it the way Tess Pearson would. In the end, she did Tess justice and killed her pivotal scene.
Tell us what's wrong with this post? How could we improve it? :)
Let us improve this post!