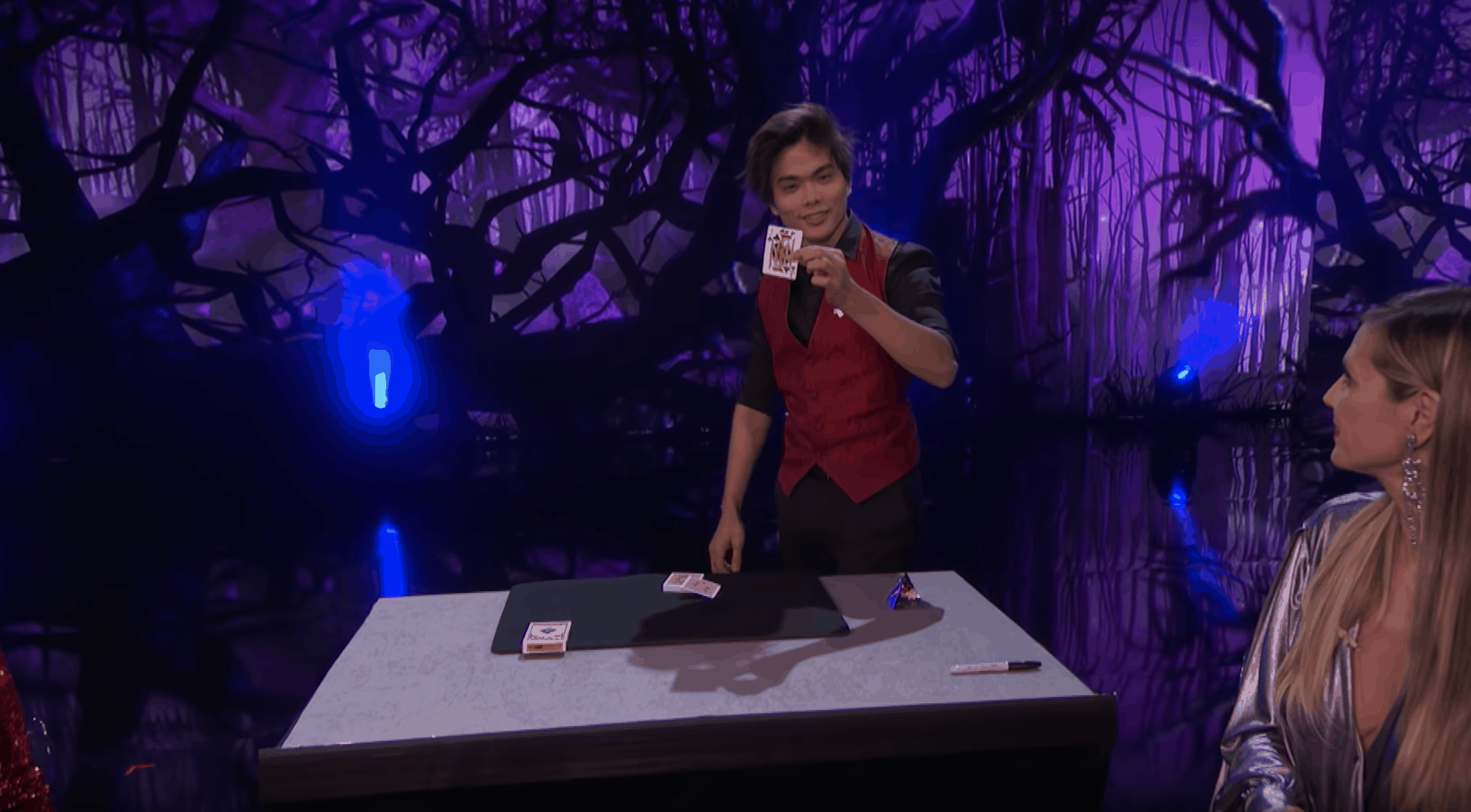 It's almost the beginning of the end on tonight's America's Got Talent. Eleven of the twenty-two acts will try their hardest to earn a spot in the finals, which will start in two week's time. Will they let the pressure get to them or will they remain calm and give the best performance they can?
Stepped-up Acts:
Shin Lim – I actually saw him do this trick before. It was on Penn and Teller's show on The CW called Penn & Teller: Fool Us where he got two female audience members to assist. They each wrote their names on the cards that they chose, which Tyra and Heidi did tonight. Lim also made the Sharpie marker disappear like he did on Fool Us. It was a very neat trick that managed to baffle the most famous magic duos and the AGT judges. I also liked the Inception music that accompanied his performance. That, and the spooky forest background.
Duo Transcend – This acrobat duo knows how to bring it! I mean they jumped off of the trapeze bar and into a ring of fire. They then donned roller skates and Tyce spun his wife around while the fire blazed on around them. Simon thanked them (sarcastically, of course) for giving him two heart-attacks after the performance was over. They truly stepped up their game and hope America thinks the same.
Junior New System – I'm putting them here solely because they listened to Howie and started the dance routine wearing the heels. That and for the guy that did the backwards flips landing on his head each time. That's really got to hurt. Hope he didn't get a concussion from it.
Michael Ketterer – The adoptive father with the golden voice wowed the crowd again with his rendition of Miley Cyrus's When I Look at You. The song was sentimental and very inspirational. I almost teared up listening to him perform. Simon even asked Garth Brooks to write a song for Ketterer because he deserves a great song that's just for him. Perhaps it will happen should he move on to the finals?
Zucaroh – From a Garden of Eden to Mount Olympus, the entire performance tonight was flawless and breath-taking. The flips were very precise and the dancing was in sync (no pun intended). Simon praised the group's leader for being able to put such a seamless performance together in a short time period. America, vote for them please!
Average Acts:
Amanda Mena – It took me like a minute to recognize the song that she was singing. The young singer chose to sing a hip-hop version of Pharell Williams' Happy for the Dolby Theater audience and the judges. I kind of felt that it wasn't the best song for her vocal range, but again, I'm not a professional singer/music person so in the words of Kelly Ripa: put your thumbs away.
Us the Duo – The parents-to-be did another original song. This time, it's about paying the bills. It sounded like most of the songs that they did before and didn't quite feel like they stepped things up. I agree with Simon during his critique that the song felt not quite up to par. Howie also expressed the same sentiment.
Voices of Hope Children's Choir – The children's choir group took a page from Idina Menzel's book with their cover of the song Defying Gravity from the hit Broadway musical Wicked. Their performance tonight did not wow me as it did in their past performances. I barely heard the vocals at the beginning of the song. Tyra said that it was because the audience was too loud, but I didn't hear much excessive cheering.
Makayla Phillips – I applaud her for choosing a song that expresses her personality and one that she can relate to. She sang the Jessie J song Who You Are and it started off a bit weak at the beginning (which is why she is in this particular category) but she brought it up a notch during the choruses. Simon later called her song choice smart but thought the overall performance was overdone and her voice felt lost among the glitz and glamour of it all.
Samuel J. Comroe – Though the jokes were centered around his Tourettes again, there wasn't enough humor in it to make me laugh until I have tears in my eyes. I enjoyed his quarterfinal performance better than this one to be perfectly honest. If he makes it to the finals, then he has to come up with material that will get laughs right off the bat.
Front Pictures – Despite being brought back as a Wild Card, the techno group did not step up their act. I liked the various creatures that appeared on the screen, it was very Fantasia 2000, but it ended up getting an X from Simon. The music mogul later said that the part with all the creatures confused him since the theme was outer space. Maybe they should consider putting in space creatures like aliens or whatnot next time. That is if there IS a next time.
Photo via NBC
America's Got Talent Season 13 Episode 17 Review: "Live Semifinals 1"
Summary
22 acts left. Eleven will perform for a spot in the finals on tonight's first semifinals of season 13. Can they handle the pressure? Let the semis begin on tonight's America's Got Talent!