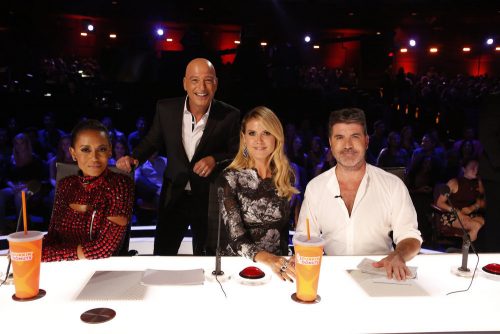 Season 11 of America's Got Talent is about to come to a close as summer winds down. Eleven acts perform for a spot in the finals. Who will catch the eye of America and earn one of the five spots?
The first semi-finals opened with Sal Valentinetti. His performance was right up there with the greats like Sinatra and Dean Martin. The man has great stage presence, and I believe that he can still get a record deal even if he doesn't win the competition. I can only hope that America votes him through to the finals.
I loved the performances by Tape Face and Deadly Games. The former chose a random audience member to come onto the stage. The two then engaged themselves in a Clint Eastwood western film standoff with balloons and staple guns. I was laughing from beginning to end, especially the part where Tape Face kept firing the staple gun at the audience member as he went back to his seat.
As for Deadly Games, the whole rose graveyard set they put up was beautiful and angsty at the same time. When the wife held up the balloons for her husband to pop with the crossbow, I was feeling as nervous as everyone else watching at home and the Dolby Theater.
I didn't love Jon Dorenbo's performance this time. It felt like it took too long to get to the big reveal. I get that the shock factor is that he knew which states the judges would pick, but maybe next time the execution could go a lot faster. Minus the chaotic vibe that this performance emitted of course.
Speaking of the judges, Simon made a comment about Mel B which made the latter want to strangle him. Heidi suggested that she throw water or whatever it is that the judges are drinking at Simon. The former Spice Girl did as Heidi suggested, but got an audience member instead. Ouch.
Another act that I find didn't meet semi-finals standards was Lori Mae Hernandez. I give her props for making fun of Ryan Lochte's Rio incident. Though her delivery wasn't as good as Jimmy Fallon's when he presented at the VMAs. I agreed with Howie when he advised that she work on her material a little more to make it more refined.
Tomorrow night is the results show! Who do you think will earn a spot in the finals? Care to share?
Photo via NBC
America's Got Talent Season 11 Episode 19 Review: "Semi Finals 1"
Summary
It's the semi-finals! Which act will be fortunate enough to make it to the finals and win the competition on America's Got Talent?